100,000 in Israel protest, strike over surrogacy law excluding gay men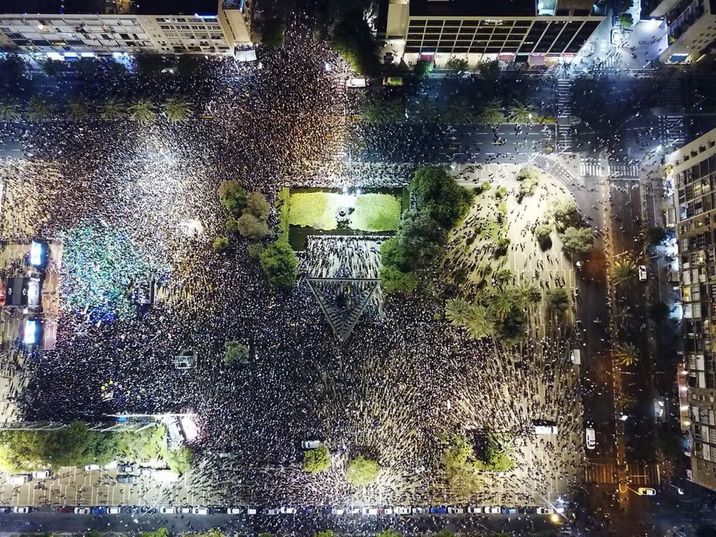 Some 60,000 demonstrators at Rabin Square Tel Aviv July 22
LGBT association
Around 200 companies announced they would allow their employees to have paid leave to attend protest
Thousands of Israelis were taking part in an unprecedented nationwide strike and major protests in cities across the country organized by the country's LGBTQ community on Sunday after Israeli lawmakers voted against extending a surrogacy bill to apply to same-sex couples.
Police estimated some 100,000 demonstrators packed into Rabin Square, the site of Tel Aviv's city hall, for the main rally scheduled for 8:30 p.m. local time.
Zionist Union Knesset member Itzik Shmuli, who is gay, addressed the crowd and spoke of basic civil rights being sold by Netanyahu for political interests.
"We will no longer be silent. This struggle is not only about the rights of the [LGBT] community but on the image of the country. This is the 21st century. People are not seated at the back of the bus because of the color of their skin and they will not be deprived of the right to be parents due to their [sexual] orientation. Netanyahu has sold the most important thing in our society to an extremist minority in his government for extraneous political interests -- the value of equality," he said to the tens of thousands of participants at Rabin Square.
Protesters called for "equality" and chanted, "Homophobia is terror, no excuse will help," in rhyming Hebrew.
Several Israeli lawmakers were also present at the demonstration on Rabin Square, showing support for the LGBTQ community.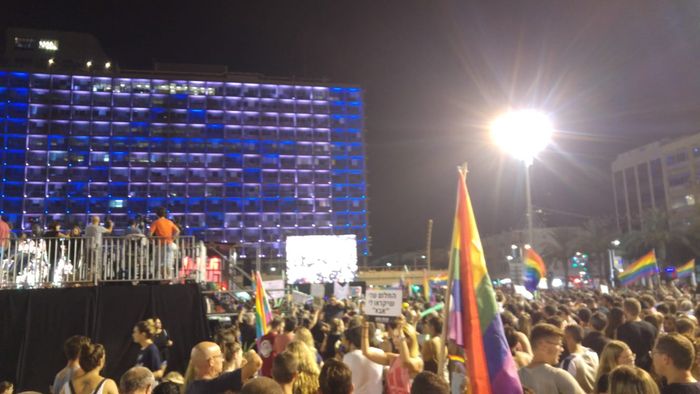 Leader of Israel's Labor party, Avi Gabbay stood among protesters where he said "I am here with all members of the Zionist Camp faction in Rabin Square. We came here to strengthen civilians who came to unload the pain of great humiliation that they pass daily and demand equality for every citizen in the State of Israel."
The leader of centrist party Yesh Atid, Yair Lapid, also tweeted about his participation in the demonstrations at Rabin Square on Sunday, saying "I just got back from the plaza. We stood there together, tens of thousands of people who came to fight for Israel, to fight for the basic right of every person to be a father or mother, and on the right of any citizen not to be defrauded by the Prime Minister."
Demonstrators carrying placards and rainbow flags blocked Tel Aviv's Ayalon freeway as protests began Sunday morning in Israel's commercial capital.
In Jerusalem, hundreds more demonstrators amassed outside Prime Minister Benjamin Netanyahu's residence. Minor scuffles erupted between police and protesters in Jerusalem where at least two demonstrators were arrested.
Protesters also blocked main streets in northern Israel's coastal high-tech hub Haifa and in the southern Negev city Beersheba. Around 200 people also demonstrated in Afula.
Minor scuffles erupt as police arrest a protester in Jerusalem, as thousands of Israelis participate in nationwide strikes and demonstrations against Israel's surrogacy laws exclusion of same-sex couples https://t.co/G3eHf5hH9k pic.twitter.com/NEzDWmJp12

— i24NEWS English (@i24NEWS_EN) July 22, 2018
On Wednesday, top Israeli LGBTQ groups called for its members and supporters of the community to not go into work and close businesses on Sunday, the first day of the Israeli work week.
The unprecedented call came after Israel's parliament, the Knesset, passed a law extending surrogacy rights to single women and women medically unable to have children. A clause extending the surrogacy option to same sex couples, which would finally allow gay men to father children through a surrogate mother, was blocked.
"It is a symbolic measure, but one that shows real support," Julien Bahloul, spokesman for the Association of Gay Fathers in Israel, told i24NEWS.
Bahloul said gay couples wanting to have children must find a surrogate mother abroad and the costs can rise to more than $100,000. Costs would be cut in half if it were allowed in Israel, he said.
Currently, single Israeli men or same-sex couples must look overseas for surrogate mothers through Israeli agents, incurring huge fees. Bahloul said costs could be cut in half if it were allowed in Israel.
"Now it's our turn to say no," Agudah, Israel's umbrella organization for the LGBTQ community, wrote in a Facebook post. "The gay community is going on strike! Lesbian women cannot register their children, transgender people are getting stabbed in the street, youths are experiencing LGBTQ-phobia in educational frameworks, the Knesset passes laws against equality."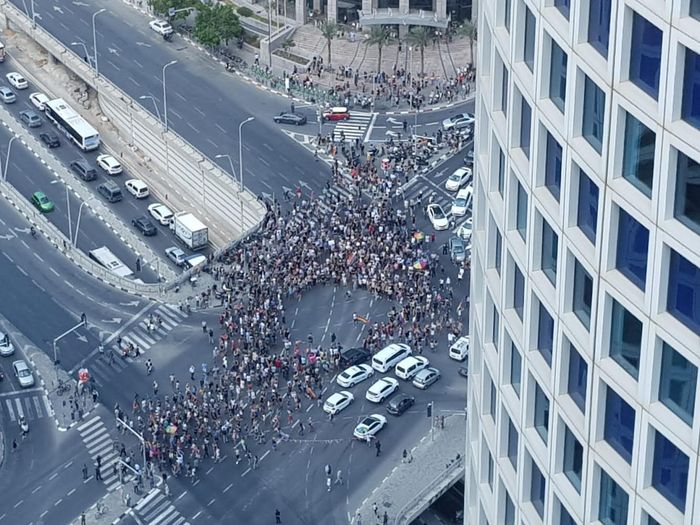 Around 200 companies announced they would allow their employees to not work to protest without it counting against their vacation days.
Israeli and multinational companies throwing their weight behind the protests included Apple, Microsoft, Fiverr, Israir and IBM, top-tier law firm Herzog Fox and Neeman, pharma giant Teva, the Tel Aviv Municipality, clothing business Castro and supermarket chain Supersol, according to company statements and local news reports.
Magen David Adom emergency service and Ichilov Hospital also announced that they were allowing their workers to take part in the demonstration.
Media reports said employees at Israel Airports Authority and Israeli airline Israir would take part in the strike warning of possible delays on Sunday.
Microsoft was among a handful of firms to go one step further and announce they would help fund employees' hefty surrogacy fees.
"From now on, every employee who decides to start a family by surrogacy will receive NIS 60,000 (US$16,500) regardless of gender, sector, sexual orientation, age or marital status," Microsoft's research and development hub in Israel wrote on Facebook.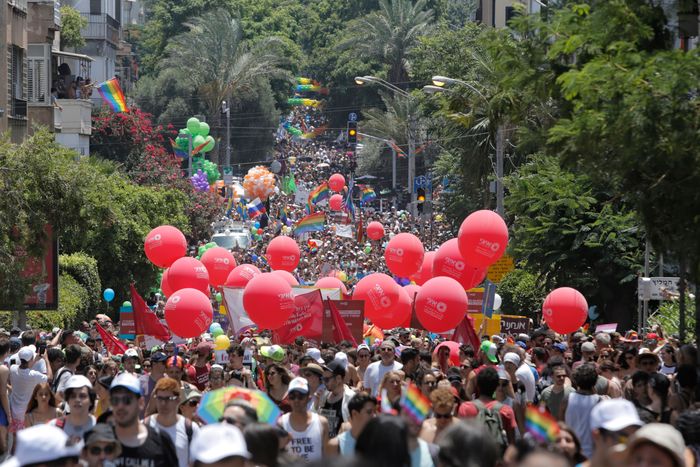 The LGBTQ community was outraged after Prime Minister Benjamin Netanyahu publicly declared his support in a video for "surrogacy for single fathers" before ultimately reneging on his backing of the community by voting against the amendment to the law that would have allowed gay couples to father children through a surrogate.
Netanyahu released a second video following the vote defending his "absolutely consistent" stance on the matter, arguing that supporting the clause would have brought down the entire bill and "mothers would not have access to surrogacy."
Instead, he said he would keep his original plan to advance amended legislation to provide surrogacy access to fathers as well as mothers.
Israel has been a trailblazer when it comes to gay rights, but same-sex relationships remain a taboo among religious conservatives who prop up Prime Minister Benjamin Netanyahu's right-wing government.
The premier relies on ultra-Orthodox Jewish parties Shas and United Torah Judaism, both of which oppose families with same-sex parents.
AFP contributed to this report.