Netanyahu demands 'complete' Gaza ceasefire
Israeli Prime Minister Benjamin Netanyahu said Sunday that his country would not accept anything less than a complete ceasefire from Hamas, seemingly confirming that no official agreement had been struck between the two sides following a major conflagration last week.
"We are in the midst of a campaign against terror in Gaza. It entails an exchange of blows; it will not end in one strike. Our demand is clear -- a complete ceasefire. We will not suffice with less than this," Netanyahu said at the start of his weekly cabinet meeting on Sunday.
Israel and Hamas were brought to the brink of war last week in a major escalation in violence that ultimately ended in calm amid conflicting reports of a ceasefire agreement.
The latest flare-up began when Israel attacked a Hamas outpost killing two of the militant group's commandos after shots were presumably fired from the location. The incident initiated a two-day barrage in which Hamas fired some 200 rockets into Israel, which retaliated with airstrikes on some 150 targets in the Palestinian enclave.
"As of now, we have destroyed hundreds of Hamas military targets, and in each round the IDF exacts an additional heavy price," Netanyahu said of the most recent battle with Hamas.
He warned, however, that the exchange of blows was not over. "I will not reveal here our operational plans, they are ready," he said. "Our objective is to restore the quiet to residents of the south and the area adjacent to the Gaza Strip; this goal will be achieved in full."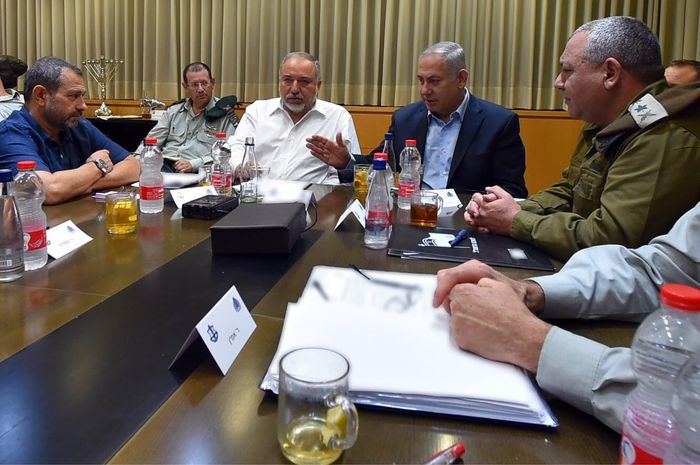 Netanyahu has come under political pressure to act more strongly against Hamas, though both sides are reluctant to start a fourth war between them since 2008.
Senior Israeli officials have maintained that the country has not agreed to a truce with Hamas, which the Islamist group announced on Thursday after nearly 48-hours of some of the heaviest fighting between the sides since their last fought war in 2014.
Energy Minister Yuval Steinitz reiterated earlier Sunday that no ceasefire had been struck, and added that "toppling Hamas" remains an option for ending months of violence with Gaza.
"Toppling Hamas is an option, and we are closer to it than ever," Steinitz said, amid reports that Israel apparently planned targeted killings of top Hamas officials in recent months in response to repeated escalations on the Gaza border, but refrained in order to give Egyptian and UN-brokered peace talks a chance to produce results.
Separately from efforts to negotiate talk Israel and Hamas back from the brink of war on several occasions in recent months, Egypt and the United Nations have been attempting to broker a long-term ceasefire between the sides meant to bring to an end months of violence along the border and ease conditions in the impoverished Palestinian enclave.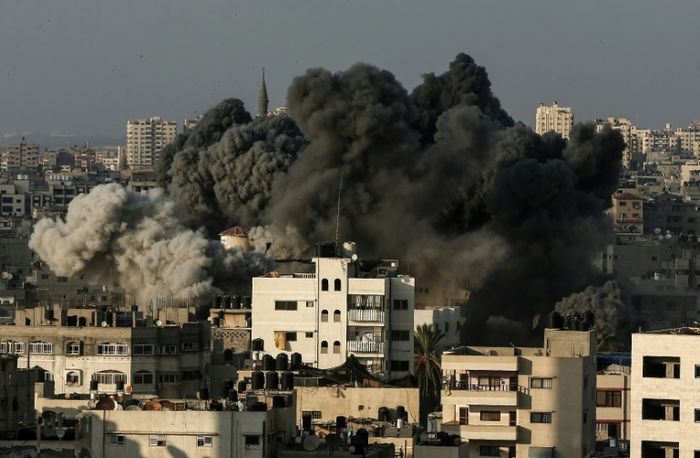 Reports say that the talks were focused on a multi-phase deal that would begin with a 5-10 year commitment by Hamas to cease all hostile actions in exchange for Israel fully opening the Kerem Shalom goods crossing.
Later stages of the deal would reportedly include negotiations on the return of fallen IDF soldiers and Israeli citizens held captive by Hamas.
The ceasefire talks followed months of clashes between Israel and Hamas, marked by a surge in cross-border arson attacks and violent clashes along the security fence.
Israel and Hamas were brought to the brink of a full-scale war in two separate military flare-ups in July over the cross-border arson attacks as Israel struck targets in response to the attacks, prompting several barrages of Hamas rocket fire and retaliatory Israeli airstrikes that marked some of the fiercest clashes since 2014.
Protests and clashes along the Gaza border since the end of March have seen at least 165 Palestinians killed by Israeli fire, while one Israeli soldier has been shot dead by a Palestinian sniper.