WATCH: With slim 1-member majority, Knesset member drags IV to coalition vote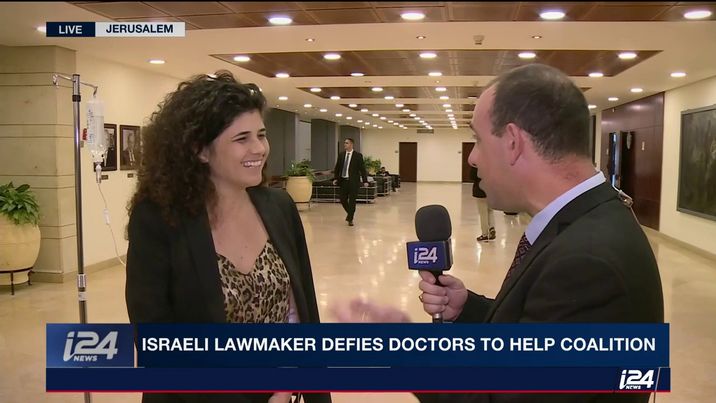 Knesset member Sharon Haskel speaks to i24NEWS after leaving the hospital to attend a vote.
Netanyahu's government now has a 61 member majority out of 120, requiring the presence of a hospitalized MK.
A member of the Israeli Knesset arrived in parliament Wednesday toting an IV bag in order to vote for the government's majority.
Sharren Haskel had been hospitalized and was required by doctors to be hooked up to an IV, but her presence was required to give the 61st vote to maintain Israel's ruling coalition.
Israel's governing coalition, headed by Prime Minister Benjamin Netanyahu, faced an uphill battle Wednesday as it attempted to vote on a long list of laws with only 61 members out of the entire 120 seats.
A member of Netanyahu's Likud party, Haskel's presence was required as the Knesset plenum met to vote on a number of motions presented by the opposition parties were expected top call for disbanding the government's coalition.
If the Israeli government coalition isn't on life support, it's at least on an IV. Against the hospital's advice, Member of Israeli Parliament @SharrenHaskel came to parliament to vote on a bill, telling @Mike_Wagenheim the coalition will be able to pull through: pic.twitter.com/dVK4stkY1h

— i24NEWS English (@i24NEWS_EN) November 21, 2018
Haskel lashed out against the opposition for not offsetting her absence by having one member of the coalition abstain from voting.
"When I was told that if I was not here there would not be a majority, there wasn't even a question, I knew I would be coming to Jerusalem for a few hours," Haskel told i24NEWS.
"I'm not [feeling] 100% but I am OK. The tricks of the opposition are not going to work. We are strong," the Knesset member insisted.
Following Avigdor Liberman's resignation from his post as head of the Defense Ministry last week and the withdrawal of his party, Yisrael Beiteinu, from the governing coalition, the standing power of the coalition with such a small majority has been thrown into question.
Asked by I24NEWS if the Knesset member's presence, IV bag in tow,was a sign of the coalition's weakness, Haskel insisted that the coalition was strong and it would remain together until the end of the term in September 2019.
"We had a strong coalition of 61 for a year and a half before Liberman entered the parliament. We are very capable of continuing another eight months without him," Haskel responded. "As long as there aren't going to be any extreme or funny characters who try and push through some extreme and unauthorized legislation, I believe we will be able to pull it through. "