Culture minister lashes out at 'complicated' Netanyahu investigators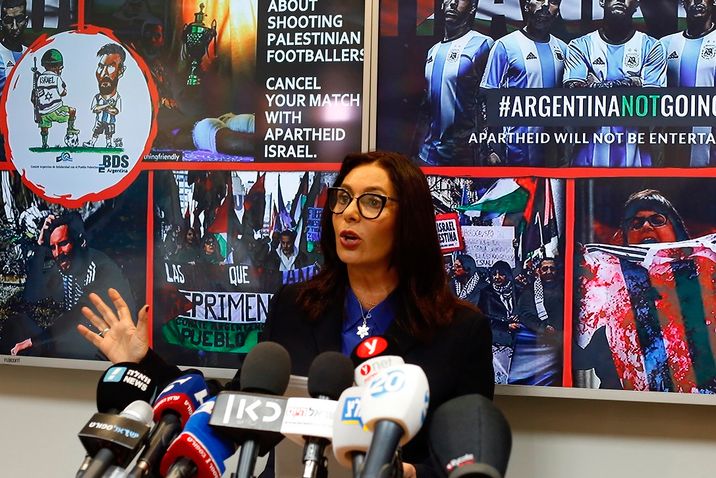 Israeli Sports and Culture Minister Miri Regev delivers a statement in Tel Aviv, Israel, Wednesday, June 6, 2018.
AP Photo/Ariel Schalit
Prime Minister Benjamin Netanyahu's allies in his Likud party on Friday lashed out at legal authorities in charge of the corruption investigations against him.
"I've know Mandelblit for many years, including in the army, he is a fair and honest man, but around him are a group of people who I'd say are 'complicated' and will press him until the end to say something concerning Netanyahu," Culture Minister Miri Regev said at a Likud event in Eilat on Friday.
Police have recommended Netanyahu's indictment in three separate corruption investigations and the Attorney General Avichai Mandelblit is expected to announce his decision on whether to indict the prime minister in the weeks or months ahead.
Regev, who has been a staunch supporter of Netanyahu throughout the corruption investigations against him, called on Mandelblit to "start and finish (a hearing) before the elections or finish everything afterwards, because otherwise it is in fact an intervention by the attorney general in an election."
The prime minister has faced widespread criticism in recent days for his efforts to publicly urge the attorney general not to issue his decision on indictments before the elections.
In his Monday speech, he said he has the right to criticize the legal proceedings and again argued that the attorney general moving to indict him before elections would be unjust.
Netanyahu also decried that he was twice refused the ability to confront the state witnesses in the cases.
Another parliament member from Likud, Oren Hazan, spoke out against a decision by Mandelblit to indict Netanyahu before the elections.
"Don't interfere with the people in the elections," Hazan said.