Majority of Israelis consider Israel Resilience a centrist party: i24NEWS-Israel Hayom poll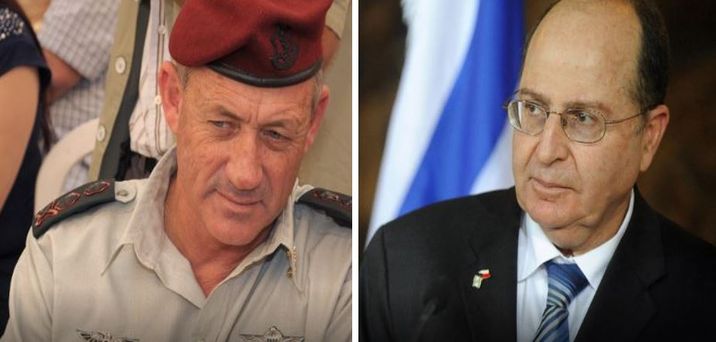 A combination image shows former IDF chief Benny Gantz (left) and former defense minister Moshe Ya'alon (right)
GPO / AFP
Over half of Israelis consider the Israel Resilience party led by former IDF chief Benny Gantz in alliance with Moshe Ya'alon to be a centrist political party, a new poll by i24NEWS and Israel Hayom revealed Thursday.
According to the poll, 55% of Israelis consider the Israel Resilience party to be in the center of the political sphere, while 28% of respondents think it is on the left, and 17% think it is on the right.
Gantz, who officially launched the Israel Resilience party in recent weeks, has tread carefully in the run-up to the April 9 vote, making a concerted effort to remain firmly on the center of the election's most hot-button issues, opening him up to criticism from decidedly left and right-wing figures.
The results of recent i24NEWS and Israel Hayom's polls suggest that Gantz's efforts to remain a centrist have been more or less successful.
Thirty-nine percent of respondents defined him as a centrist figure, while 22% defined him as left-wing and 14% defined him as right-wing.
On Sunday, Israel Resilience and Ya'alon's Telem tapped seven candidates to hold key positions on their joint list.
Announcing the new candidates, Gantz and Ya'alon asserted "Netanyahu's ten-year reign will end when met with the best team in Israel."
The list of candidates include Yoaz Hendel, chairman of the Institute for Zionist Strategies; Zvi Hauser, a law attorney and former cabinet secretary; Miki Haimovitch, a former anchorwoman and social activist.
In his debut campaign speech two weeks ago, Gantz took aim at Netanyahu's lengthy run in office, and positioned himself as tough-on-terror and no-nonsense when it comes to Iran and other regional foes while leaving open the prospect for peace.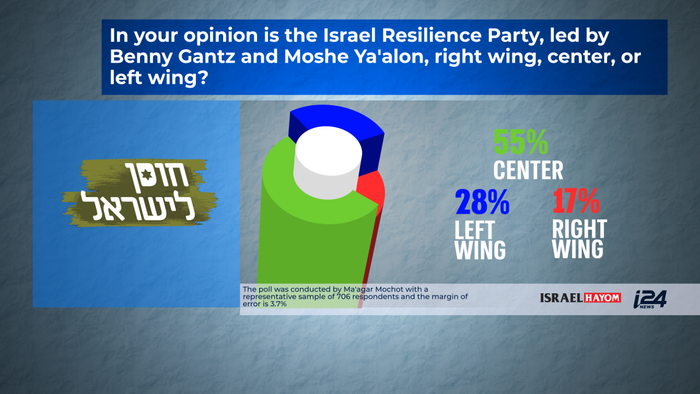 Hours before the campaign launch, Gantz and yet another former IDF chief Moshe (Bogie) Ya'alon announced they would run together on a joint list in the upcoming elections.
While Netanyahu appears to be maintaining a firm lead over political rivals, the prospect of a centrist alliance between Gantz and Lapid or others could mount a powerful opposition.
The run-up to the April 9 vote has already been tumultuous, with dramatic fragmentation at all ends of the political spectrum leaving a crowded playing field at both the right, left, and center.
Last week's poll found, however, that a centrist alliance between Israel Resilience and and former finance minister Yair Lapid's centrist Yesh Atid party could defeat Netanyahu's Likud party, earning 32 seats to the right-wing party's 30.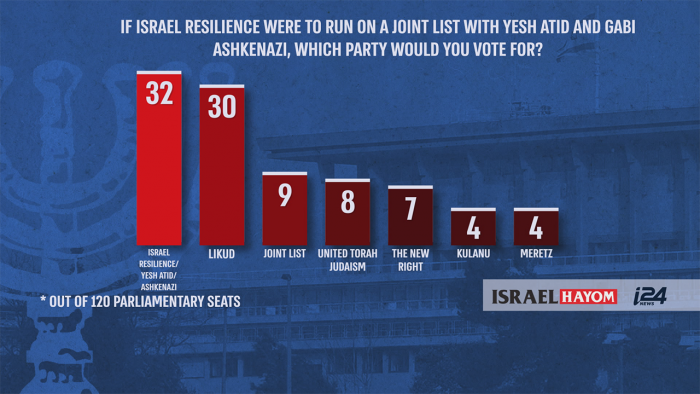 The jointly commissioned i24NEWS-Israel Hayom poll was conducted by the Maagar Mochot Research Institute between January 30 and 31st, among a representative sample of 510 Israeli adults (out of 2,944 total respondents), allowing for conclusions to be drawn with a 95% confidence level and a margin of error of +/- 4.3% (relative to various estimates).
A partnership between i24NEWS and Israel Hayom to cover Israel's April 9 elections will feature two special half-hour broadcasts in English and French every Sunday, alongside a third show that will be translated to Hebrew and available on Israel Hayom's website at the end of the live broadcast.
In addition, a jointly commissioned poll will be published every Friday.
The English broadcast, to be presented by i24NEWS anchor Nurit Ben, will air every Sunday at 8:00 p.m. Israel time (1:00 p.m. EST, 10:00 a.m. PST, and 7:00 p.m. Paris)
The French broadcast will be presented by i24NEWS anchor Barbara Szerer and will air Sundays at 8:30 p.m. Israel time (7:30 p.m. Paris time, 1:30 p.m. EST, and 10:30 a.m. PST,)