Netanyahu, Bennett rule out forming coalition government with Gantz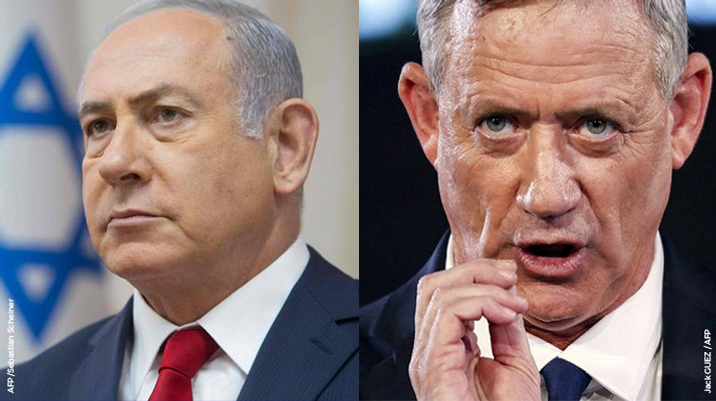 Israeli Prime Minister Benjamin Netanyahu and former IDF chief-of-staff Benny Gantz
Israeli Prime Minister Benjamin Netanyahu on Monday ruled out forming a government with his main election rival former army chief Benny Gantz.
"I would not form a government with Benny Gantz," Netanyahu told reporters. "First off, I will be the one to build the coalition, and it will be a nationalistic Likud government, a right-wing government."
Earlier, Naftali Bennett, Education Minister and head of the newly formed right-wing party Hayamin Hehadash (the New Right), claimed he believed that Netanyahu would try and form a coalition with Gantz's Israel Resilience.
Speaking to Israeli news site Walla, Bennett also ruled out forming a coalition with Gantz, and claimed if re-elected, Netanyahu's "first phone call would be to Gantz, not to Hayemin Hehadash, because that's what he always does."
Denying possibility of forming a coalition with Gantz, Bennett claimed "I'll never sit in a Gantz government, because he's a lefty. It's a leftist party."
Gantz has tread carefully in the run-up to the April 9 vote, making a concerted effort to remain firmly on the center of the election's most hot-button issues, opening him up to criticism from decidedly left and right-wing figures.
A joint i24NEWS-Israel Hayom poll published this week suggests that Gantz's efforts to remain a centrist have been more or less successful. Thirty-nine percent of respondents defined him as a centrist figure, while 22% defined him as left-wing and 14% defined him as right-wing.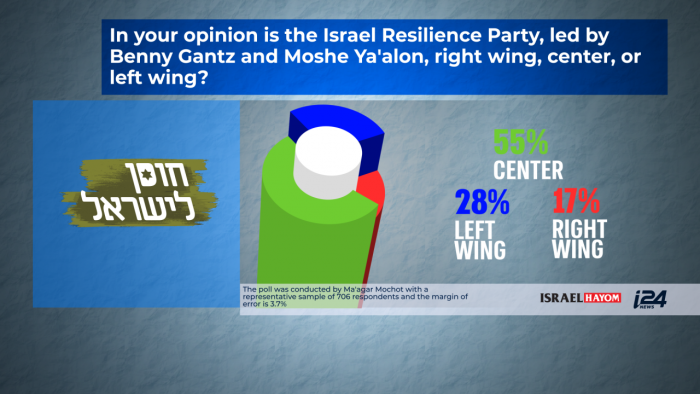 In his debut campaign speech, Gantz took aim at Netanyahu's lengthy run in office, and positioned himself as tough-on-terror and no-nonsense when it comes to Iran and other regional foes while leaving open the prospect for peace.
In his first major media interview since launching his Israel Resilience party's campaign for the April national election, Benny Gantz said last week that Israel should not rule over the Palestinians and expressed support for the 2005 disengagement from the Gaza Strip -- straddling a fine line on the politically charged issue that sparked criticism from both sides of the aisle.
Gantz's remarks immediately drew the ire of Israel's right-wing camp, but were met with cautious optimism by the Palestinians.
"We told you Benny Gantz would form a leftist government with the help of [Arab lawmakers]", a spokesman for Netanyahu's Likud faction said.
Gantz's party retorted that both Netanyahu and his culture minister Miri Regev voted in favor of Israel's disengagement from the Gaza Strip.
"Netanyahu, who voted in favor of the disengagement, and Regev, who touted it while a smile on her face, will not lecture us about diplomatic and security responsibility," the Israel Resilience party responded.