Fashion Week Tel Aviv opens with final Oberson House of Design show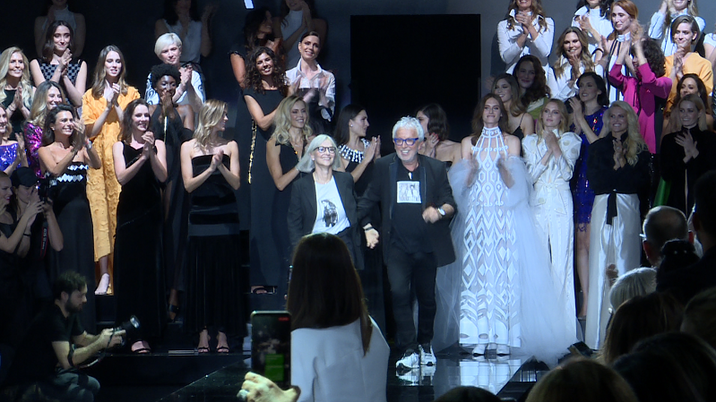 Gideon and Karen Oberson walk down the runway at the Oberson House of Design show during Tel Aviv Fashion Week
Screengrab/i24NEWS
Fashion Week Tel Aviv 2019 opened Sunday night with a bittersweet show as Israeli fashion Icon Gideon Oberson, and his daughter Karen Oberson showed their final collections.
A fixture in the Israeli fashion industry, Oberson started his eponymous line in Israel in 1962 after finishing his studies at Paris's Ecole Syndicale De La Couture Parisienne. He soon made a name for himself globally with his designs in swimwear, ready to wear, and couture. He went on to lead the luxury swim brand Gottex from 2002-2009.
In 1985, Oberson's daughter Karen chose to follow in her father's footsteps, launching her line "KO". The two joined forces and for the past 34 years, the Oberson House of Design has been dressing women for every aspect of their lives.
On Sunday night, 60 models strutted down the catwalk, embodying the designers' legacy.
Oberson described the collection as a fusion, highlighting designs from throughout his career mixed with new looks. Black and white was the main theme, with splashes of color intertwined.
The models too had a special role.
"It's a vintage collection," Oberson told i24NEWS after the show. "It's nothing to do with the season 2019/2020. All the models we are showing here we've been working with us since… I should say the eldest one was 71 years old.
"It's more a finale," he noted. "I didn't care about fashion and what's going on- just to show my work of the last 57 years. It's like a book and this is my last page before I start a new book."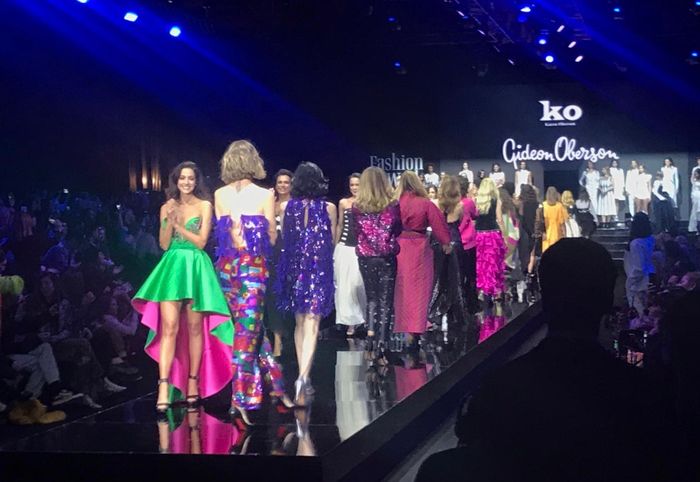 Some credit Oberson with jumpstarting the fashion industry in Israel.
Model Shelly Gafni, now 47, began working with Oberson when she was 14 and half.
"He's one of the first ones who brought real fashion into Israel and a lot of young designers look up to him and learn from him," she explains. "I think he was a good start for a beautiful thing here in Israel."
"He brought Paris to Israel," former Miss Israel and Model Illana Shoshan says.
"He raised the bar in everything. In the fashion, in ready to wear, in the way he was directing when we were taking pictures, it was tough working for him but you knew that it was going to be great."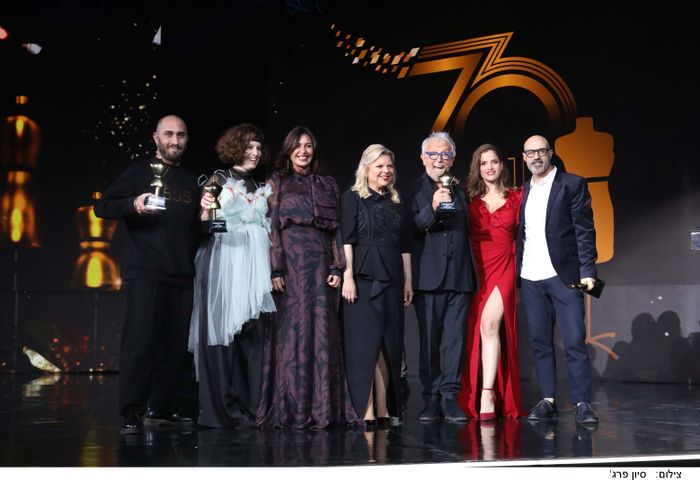 A few day prior to the show, Oberson was honored with a lifetime achievement award from Israel's Ministry of Culture and Sport.
"He has his style. Its chic, its wearable, its feminine," Shoshan recalls of his work. "Every woman can wear his clothes, you don't have to fit into a pipe to do so. He's around more than 40 years. That says something."
Though they are retiring from the catwalk, Gideon and Karen aren't leaving the industry for good. Gideon teaches at Israel's Shenkar College of Engineering and Design and Karen has started a mentoring program for young designers.
Gideon plans to keep dabbling in swimwear design as well.
"Tomorrow I am going on holiday." He remarks slyly. "The day after tomorrow, I'll see what I'm doing. It's a secret."
The seventh edition of Fashion Week Tel Aviv runs March 10-13th at the Tel Aviv Port.