Israel AG urges High Court to bar far-right leader from elections
Attorney General Avichai Mandelblit urged the Israeli High Court of Justice to bar the head of the far-right Otzmah Yehudit party from running in the April elections, hours before the court was due to review the case on Thursday.
Submitting an opinion to the High Court, Mandelblit cited Michael Ben Ari's long history of "severe and extreme racism" to justify the extremist party leader's disqualification from the Israeli Parliament's (Knesset) April 9 elections.
State prosecutor Aner Helman said that Ben Ari, in his statements during his time as a parliamentarian and afterwards do not differentiate between Arabs. According to him, Ben Ari believes Arabs "have no faces, they are all traitors, a fifth column, a murderous nation."
High court justice Uzi Fogelman noted that Ben Ari led a demonstration against Arab Israelis buying property in the northern town of Afula. "What context of national struggle in there in this case concerning a citizen (of Israel) who wants to live in Afula?"
Yitzhak Bam, Ben Ari's lawyer, told the court his client has "no problem" with Arab Israelis loyal to the Jewish state.
When asked if Ben Ari considered 99 percent of Arabs to be enemies, his lawyer responded: "That's the logic."
WATCH: An Arab-Israeli #IsraElex candidate and a far-right Israeli candidate get into a heated shouting match at #Israel's High Court.

Read more HERE: https://t.co/faCoZO6B4H pic.twitter.com/iTN6TF9a4R

— i24NEWS English (@i24NEWS_EN) March 14, 2019
But Mandelblit has suggested permitting other party leader activist Itamar Ben Gvir to run in the national elections.
Ben-Gvir is a lawyer, who works extensively with Jewish terror suspects. He often represents himself, and members of Lehava, a political organization opposed to Jewish integration with other groups.
Last week, Israel's Central Election Committee voted down a number of petitions seeking to bar Ben Ari from the race, in a move decried by left-wing Meretz leader Tamar Zandberg as "embarrassing" and "shameful".
The vote dismissed a recommendation by the attorney general to disqualify the Otzmah Yehudit leader on the basis of incitement to racism, though the High Court is now tasked with making the final decision on his candidacy.
Ben Ari, for his part, insists he is not a racist and past remarks of his- cited by the AG and the High Court petition to justify his disqualification- were taken out of context.
Mandelblit's opinion letter however argued it should be an open-and-shut case, considering that "most if not all" of Ben Ari's political statements constitute incitement to racism and "relate to the Arab public in its entirety, and not only to those who were involved in terrorism."
Mandelblit also noted that Ben Ari's racism, "constitutes the candidate's central and overriding goal…and is a defining expression of his identity as a candidate." Ben Ari "acts to realize these [racist] goals in order to turn them from idea to reality, and his candidacy is intended to serve these goals," the AG wrote in the opinion published by the Israeli Justice Ministry.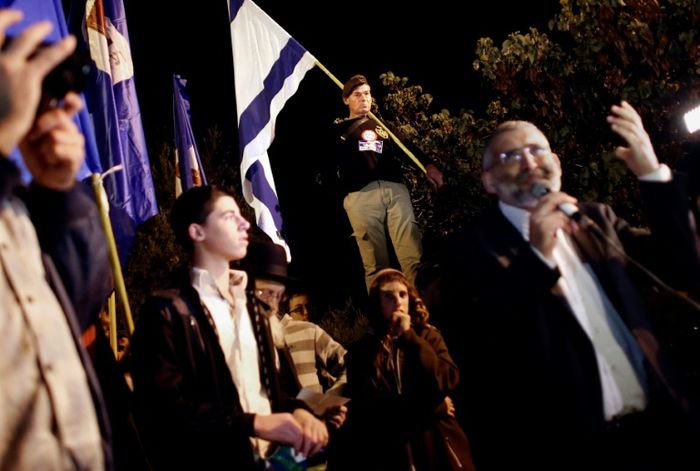 'Incitement to racism'
In an opinion submitted to the Central Elections Committee last week, Mandelblit used past remarks by Ben Ari to justify his decision that the party's co-founder should not be allowed to participate in the elections.
"Ben-Ari calls for the violent negation of the rights of the Arab population, for systematic and deliberate contempt of the Arab population which is pushed by a strong nationalist feeling," Mandelblit argues.
Mandelblit points to specific quotes from Ben Ari referring to the Arab population, who constitute 17.5% of Israel's population, "as a murderous people" and "identified by traitors and murderers" and understand "only power".
"We need to call the dog by its name. They're our enemies. They want to destroy us. Of course there are loyal Arabs, but you can count them – one percent or less than one percent" Ben Ari said of Arabs in Israel.
"The Arabs of Haifa aren't different in any way from the Arabs of Gaza. How are they different? In that they're here, enemies from within. They're waging war against us here, within the state. And this is called – it has a name – it's called a fifth column," Ben Ari said in May 2018.
Blue and White party's Orit Farkash Hacohen says it's not okay to compare Arab lawmaker Ahmad Tibi and the extreme Jewish Power party. It's just Likud trying to defend #Netanyahu and 'why the floor is crooked.' The debate with @realEliHazan, @meravi11 and @AmiKaufman: pic.twitter.com/UNTasMEWsm

— i24NEWS English (@i24NEWS_EN) March 5, 2019
"All of this ongoing and serious [representation] teaches that there is justification for disqualifying Ben-Ari, according to the exact definitions set by the law," the AG argued.
Netanyahu and Otzmah Yehudit
Israeli Prime Minister Benjamin Netanyahu breathed new life into the political standing of the Otzma Yehudit or "Jewish Power" party, a fringe far-right group associated with the extremist Kahanist movement, which was outlawed in Israel and is considered a terrorist movement by the United States.
Hoping to secure as many right-wing seats as possible in the next parliament, Netanyahu brokered the merger that saw the extremist party join forces with two other far-right parties to create a single electoral list.
Netanyahu has faced harsh criticism both at home and abroad over the deal, with many accusing him of easing the path for "racists" to make it into parliament.
Jewish Power lashed out at Mandelblit's recommendation against Ben-Ari, accusing him of "hypocrisy" for not recommending to disqualify the Arab lists and claiming he was attempting to "run Israel".