LIVEBLOG: Hamas may launch rocket attacks in support of West Bank Palestinians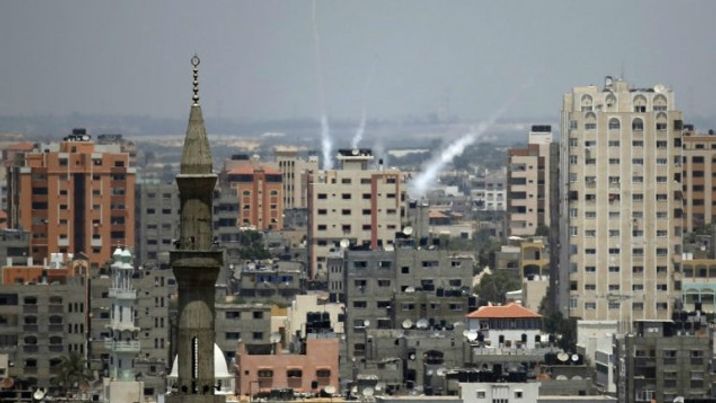 Smoke from rockets fired from Gaza City is seen after being launched toward Israel, on July 15, 2014
AFP/ Thomas Coex
Israel beefs up security; Mahmoud Abbas warns Israeli leaders 'lead region,world to disastrous religious war'
An Israeli security security on Tuesday estimated that Hamas may renew its rocket fire from Gaza in support with the violence in the West Bank.
Security forces are on high alert, preparing for the possibility that the escalation will continue for a dew more days.
Meanwhile, Israel's Defense Minister Moshe Ya'alon is due to arrive in Etzion Territorial Brigade for a situation assessment. "We are at the beginning of an escalation that has begun a few weeks ago following tensions in the Temple Mount and has spread to Jerusalem, Judea and Samaria and other places, including to the Israeli Arab sector."
Against the backdrop of the recent wave of terrorism the Security Cabinet has convened Tuesday afternoon to discuss the situation.
Prime Minister Benjamin Netanyahu late on Monday held a consultation with the country's top security officials, ordering a number of measures aimed to beef up the security arrangements across the country after a day that saw two Israelis killed in terror attacks.
Monday's violence began in southern Tel Aviv where a Palestinian teenager stabbed a 20-year-old soldier who later died of his wounds in hospital. The assailant, named as 18-year-old Nur al-Din Abu Hashiye, appeared to try to grab the soldier's rifle but was chased away and subsequently apprehended by police.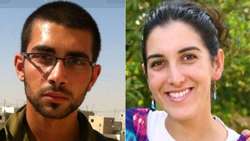 Hours later, another Palestinian attacked three Israelis outside the Alon Shvut settlement in southern West Bank, fatally stabbing a young woman and wounding two other people before a security guard shot and critically wounded him. The attacker, who was identified as Maher Hamdi al-Hashlamon from Hebron, was taken to a Jerusalem hospital for treatment, police said.
The woman - Dalia Lamkos, 26 - was critically injured and died several minutes later at the scene.
This brings the toll of Israelis killed in terror attacks in the last 30 days to six, more than the total for the last two years.
Tuesday 11 November 2014
11:15 AM
Security forces have declared a state of preparedness for possible rocket attacks from Gaza in support of West Bank and Jerusalem Palestinians.
10:30 AM
Mahmoud Abbas is every bit the toxic anti-Semite his predecessor Yasser Arafat was, Israel's Foreign Minister Avigdor Liberman charged on the 10th anniversary of the late leader's death.

"Ten years after Arafat's death it's clear that both are Jew-haters who believe in terror," he said. "Abbas is even more dangerous because he does a better job at hiding his true visage."
10:22 AM
Abbas has also accused the Islamist movement Hamas of trying "to destroy" efforts to broker national unity through a series of bomb blasts in Gaza last week.

Hamas were behind the attacks targeting leaders of his Fatah movement in Gaza, the leader said, charging that the rival faction was trying "to sabotage and destroy the Palestinian national project."
10:05 AM
In a speech in the West Bank city of Ramallah, Palestinian President Mahmoud Abbas has charged that Israel's leaders "are leading the region and the world towards a disastrous religious war."
8:48 AM
West Bank: i24news correspondent Tal Shalev reports there's a heavily increased presence of Israeli security forces in the Gush Etzion area. Soldiers with drawn weapons are posted to the major junctions; Palestinian drivers are stopped for check ups and inspections. Barricades are erected at bus stops and hitchhiking stops. Many Jewish residents are seen carrying personal weapons.
8:44 AM
Palestinian, 21, who hurled firebombs at Israeli troops killed in clashes in the West Bank city of Hebron
7:52 AM
Palestinian political figure Marwan Barghouti issues a call for "armed resistance" from his Israeli prison jail cell. Barghouti, sentenced to five life sentences for murder and terrorism, is regarded as the architect of the first and the second intifadas, and continues to wield considerable influence on Palestinian politics.
6:56 AM
Jerusalem: unknown vandals punctured the tires of five vehicles and scrawled anti-Arab messages in the Arab neighborhood of Beit Safafa.
6:53 AM
The European Union condemned Monday's attacks in Tel Aviv and the West Bank, branding them "terrible" and "utterly reprehensible." The statement further added the EU is "concerned" with the current situation in the region, as the "absence of a political horizon could see the situation deteriorate further."
6:35 AM
Israel's Chief Sephardi Rabbi Yitzhak Yosef asked the Vatican to help allay the Arab-Jewish unrest in Israel. At a meeting with the Vatican's ambassador to Israel, Giuseppe Lazarroto, Yosef added that Israel expects the Vatican to issue a condemnation of the terror attacks against Israelis.
6:07 AM
One Palestinian was killed and two others injured Tuesday when a blast hit a fuel truck at a crossing in southern Gaza, medics said.

Emergency services spokesman Ashraf al-Qudra said a 20-year-old man had been killed in the explosion which took place on the Palestinian side of the Kerem Shalom commercial crossing.

Officials were not immediately able to say whether it was the result of an accident or a deliberate attack.
4:59 AM
An explosive device was found in a residential building in the coastal city of Netanya; the residents were evacuated.
4:12 AM
Israeli police detained the family members of the two perpetrators of Monday's deadly attacks in Tel Aviv and the West Bank, Ynet reported.
2:19 AM
A 36-year-old Palestinian man was killed outside the Arab town of Zemer in the Sharon region, Israeli media reported.

The man, a Nablus resident, was found shot dead in an open field near the town. A 16-year-old Palestinian teenager was also wounded in the incident.

Police said the incident was likely criminal in nature.
Monday 10 November 2014
11:31 PM
Ron Prosor, Israel's ambassador to the United Nations, charged that "Each day Israelis are coming under attack. Each day the crowds of violent Palestinian rioters grow larger. And yet, this institution has not uttered a word to denounce attacks against Israelis. Ignoring incitement and terrorism is similar to supporting terrorism."