Israel's Christian schools ask Putin to intervene in budget row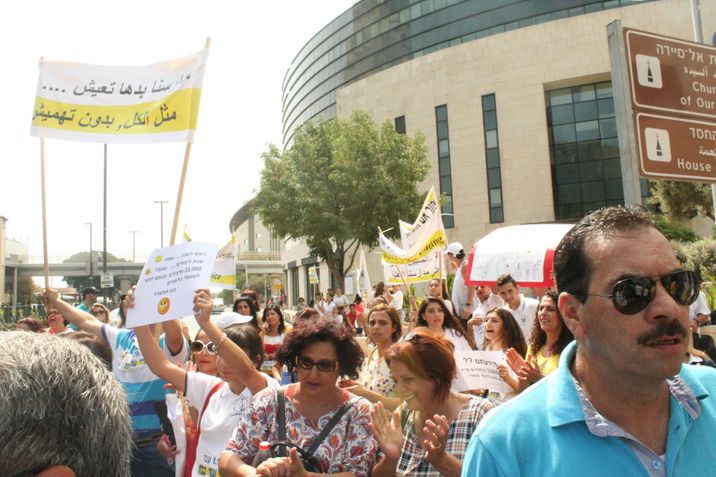 Manifestation à Haifa pour une hausse du financement des écoles chrétiennes
Parents ask Vatican to push for Russian leader to address issue during meeting with Netanyahu next week
A budget row that has left dozens of Christian schools in Israel closed since the start of the academic year on September 1 has reached Russian President Vladimir Putin via the Vatican. 
The Vatican has asked Putin to intervene in the conflict and speak with Prime Minister Benjamin Netanyahu on the issue when the two leaders next week in Moscow, Israel's Channel 10 reported Saturday. 
The report also said that the parents of the schools' students are planning a protest outside the Israeli consulate in Los Angeles. 
Demonstrations are planned for Saturday night in the central Israeli cities of Jaffa and Ramle.
Around a thousand students, parents and teachers gathered Wednesday morning at the Government Center Plaza in Haifa to protest against the Ministry of Education for ignoring funding requirements for Christian schools.
Parents and school officials have accused the government of discrimination in funding their establishments.
The strike action affects about 33,000 pupils at 47 schools, most of which are run by the Roman Catholic church but also including Protestant and Orthodox institutions.
School officials say they receive only one-third of the subsidies Israel provides equivalent Jewish schools, and that they will stay on strike until their demands are met.
The Christians say that their 65 percent state budgeting was cut to 34 percent two years ago before being reduced to its current level of 29 percent.
The state's offer to return the funding to 34 percent, and to allow parents to fund the balance, was rejected by the principals, clergy and parents, who demand the full funding they say Jewish schools get.
The Education Ministry reiterated its assertion that there was no difference in the funding of the Christian and Jewish schools of recognized, but unofficial status.
(With AFP)
You need to be logged in in order to post comments. Sign up or log in
September 19, 2015 10:53 PM
No offense, but it is a "Jewish" country", so why should they have to fund schools of other faiths? Like it or not, it is one of the few countries where "synagogue" rules over state. Israel's municipalities fund their synagogues on a minor level. Should they now be expected to fund the churches and mosques? Shouldn't the Vatican ("poor" as it may be)be asked to fund catholic schools in a Jewish country?