Israel: Palestinian terrorist held after stabbing spree leaves four injured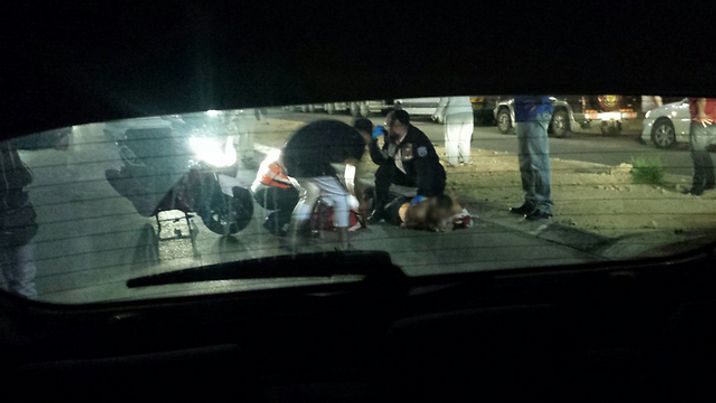 Paramedics treat a victim of a suspected terror attack in Kiryat Gat November 21, 2015.
Ynet/Gabriel Michaeli
A 13-year old girl was among the victims. Teenaged suspect apprehended after hours on the run from police.
Four people, including a 13-year old girl, were moderately wounded in a stabbing attack in the southern Israeli city of Kiryat Gat in a terror incident.
The stabbings occurred at approximately 6:45 p.m. local time on King David Street. Police spokesman Micky Rosenfeld called it a "confirmed terrorist attack".
First responders from Israel's Magen David Adom reported that four victims, a 13-year old girl, 51-year old male, and two other females ages 44 and 56, were evacuated to the Barzilay Medical Center in Ashkelon with serious to moderate injuries.
According to police, the suspect was hit by a car while approaching more intended targets, but was able to escape the scene prompting a city-wide manhunt which lasted hours following the attack.
Police urged residents to remain indoors as they set up roadblocks and approximately 250 armed officers swept the city in pursuit of the suspect, with helicopters aiding the search from the air.
According to police, the suspect is a teenager around 17 years old from the West Bank city of Yatir who entered Israel illegally.
He was aided by two other Palestinians residing in Israel illegally, both of whom were apprehended as well.