Israeli ministers approve NGO-foreign funding bill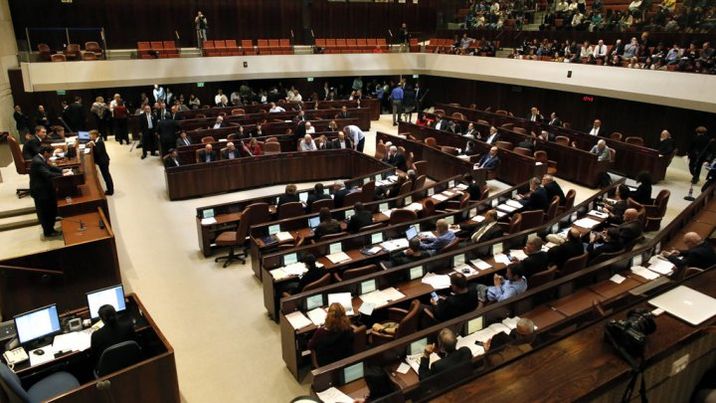 Israel-Knesset
Bill imposes new regulations on non-profits whose funding comes from foreign governments
Israeli ministers on Sunday endorsed contentious draft legislation to toughen rules on rights groups which receive funds from abroad, the justice minister said, in a move left-wing NGOs have called a witch-hunt.
Approval of the draft by the ministerial committee on legislation means that it now goes to parliament as a government bill, where it must pass three readings to become law.
If the initiative is successful, Israeli non-governmental organisations which get at least half of their funding from "foreign state entities" will be obliged to identify donors on their financial statements and in official statements to Israeli public bodies.
It would also compel staff of such NGOs to wear special identity tags when appearing in front of parliamentary committees, as is currently the case with paid lobbyists.
The bill's sponsor, Justice Minister Ayelet Shaked, has alleged that "blatant interference in internal Israeli affairs by foreign governments is unprecedented and widespread."
Shaked cited a UN inquiry into the 2014 summer war in Gaza, which concluded that Israel may have been guilty of war crimes. She said it relied on evidence from foreign-backed NGOs B'Tselem, Adalah and Breaking the Silence.
She is a member of the far-right Jewish Home party, which has been at the forefront of attacks on such groups.
"We are asking of states that wish to intervene in Israel's internal affairs to do so publicly via diplomacy," Shaked said in a statement on Sunday.
Party leader Naftali Bennett, also education minister in Prime Minister Benjamin Netanyahu's coalition government, has banned Breaking the Silence from addressing high-school students, which it had done for many years.
The group is made up of Israeli military veterans who publicize abuses they say they have seen or taken part in during their military service in the occupied Palestinian territories.
Speaking to Israel Radio, Zionist Union MK Tzipi Livni said "if transparency, then transparency all the way." She is tabling a proposal that private donors should also be disclosed, a step that will mean right-wing organizations also need to comply to the restrictions.
Israeli human rights organisation Yesh Din said the committee's decision to approve the bill marks a sad milestone for the State of Israel. 
"The bill that was approved is part of a wave of incitement from the extreme right, that is attempting to discard from the legitimate discourse those who are working to protect the human rights of Palestinians," the group said in a statement. "Instead of dealing with the institutionalized human rights violations that have been going on for close to 50 years, the extreme right-wing government ministers are trying to silence those who cry out on behalf of the Palestinians. This is an anti-democratic decision, designed to conceal from the public in Israel and around the world the injustices of the occupation and tarnish the name of human rights organizations."
Several left-wing Israeli NGOs receive large percentages of their funding from abroad, including from European governments.
Right-wing NGOs tend instead to be funded by private individuals, also often outside Israel, and so are not subject to the restrictions.
Staff with agencies