Rivlin says he warned in 1967 against annexing too many east J'lem neighboods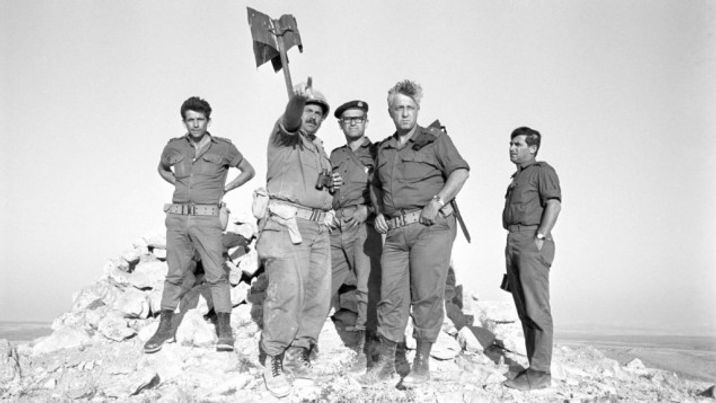 The Six Day War
IDF Archives, Ministry of Defense
Israeli president says he warned former defense minister Dayan about keeping too many Arab neighborhoods
Israeli President Reuven Rivlin has told Israeli daily Ha'aretz that as a young officer after the Six-Day War in 1967 he warned then Defense Minister Moshe Dayan against annexing too large an area of Arab neighborhoods to Jerusalem.
Rivlin spoke to Ha'aretz after the publication of a study that examined the cabinet meetings that preceded the decision to annex East Jerusalem written by Dr. Amnon Ramon from the Jerusalem Institute for Israel Studies.
Rivlin was an assistant to the intelligence officer of Brigade 16 (the Jerusalem Brigade) during the war and claimed that he was one of the people who warned Dayan about the consequences of annexing the land in the east of the city.
Rivlin said that shortly before a cabinet meeting about what to do with the captured land, he participated in a meeting with the defense minister and Jerusalem Mayor Teddy Kollek, together with the IDF's Central Command chief Uzi Narkiss and the city's chief engineer Amnon Niv.
"I said that politically I'm unreservedly for a complete Land of Israel, but I added that from a geographic and urban perspective, neighborhoods such as A-Ram belong more to Ramallah than to Jerusalem. I was a young man of 27 then, but Dayan knew me since we were neighbors in Jerusalem," the president said.
Israel regards Jerusalem -- which it has fully controlled since winning the 1967 Six-Day War -- as its historic and undivided capital.
Palestinians, however, see much of the city as occupied territory and want the capital of a future independent state to be located there.
You need to be logged in in order to post comments. Sign up or log in
December 28, 2015 12:57 PM
So that was 1967, but what have we got today? See what kind of place the Palestinians have made out of Gaza. This is what a Palestinian state would look like. No one wants such a state in the Middle East. As long as the Palestinians on a daily base show the world that they are only able to produce terror and hate, there will be no state. From an 80 year old Abu Masen to the youngest knife stabbing child, today no one is willing to build a peaceful future. States are build on tolerance, not violence against those of other religion, opinion or race. When Palestinian schools start teaching this instead of terror, their might be a chance for a state of their own.