Archeologists unearth Biblical Greek inscription with Psalms 86 phrase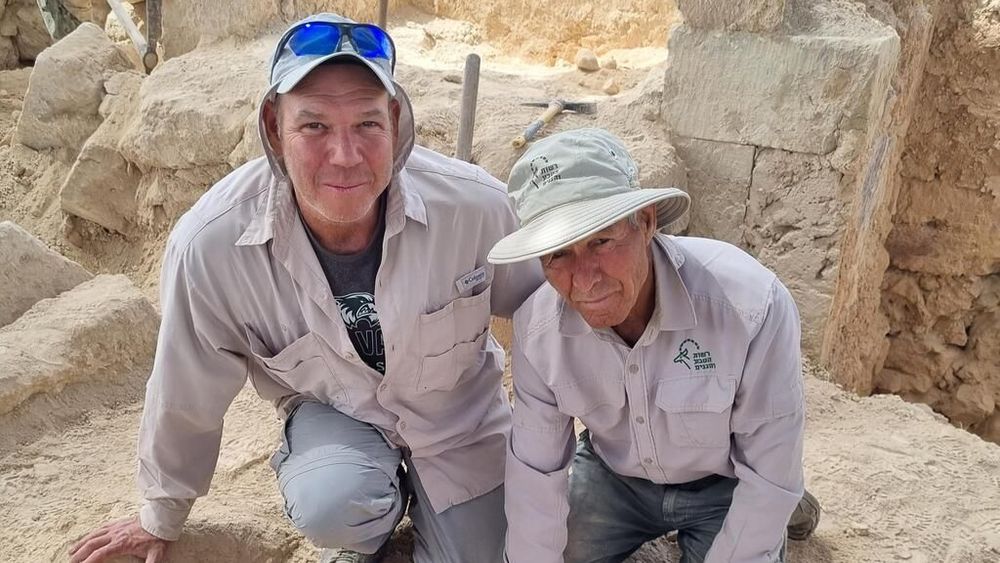 The Hebrew University of Jerusalem led the excavation with teams from Carson-Newman University and American Veterans Archaeological Recovery
A team of archeologists unearthed a Byzantine-era Koine Greek inscription referencing Jesus Christ coupled with a widely used verse from Psalm 86, as well as a small golden ring, at the Hyrcania Fortress in the Judean Desert.
The excavation project is headed by Dr. Oren Gutfeld and Michal Haber of the Hebrew University of Jerusalem, joined by teams from Carson-Newman University and American Veterans Archaeological Recovery.
"There are certain architectural elements within these fortifications that strongly recall those of Herodium – all part of Herod's extraordinary vision, albeit on a somewhat smaller scale. It is possible that the work was even carried out by the same engineers and builders," Gutfeld detailed the excavation site.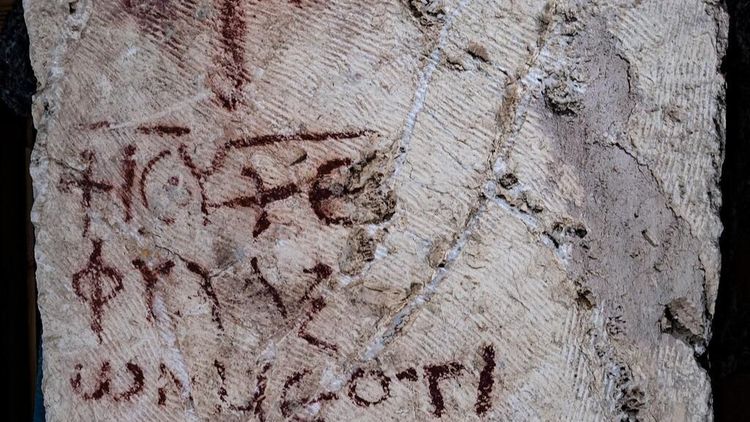 The team uncovered construction stones that collapsed from the upper floor into a basement hall. It was there that a large stone was discovered with rows of text and a cross painted in red. And an expert epigrapher, Dr. Avner Ecker from Bar-Ilan University, was brought to decipher the Koine Biblical Greek.
The inscription was deciphered as, "Jesus Christ, guard me, for I am poor and needy."
While, the original full Psalms 86:1-2 it is written, "Hear me, Lord, and answer me, for I am poor and needy. Guard my life, for I am faithful to you."
"This psalm holds a special place in the Masoretic text as a designated prayer and is notably one of the most frequently recited psalms in Christian liturgy. It appears that one of the monks drew a graffiti of the cross on the wall and underneath it, he penned a prayer he knew well," Ecker explained.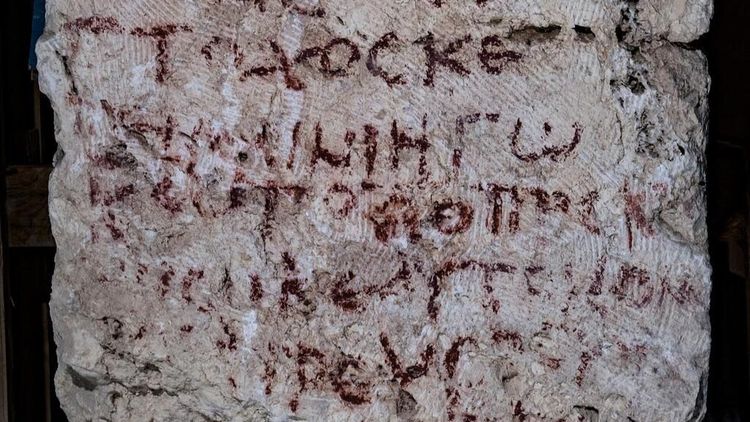 "Based on the style of the script, the inscription dates back to the first half of the 6th century CE. Several grammatical errors in the transcription suggest that the writer did not speak Greek as his native tongue, but rather, he might have been a local, perhaps even a native of the region, and spoke Aramaic or another local language," the expert epigrapher analyzed.
Though there were fragments of papyri allegedly coming from the site, later making it to the antiquities market, this was the first to be discovered through "systematic, documented excavation at the site," according to Haber, adding that the finding held "great importance."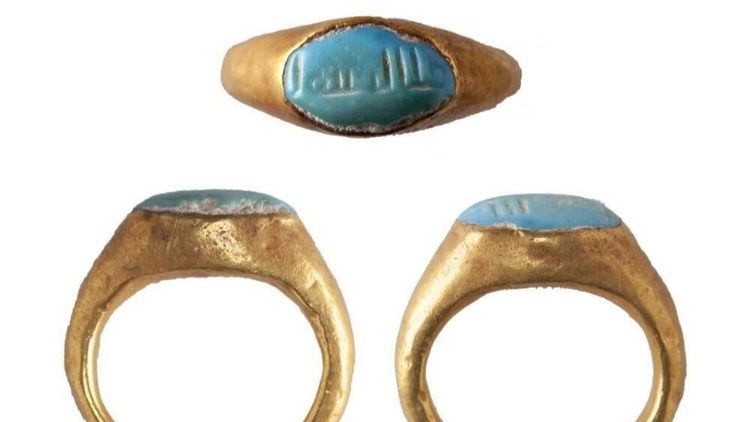 Amongst the rubble at the excavation site, a small gold ring suitable for a child was found. It was adorned with an oval turquoise stone, engraved with Arabic Kufic script. For this, another Arabic epigraphy expert was consulted.
"The script style is indicative of the early Islamic period, during the Umayyad and Abbasid Caliphates in the 7th and 8th centuries CE," stated Nitzan Amitai-Preiss from the Hebrew University, adding that a unique pattern in the script suggested the ring was also used as a seal.
A few days after the initial discovery, an additional inscription was found nearby, but has yet to undergo thorough analysis. Nevertheless, the researchers warned, "our excavations will draw the attention of looters."
"The problem persists; it was here before us and will likely continue after us, underscoring the need for academic excavation – particularly in such a sensitive site as Hyrcania, though this is just one example. We are simply trying to stay a few steps ahead."
Read more stories like this:
• Archeologists 'for first time' unearth tomb of Ancient Greek hetaira courtesan >>
• 'Magical' artifacts found on Hajj pilgrim route to Mecca in the Eilat mountains >>
• City of David canals leave archeologists with more questions than answers >>
This article received 0 comments