New play 'The Demons' shows French-Israelis grappling over identity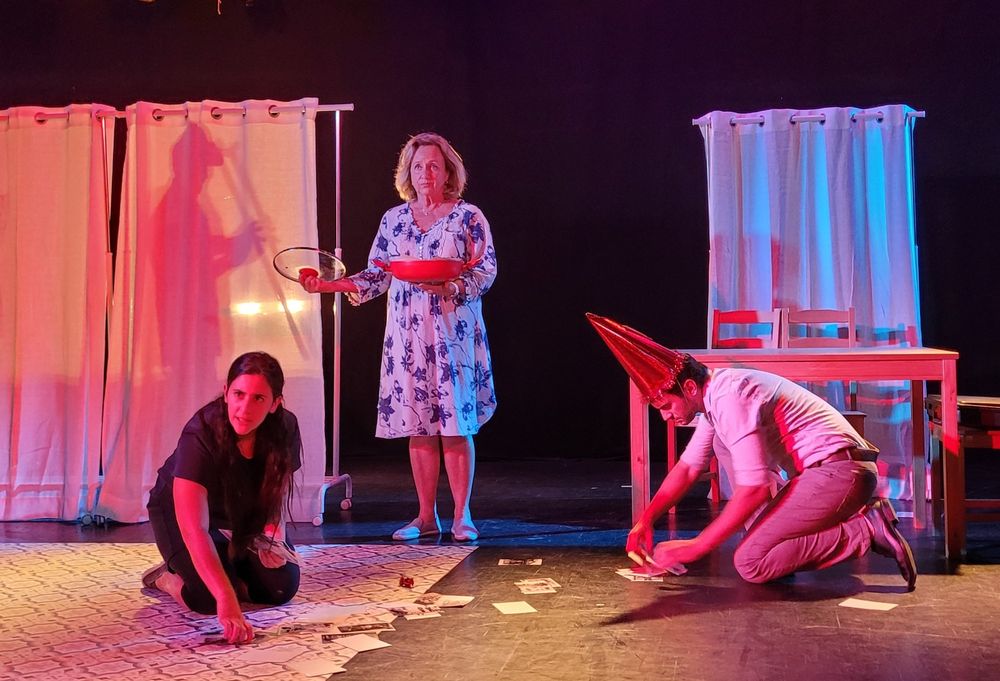 Avital Zer Aviv's production tackles skeletons in familial closet as well as struggles with language and identity
Avital Zer Aviv's new play "The Demons," opening on Thursday at Jaffa's Simta Theater, offers an original and understated approach to the thorny subject of identity among new immigrants from France.
Based on Zer Aviv's own family history, the play centers on the Burns family, who settled in Israel but whose father Raphael chose to remain in France — the reasons for this are shrouded in mystery—and only visits them once a year, on Passover. Twenty years later, the family members' quest for their identities is still ongoing.
While Raphael remains inexplicably adamant in his refusal to make aliyah, his daughter Rose is deeply troubled by a dream in which her father sexually abuses her as a child. Uncertain whether that is a real memory rising to the surface or a manifestation of an anger directed at her father, Rose, played by Avital herself, finds herself facing a dilemma: should she face the past head on and banish the demons that haunt her, or rather reveal the truth to her family and lose them once and for all?
"The script is based a true story, that of my family who made aliyah from France. My grandmother came alone with my father and his sister, while my grandfather stayed in France, always promising that he would come. I remember my grandmother looking forward every Shabbat to the video call. Over the years, my father found out that my grandfather was lying and cheating on my grandmother. Worse still, he also learned that my grandfather was a pedophile. That's why I entitled the play Demons, because there are a lot of taboos: my grandfather's second family in France that he kept secret from us, the infidelities, and the sexual assaults on his granddaughters," Zer Aviv told i24NEWS.
The play, performed in Hebrew, focuses on the question of the identity of new citizens of Israel; throughout the scenes, the grandmother often speaks in French to the consternation of her children, who insist that in Israel one must speak Hebrew. They also listen to Israeli songs over and over while she goes for Jacques Brel.
The spectator then witnesses a real inner tension that animates the grandmother, torn between the joy of being in Israel and the difficulties she experiences in fully integrating while wishing to preserve her French culture. At the same time, Rose wants to wipe out France and the French language at all costs. She throws herself headlong into learning Hebrew with the desire to become one with her new nationality. Everything that refers to her former country awakens dark memories in her.
"The subject of identity is an integral part of my piece which offers a vision of immigration and questions the place of this new life in permanent conflict with the past. In France, we were defined as Jews and in Israel we are categorized as French, I remember my father telling us that over and over again. It's all this complexity that I'm trying to convey here through stage acting, because I think it's something that accompanies new immigrants throughout their lives. Personally, my identity is always in the form of a question mark, I feel both here and there, the more so whenever I happen to say a few words in French," says Zer Aviv.
The viewer is immersed in Rose's dreams courtesy of inventive stage direction by Denise Shama, who chose to represent the malevolent grandfather's nocturnal visitations from behind a curtain. The director came up with a special gestural language to bring out the family demons and all the things that remain unsaid by the family members, played by Aviva Joel, Liran Kantarovich, Iris Harpaz and Shlomi Nativ.
"With this production, I wanted to show the consequences that abandonment can have on children. Rose's abandonment by her father had a considerable impact on her adult life, her love life, her behavior and her relationship with the family," Zer Aviv said. What she achieved is an innovative piece rife with powerful symbolism, tackling that which we hold dearest, our innermost identity. Running until February 7 in Jaffa, it is not to be missed!
This article received 0 comments