5 dead in shooting attack in central Israeli city of Bnei Brak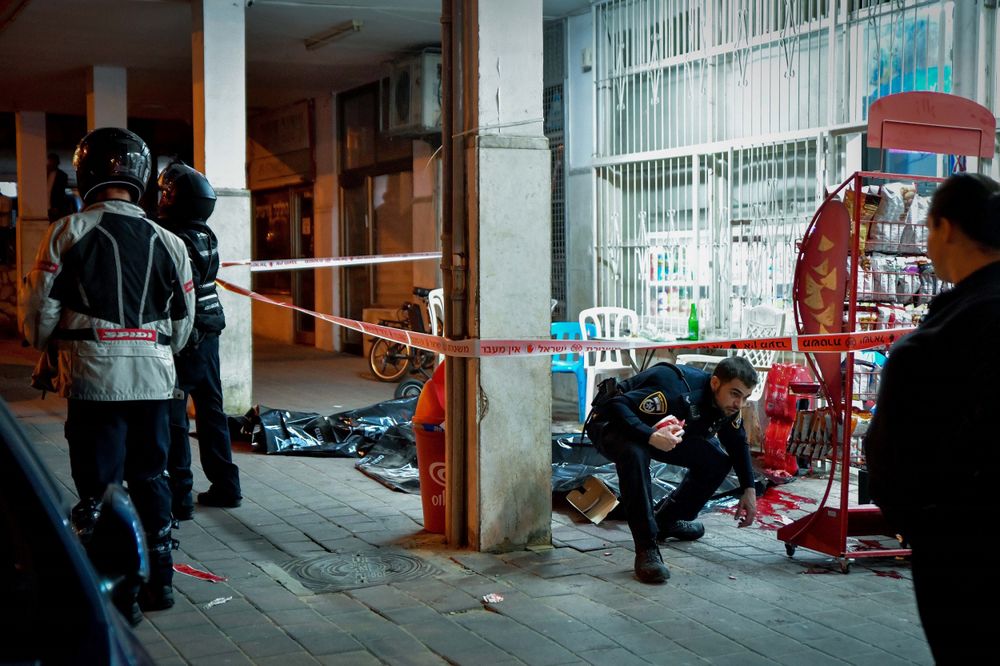 Suspected terrorist armed with M-16 rifle reportedly killed by police officer who later died at hospital
Five people were confirmed dead in a shooting attack on Tuesday night in the central Israeli city of Bnei Brak.
"We unfortunately have to note that five people have died," said Eli Bin, the head of the Magen David Adom emergency responders.
Video footage aired by Israeli media appeared to show a man on the street shooting at a car. The car stopped and he shot into the car. Other video footage showed the attacker shooting randomly at anyone in his line of sight — a pedestrian, scooter rider, biker.
Media reports indicated that the suspected terrorist, armed with an M-16 rifle, was killed by a police officer on a motorcycle who returned fire. The officer, in his 30s, was later pronounced dead at Beilinson Hospital in Petah Tikva.
The attacker was reportedly a 26-year-old Palestinian from Ya'bad near Jenin in the West Bank in the country illegally. He was named as Dia Hamarsha.
Most of the victims were identified throughout the night by Israeli media: First Sergeant Amir Houri, a 32-year-old member of Israel Police's motorcycle patrol from the Galilee region; Rabbi Avishai Yechezkel, a 29-year-old from Bnei Brak; and Ya'akov Shalom, reportedly a father of five also from Bnei Brak.
Two others are reportedly foreign workers whose identities are expected to be revealed once their families are notified.
"The shooter arrived on a motorcycle, we do not rule out that there were more shooters," a police spokesman said.
The mayor of neighboring Ramat Gan posted to Facebook that residents should continue to isolate with no official confirmation that the threat was over.
According to an initial assessment by the defense establishment, three terrorists were involved in the attack. Besides the shooter who was killed, another suspect was arrested. A third suspect may be still on the loose.
Defense Minister Benny Gantz was conducting a security assessment with senior security officials after the attack.
Prime Minister Naftali Bennett said that Israel is "facing a murderous wave of Arab terrorism."
President Isaac Herzog said that the "soul is torn and the heart aches" in reaction to the terrorist attack, while offering his sympathies to the families of the victims.
"Our steadfast spirit, which has already overcome terrorist attacks and wars, will overcome our enemies' hatred this time as well," he added.
Foreign Minister and Alternate Prime Minister Yair Lapid called it a "very difficult evening," vowing to "fight terrorism with force and determination."
"The security forces are facing tense days. I strengthen them and pray that they will return home in peace."
Speaker of the Knesset (Israel parliament) Mickey Levy said in a statement that he would be returning from a visit to the United States to deal with the ongoing security situation in Israel.
Palestinian Authority President Mahmoud Abbas condemned the attack.
US Secretary of State Antony Blinken said the US "strongly condemn[s] today's terrorist attack in Bnei Brak, Israel, that killed five innocent victims."
Israeli Police chief Kobi Shabtai announced that the alert level has been raised to the highest level for the first time since the nationwide violence that occurred during last May's Gaza conflict.
Following an Israel Defense Forces (IDF) meeting, IDF Chief of Staff Aviv Kochavi ordered the deployment of additional troops to the West Bank, a reinforcement of four battalions, in addition to the four battalions sent to the area on Monday.
A total of 11 people in Israel have been killed in the past week in three attacks — four in Beersheba, two in Hadera and now at least five in Tuesday night's attack.
This article received 3 comments