LIVEBLOG: Sirens in southern, central Israel as Gazan terrorists fire over 360 rockets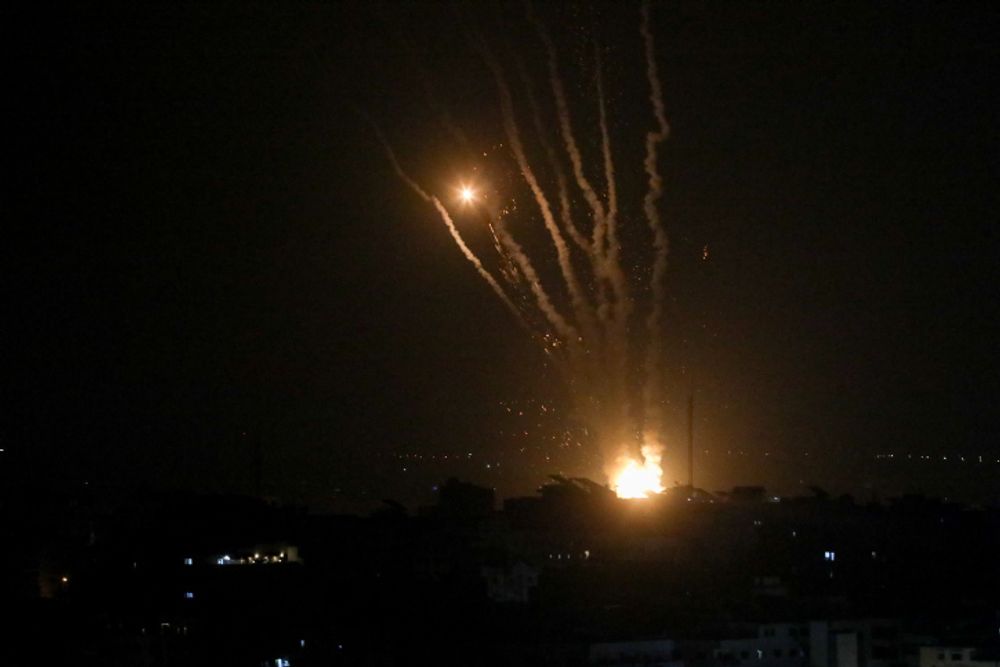 Follow the latest escalation on Israel's southern border
Israel's military on Friday launched air strikes on Gaza, targeting a senior commander of the Palestinian Islamic Jihad terrorist group.
"The IDF (Israeli military) is currently striking in the Gaza Strip. A special situation has been declared on the Israeli home front," a statement by Israel's military said.
So far, the Israeli army said some 200 rockets were fired from Gaza, but only half reached Israel. There have been no reports of injuries or casualties.
By Saturday morning, Israel said it was continuing to strike weapons manufacturing sites of PIJ, and that it arrested West Bank activists associated with the group.
August 06, 2022
IDF strike takes out Khaled Mansour, Islamic Jihad leader in southern Gaza
Israeli source: Jabalia strike a failed launch
Israeli military source tells i24NEWS that the Jabalia strike represents failed launch by Gazan terrorists.
Report: IDF strikes takes out 5 PIJ terrorists
Palestinian media report that an IDF strike took out 5 Islamic Jihad operative in the Gazan city of Jabalia.
Rocket onslaught on Israel continues
Sirens blare throughout Israel's south. In the city of Sderot, an industrial plant took a direct hit; initial reports say there were no human casualties.
Egypt 'working around the clock' to prevent further escalation in Gaza, Sisi says
Egyptian President Abdel Fattah El-Sisi says Cairo is working "around the clock to ensure that things don't get out of control" in Gaza.
In a meeting with Egyptian students at a military college, El-Sisi added that "we are engaged in great efforts with our partners to restore calm and stability."
These are the casualties on the Israeli side as of Saturday evening:
Israel's national emergency service said it treated and hospitalized 21 people, including two lightly injured from shrapnel, 13 lightly injured while racing to shelters, and six others with anxiety attacks.
Rocket sirens blare in central Israel
Once again, sirens warning of incoming Gaza rockets were activated throughout central Israel, including in Tel Aviv, Bat Yam and other municipalities. The Islamic Jihad group claimed responsibility for the latest volley on its social media accounts.
IDF details latest strikes on Islamic Jihad facilities in Gaza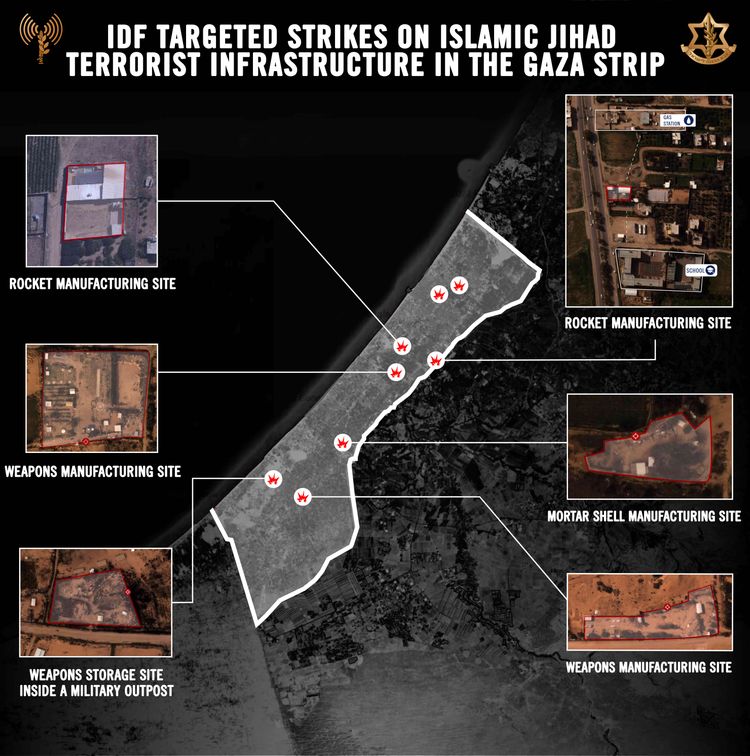 Gantz: Islamic Jihad leaders, who reside abroad, are 'disconnected' from ordinary Gazans
Israel's Defense Minister Benny Gantz says that "the leaders of the Islamic Jihad are lounging in hotels in Tehran, Syria and Lebanon and they are disconnected from the Palestinian people and they seriously harm the lives of the Gazan people.
The official further added that Iran's Revolutionary Guards, a known supporter of Islamic Jihad, "will not pay the salaries of the Gazan people."
Gazan health ministry raises Palestinian toll to 15 dead, 125 injured
Egypt proposes temporary ceasefire between Israel, PIJ
Egyptian negotiators proposed a temporary ceasefire between Israel and the Palestinian Islamic Jihad, according to Channel 13 News.
The report said the pause in hostilities would be an opportunity for a longer-lasting ceasefire to be negotiated.
Cairo's proposed deal came as Operation Breaking Dawn nears its 24-hour mark.
Gaza rocket hits house in southern Israel; material damage reported
A rocket launched from Gaza struck a house in the southern Israeli town of Sderot, the municipality said Saturday.
Residents of the house were staying at a bomb shelter and only material damage was reported.
Iran's Revolutionary Guards say Israel facing 'heavy price' for attacks in Gaza
The commander of Iran's Revolutionary Guards said that Israel would pay a high price for its latest attacks on the Palestinians in Gaza, Iranian state TV reported.
"The Israelis will pay yet another heavy price for their recent crime," it quoted Major General Hossein Salami as saying in reference to Israeli air strikes on Gaza, as he met with Islamic Jihad leader Ziad al-Nakhala who is currently in Iran. - Reuters
Report: Israeli army strikes five-story building in Gaza, warned occupants prior
Palestinian media reported that a five-story building in Gaza City was struck by Israeli fighter jets.
The airstrike came after a "knock on roof" warning drone strike, in an effort to allow people in the building to flee, the reports said.
Israeli Prime Minister Lapid to convene security cabinet Saturday night
Israel's Prime Minister Yair Lapid will meet with top-level security officials Saturday evening, his office said in a statement.
The officials will meet at 10:30 p.m. local time at the army's headquarters in Tel Aviv, central Israel.
PIJ says 60 rockets fired at Israel since Saturday morning
The Palestinian Islamic Jihad's militant wing said 60 rockets were launched at Israel since Saturday morning.
It added that the projectiles were fired at Ben-Gurion International Airport in central Israel, and at the southern cities of Ashdod, Beersheba, Ashkelon, and Netivot.
"We've launched a campaign against the Israeli aggression and the Islamic Jihad fighters are prepared to continue the war," the organization said in a statement.
Israeli army posts videos of strikes on PIJ targets in Gaza
Israel's army published footage of it striking Palestinian Islamic Jihad observation posts in the Gaza Strip.
The first video shows a post being hit by a guided missile, and the following video shows a combat helicopter striking several targets.
Soccer match between Atletico Madrid, Juventus in Israel cancelled
A soccer match between Spain's Atletico Madrid and Italy's Juventus, which was set to kick off on Sunday evening at Tel Aviv's Bloomfield Stadium, was cancelled due to the latest escalation between Israeli and Gazan forces.
The match was scrapped "due to the current security situation," Atletico Madrid said.
While Tel Aviv has not been targeted since the rocket barrages started Friday, sirens have sounded in surrounding cities, and the Tel Aviv Municipality opened the city's public bomb shelters.
Large fires erupt in Israel's south, one sparked by mortar shell
Three large fires broke out in the region between the southern Israeli town of Sderot and Gaza.
A mortar shell launched by militants in the Palestinian enclave landed near a factory, sparking a large fire there. Firefighters later managed to bring the flames under control.
Two other fires broke out in Kibbutz Nir Am and near Kibbutz Erez. Teams are still working to douse the flames.
Heavy rocket barrages fired at Sderot, Gaza border communities
Fresh rocket sirens sounded in the southern city of Sderot and multiple other towns near Israel's border with Gaza.
According to initial reports, the Iron Dome air defense system intercepted six projectiles.
This article received 1 comments