Israel Police to deploy over 3,200 forces for Jerusalem Day flag march
In response to the Israeli national holiday and nationalist march, calls have been published in Palestinian media to raise Palestinian flags in Jerusalem
Days before the Jerusalem Day flag march set for Thursday, Israel Police said it was prepared to prevent "incidents of friction and violence" amid calls for Arab residents in the Israeli capital to raise Palestinian flags as a counter to the parade.
This year's Jerusalem Day marks 56 years since the unification of the holy city, and while opponents see the march's route through the Old City's Muslim Quarter as a provocation, supporters consider it an expression of Israel's sovereignty over a united Jerusalem.
Jerusalem mayor Moshe Leon said Wednesday morning that he hopes the march will proceed peacefully, saying in an interview with Israeli Radio 103. "The march isn't something we invented in the last two or three years, we're talking about a set route that's decades old and takes place every year."
Over 3,200 Israeli police officers, security forces, and volunteers will be deployed throughout Jerusalem on Thursday to "maintain public order, the safety of people and property, and to direct traffic," Israel Police said, noting that the march will not pass through the Temple Mount, despite "false publications and attempts at incitement."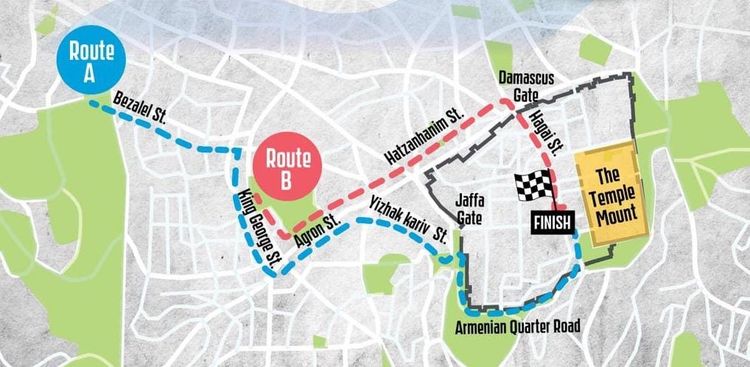 Preparations include technology as well as visible and undercover police officers, who will "act decisively against any attempt to violate the order and the law."
Israeli authorities stressed their desire to "maintain a normal course of life as much as possible, and to allow both the participants of the march and the rest of the pedestrian public and worshipers of all religions to reach their destination, and also prevent incidents of friction and violence of any kind."
In response to the Israeli national holiday and planned nationalist march, Hamas called on all Palestinians to raise Palestinian flags in Jerusalem, at all border areas, and "wherever possible."
"The parade of flags, which is one of the tools of Israel's religious wars on the Al-Aqsa Mosque, will not change the truth – Jerusalem is Palestinian and Arab," said Hamas spokesman Hazem Kassem.
In response, Mayor Leon said: "I really hope they don't fire rockets because of the parade," referring to 2021 when Gaza terror groups took the unprecedented step of firing rockets toward Jerusalem during the Flag March, leading to the onset of Operation "Guardian of the Walls".
This article received 0 comments