India close to finalizing $3 billion defense deals with Israel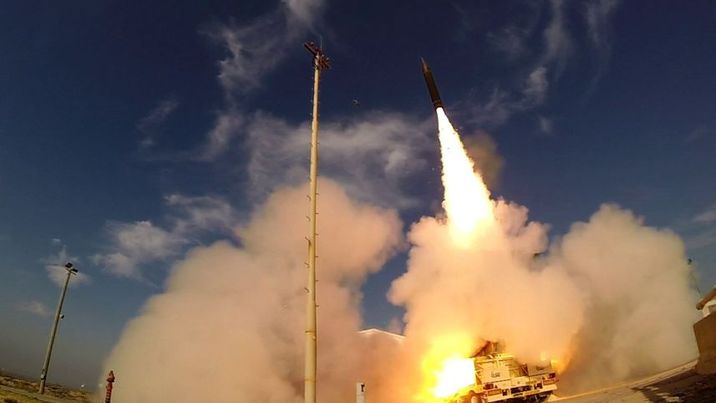 The Arrow 3 anti-ballistic missile being test-fired
Defense Ministry
Three separate deals to include precision guided bombs, anti-tank missiles
India is in the final stretches of finalizing a package of bilateral military deals with Israel, collectively worth around $3 billion, Indian media reported Tuesday.
India's Cabinet Committee of Security (CCS), a government body headed by Indian Prime Minister Narendra Modi and responsible for military procurements, will soon vote on at least three defense pacts between the two countries, The Times of India reports.
The planned deals "should be cleared by the CCS within a month or so," according to a defense ministry source.
Modi will be visiting Israel for the first time later this year, at which time the final contracts ought to be ready for signature.
The three deals include the acquisition of 164 'Litening-4' targeting pods, targeting designation tools used by ground-attack aircraft, for Indian Air Force fighter jets such as the Sukhoi-30MMKIs, and an undisclosed number of Spice 250 precision guided bombscapable of taking out fortified enemy underground command centers.
Progress has also been made in negotiations over the procurement of 321 'Spike' anti-tank guided missile (ATGM) systems, along with 8,356 missiles.
After to Russia and the US, Israel is one of the largest arms suppliers to India with annual deals worth over $1 billion.
"The defense cooperation for many years has been central pillars of the relationship. The changing world, changing parameters, changing needs are always something that is on the top of our agenda and always on our radar," said Israel's Ambassador to India, Daniel Carmon, in January.
India announced late last year that the Barak 8 missile system, jointly developed with Israel, carried out two successful interceptions from an Indian Navy ship deployed off the coast of Goa.
The Indian Navy described the test as "a quantum jump in Indian air defense capabilities."
"All our future warships will be equipped with this missile," a spokesperson for the Indian Navy told the media.
Last month, India's Minister for Foreign Affairs Shushma Swaraj met with Israeli Prime Minister Benjamin Netanyahu in Jerusalem, just three months after the first ever visit by an Indian head of state when President Pranab Mukherjee arrived in Israel in October.
"The Middle East's only democracy welcomes the foreign minister of the world's great democracy," Netanyahu said. "There has been a great friendship between our countries in recent years. The expression of the growing relationship was in the visit of the president the first ever by a head of state."
Netanyahu hailed the cooperation between the two countries in science, technology and agriculture as an "opportunity to have a discussion about the challenges we face. Especially the opportunities we face."
"We are both ancient nations and we take pride in our past but at the same time we want to seize the future. We admire India and view India as a great friend," the prime minster said.