US ambassador to UN visits Israel in push to get peace talks back on track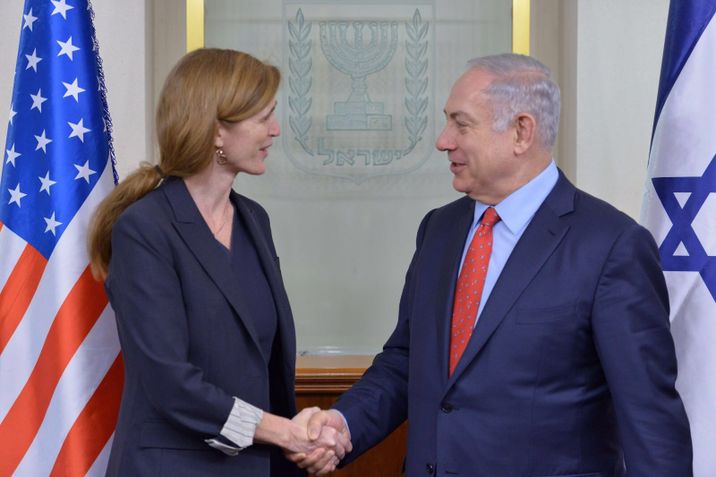 US ambassador to the UN Samantha Power (L) and Israeli Prime Minister Benjamin Netanyahu in Jerusalem on February 15, 2016
GPO
President Rivlin greeted Power, praising her as a 'real friend' of Israel and her efforts to 'bridge gaps'
Prime Minister Netanyahu met with US Ambassador to the UN Samantha Power on Monday to discuss the wave of terrorism and Palestinian incitement. Israeli Ambassador to the UN Danny Danon and US Ambassador to Israel Dan Shapiro also attended the meeting. 
According to a statement from the Prime Minister's office, during the meeting, Netanyahu showed a video clip showing Palestinian incitement in schools, official PA media and by the leadership.
"He emphasized the direct connection between incitement and the terrorism and violence, and called on the international community to demand that the PA stop the incitement," the statement said.
Power arrived in Israel on Saturday, a day before five Palestinians were killed attempting to attack Israelis in a string of attacks across the West Bank and Jerusalem.
Prior to meeting with Netanyahu, Power also met with Israeli President Reuven Rivlin.
Upon her arrival President Rivlin greeted Power and praised her as a "real friend" of Israel and her efforts to "bridge gaps" between feuding parties.
"You are the Ambassador of the United States in the United Nations, which means you are a bridge between very decisive voices in the world, and we welcome you as one who can bridge gaps and as a real friend," Rivlin said, adding that "I know that you are meeting the Palestinians, and I would ask you to transfer once again a message to President Abbas, that he must understand the conflict between us - the tragedy between us - can only be solved through direct negotiations."
"No solution can be imposed on either side, and we must negotiate to come to an understanding," he continued.
During the meeting, President Rivlin emphasized his appreciation of US support for cooperation projects between Israeli Arabs and Jews, said a statement from the President's office.
He told Power that, "I appreciate very much what you are doing, and want to congratulate especially Ambassador Shapiro on the opening of the high-tech hub in Kafr Qasem. This is the way to build confidence measures between the two peoples, and such projects show the whole world that we can cooperate, if we all understand that we are not doomed but destined to live together."
After thanking the President for his warm welcome Power said, "I bring the greetings of President Obama, I know that you have had a very warm and productive encounters lately." 
"During my visit I will have the opportunity to spend some time with young people, and to meet with young Israelis from around the country taking part in a Model UN conference. At a time of difficult and tragic violence in which so many Israeli and Palestinian families have suffered, I am keen to hear your thoughts about how tensions can be calm, and how we can get back on track in the hope that a solution can be negotiated," she continued.
The current wave of terror, which erupted at the beginning of October, has claimed the lives of over 30 Israelis, as well as an American, a Sudanese and an Eritrean.
167 Palestinians have been killed by Israeli forces, most while carrying out attacks against Israelis.
Many of the assailants have been teenagers who appear to have acted on their own.