Israel, Russia sign diplomatic framework agreement in Moscow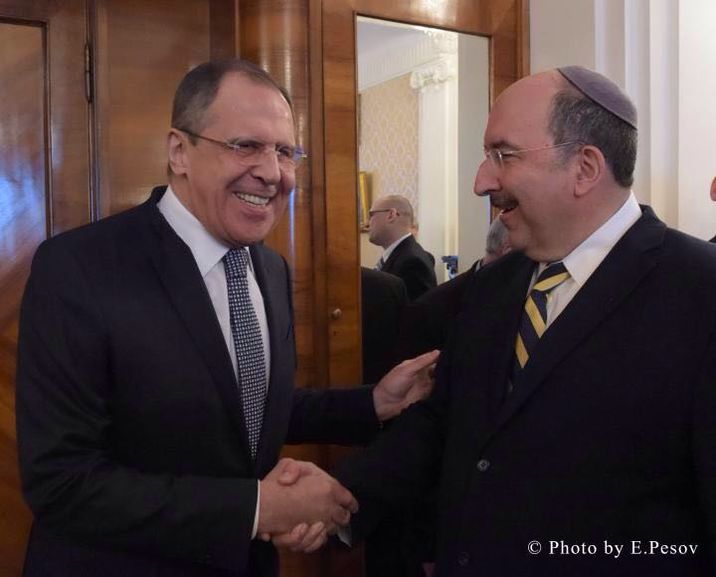 Dore Gold, le directeur général du ministère israélien des Affaires étrangères et Sergei Lavrov, ministre russe des Affaires étrangères
E. Pesov
Gold voiced Israel's concern regarding 'the danger of sophisticated weapons reaching Hezbollah'
Israel and Russia signed a diplomatic framework agreement for the upcoming year, the Foreign Ministry said in a statement, concluding MFA Director General Dore Gold's visit to Moscow.
Golds visit was pre-planned, marking 25 years of diplomatic relations, and included meetings with Russian Foreign Minister Lavrov and other high level Kremlin officials.
The foreign ministry said Syria topped the agenda for the talks. In the wake of the increased Russian presence in the region, and a Russian Iranian deal to supply the sophisticated s300 system, Gold voiced Israel's concern regarding "the danger of sophisticated weapons reaching Hezbollah and the need to fight these transfers", reiterating that Israel will continue to act to prevent arms shipments to Hezbollah and other terror groups.
Gold also discussed the Palestinian issue, according to the MFA, calling on the PA to fight terror and incitement. Gold told his Russian counterparts Israel's position towards recent international initiatives to revitalize the peace process is that "only direct negotiations can achieve an agreement and any attempt to dictate an external solution or internationalize will not succeed and could even cause damage."
Meanwhile, a report in Haaretz claimed the Russians relayed another message, voicing disapproval of Israel's imminent rapprochement with Turkey.
Israeli officials denied the Haaretz report saying that "there has been no Russian request from Israel to avoid a deal with Turkey."
The two countries have been at loggerheads since Turkey shot down a Russian war plane on the Syrian border in November last year.
Israel's foreign ministry spokesperson refused to comment on the report.
i24NEWS' diplomatic correspondent Tal Shalev contributed to this report
See also - Israel's Dore Gold meets Russian FM in Moscow to discuss Syria, S-300 missiles