Israeli dies from wounds sustained by IDF gunfire targeting assailant in W.Bank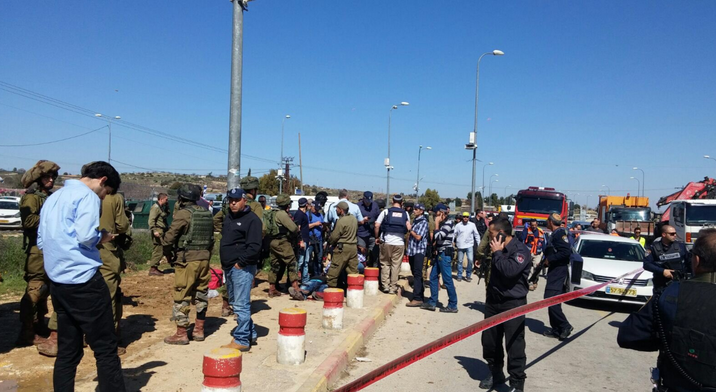 Scene of Gush Etzion stabbing attack, February 24 2016
Twitter
Assailant shot and wounded; Israel arrests suspect in Rahat stabbing
A 30 year-old Israeli reserve captain has died after being shot by Israeli army forces during an attempted stabbing attack at the Gush Etzion Junction in the West Bank south of Jerusalem.
According to initial reports, the Israeli was stabbed in the chest by the assailant, but it was later clarified that he was mistakenly shot by IDF soldiers aiming for the attacker.
The IDF confirmed in a statement that the victim, Eliav Galman of Karmei Tzur, was a reserve officer with the Israel Air Force. He leaves behind two children.
He was evacuated to Jerusalem's Shaare Zedek Medical Center where he succumbed to his wounds.
This is not the first time the family has been hit by tragedy. Galman's brother is married to the sister of Benaya Sarel who was killed during Operation Protective Edge in Gaza in the summer of 2014. Sarel was the company commander of Lt. Hadar Goldin, an IDF soldier whose body was confused with the body of a Hamas operative killed in a firefight.
The attacker, identified by Palestinian media as 26-year-old Mamduh Amro, from the West Bank village of Dura near Hebron, was shot and was moderately injured. He was also transported to Shaare Zedek Medical Center by Magen David Adom.
Rahat attacker arrested
Earlier on Wednesday Israel's Shin Bet internal security agency announced that Israeli security forces have arrested a 17-year-old Palestinian in connection with a stabbing attack against an elderly Jewish woman in the southern Bedouin city of Rahat on February 6.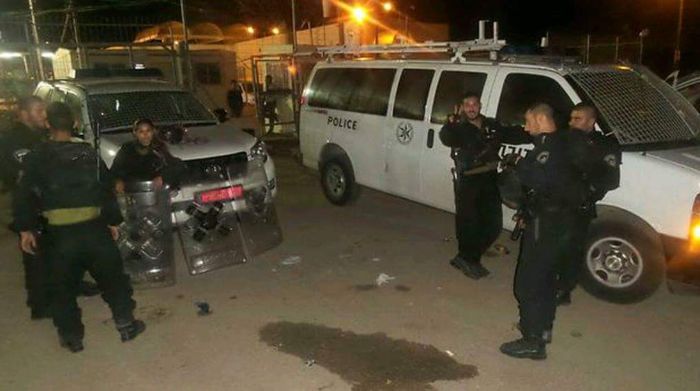 Shlomit Gonen, 65, sustained moderate injuries to her neck and was transported to Soroka Medical Center in Beersheba for treatment. She had been shopping with her family at the local market when she was stabbed.
According to Israeli media, security forces had collected forensic evidence during the search for the suspect which led them to his home in the West Bank town of Yatta on February 10th.
The investigation by the Shin Bet revealed that the suspect was working illegally in Israel doing odd jobs for a local family in Rahat.
While the suspect admitted to the Shin Bet during interrogations that he had carried out the attack and led investigators to the knife he used, the family he worked for had no idea of his plans to carry out an attack.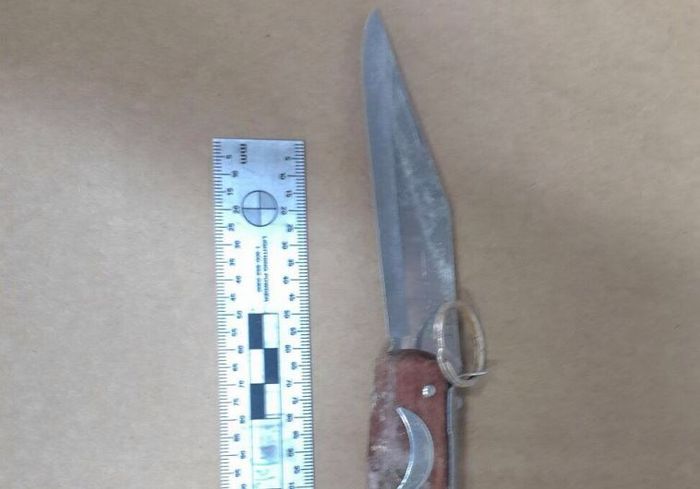 Talal al-Kirnawi, the mayor of Rahat, had condemned the attack he said was carried out by masked Palestinian illegally in Israel and said he believed there were at least 7,000 people in Rahat illegally at any given time and that called on the city to deport them.
A wave of Palestinian knife, gun and car-ramming attacks erupted in September. Most of the attacks have been stabbings, although there have also been occasional shootings.
The violence has killed 33 Israelis, as well as an American and an Eritrean.
At the same time, 160 Palestinians have been killed by Israeli forces, most while carrying out attacks but others during clashes and demonstrations.
You need to be logged in in order to post comments. Sign up or log in
February 25, 2016 3:30 PM
Another sad victim of Israel's shoot to kill policy.
February 25, 2016 4:36 PM
No Michael, there is no shoot to kill policy, only a Palestinian policy to murder civilians. Anyone attempting murder or any form of terrorism deserves what they get.
February 25, 2016 6:27 PM
Neil, 2 soldiers shot to kill rather than disarm the assailant. That's a shoot to kill policy .... had they been less inept the assailant would also be dead.