Israeli army used 'Hannibal Directive' to rescue soldiers in West Bank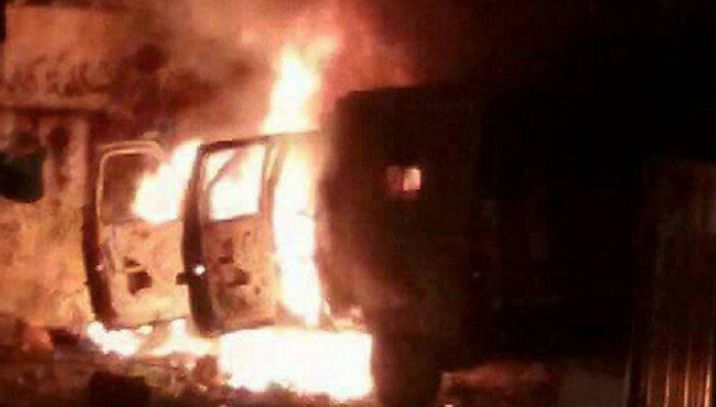 Jeep israélienne brûlée dans le camp de Qalandiya (Cisjordanie) le 29/02/2016
i24news
Palestinian mob attacks soldiers' vehicle with rocks, firebombs after troops enter Qalandiya by mistake
The Israeli army used the "Hannibal Directive" during its rescue of two soldiers who accidentally strayed into Qalandiya refugee camp on Monday night and came under attack, Haaretz reports.
Two Israeli soldiers were said to be using navigation app Waze when they mistakenly drove into the Qalandiya refugee camp overnight, sparking clashes as security forces deployed to rescue them that killed one Palestinian and wounded 15 people.
The Hannibal Directive is a highly controversial army procedure that allows for the IDF to deploy massive firepower in the event that an Israeli soldier has been kidnapped or risks being kidnapped, in order to prevent them from being captured.
The use of force is deployed in spite of the casualties it may cause, including to the IDF soldier in question.
The procedure was allegedly last deployed in Rafah, Gaza, during Operation Protective Edge when Lt. Hadar Goldin was allegedly taken captive by Hamas. Following the enactment of the Hannibal Directive, wherein the IDF fired at the location Goldin had last been seen, dozens of Palestinians had been killed and Goldin was also declared dead, although it remains unknown whether he was captured dead or alive.
The army is currently undertaking a preliminary investigation into the Qalandiyah incident in order to establish the exact circumstances of the event, although Defense Minister Moshe Ya'alon has already signaled that the army needs to establish who sent the pair on their mission as they clearly were not familiar with the territory.
"The soldiers were apparently using Waze," Ya'alon said Tuesday.
"I learned ages ago the importance of navigating with the aid of a real map, and mainly to know the surrounding area and not to rely too heavily on technology which can lead the user astray."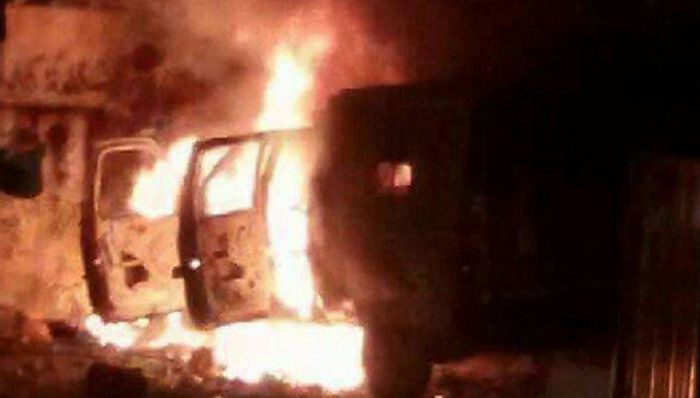 Waze, the Israeli-developed navigation app acquired by Google for more than $1 billion in 2013, said the soldiers themselves were at fault.
"(Waze) includes a specific default setting that prevents routes through areas which are marked as dangerous or prohibited for Israelis to drive through," the company said in a statement to AFP.
"In this case, the setting was disabled. In addition, the driver deviated from the suggested route and as a result, entered the prohibited area.
"There are also red signs on the road in question that prohibit access to Palestinian-controlled territories (for Israelis). It is the responsibility of every driver to adhere to road and traffic signs and obey local laws."
The entry of the soldiers led to fierce clashes, with the two fleeing their jeep and Israeli forces staging a rescue leaving one Palestinian killed and 15 people wounded, officials said Tuesday.
Five Israeli border police were also wounded, one of them seriously, police said.
"Waze is an excellent tool, but it can have its limits," Israeli military spokesman General MotiAlmoz told army radio. "We are going to investigate what happened."
According to an Israeli police spokeswoman, Palestinians threw homemade explosives and shot at the forces, who also opened fire.
Israeli reinforcements were sent to the camp between Jerusalem and Ramallah to rescue them, provoking further clashes.
The Palestinian health ministry said one Palestinian was killed and 10 wounded. The dead man was identified as Eyad Omar Sajdia, a 22-year-old student.
The two soldiers who first entered the camp abandoned their jeep, with one hiding in the courtyard of a house and shooting to defend himself and signal his position, the military spokesman said.
The other fled towards the nearby Israeli settlement of Kochav Yaakov. Both soldiers were rescued unharmed.
Israeli raids on Qalandiya to arrest suspects have sparked heavy clashes in the past.
You need to be logged in in order to post comments. Sign up or log in
Mark that down as another war-crime!
Funny how Palestinians expect a game of tiddlywinks when trying to lynch IDF soldiers! Michael, you'll find that all armed forces of sovereign nations employ this policy. But in your world, only Israel is under the microscope. Controversial, yes. Illegal, no.
"you'll find that all armed forces of sovereign nations employ this policy. " .... only if I search in your imagination, Neil.
English comprehension obviously not your forte, James ... and you misquoted me. Don't drink and type!