'Egypt will again never be our enemy,' says Israel's ambassador to Cairo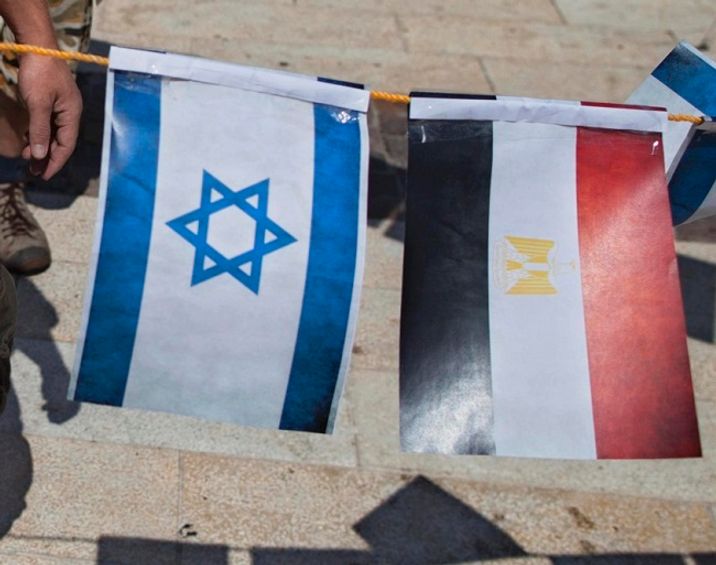 Israel, Egypt flags
Facebook
Egypt became the first Arab country to sign a peace treaty with Israel in 1979
Israel's Ambassador to Egypt, Haim Koren said Thursday that despite the recent controversy over his meeting with an Egyptian parliamentarian, Egypt and Israel would never again be enemies.
Speaking to BBC Arabic, Koren said that while the Tawfiq Okasha, an Egyptian politician and talk show host was expelled from parliament following the meeting, the incident would not affect Israel-Egypt relations.
"The move is contrary to the relations between the two countries,but this is an internal Egyptian issue that has nothing to do with Israel," Koren said.
According to Egyptian media the two men reportedly discussed the work on Ethiopia's Grand Renaissance Dam and the Israeli-Palestinian conflict at the meeting which Koren said was requested by Okasha.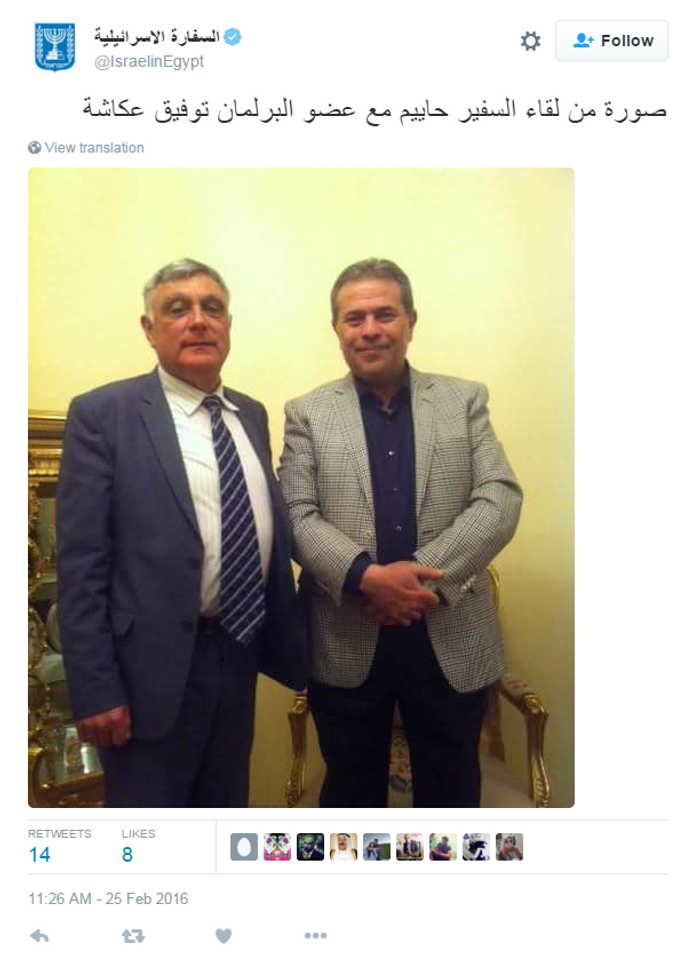 "My presence is accepted everywhere in Egypt. We have good relations with Egypt. I meet daily with Egyptian officials, including members of the government," he said, adding that "I talk to many Egyptians who turn to me. We respect the desire of everyone, even if their desire is that the meeting remain secret and not made public."
When asked about the cooperation between the two countries, Koren said that the two neighbors are "working on a daily basis" and that "due to current situation in the region, it is natural that we will cooperate in various fields. The biggest enemy of Egypt today is terrorism - Hamas in Gaza and IS in the Sinai. There is no chance that we will act against Egypt. It is in the interest of Israel that Egypt will develop and succeed."
In February Koren met with Egyptian journalists in his Cairo residence, telling them that Israel "respects the President of Egypt, Abdel Fattah al-Sisi, because he is an open president who is interested in bringing stability to the region in general and Egypt in particular, and because he knows the face of the Middle East has changed, and knows the experiences of Egypt the best, and the experiences of Israel."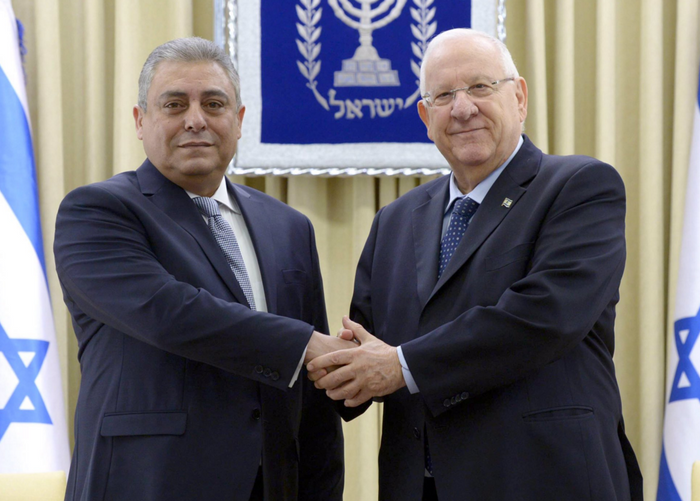 Although Egypt became the first Arab country to sign a peace treaty with Israel in 1979, their ties have been formally cold over Israel's policies towards the Palestinians.
Egypt's political elite remains hostile to any normalization of ties with Israel.
Relations between the two further soured after the June 2012 election of the Muslim Brotherhood's Mohamed Morsi as Egyptian president.
Morsi was ousted in July 2013 by then army chief Abdel Fattah al-Sisi, who was elected president in 2014.
In September 2015, Israel opened a new embassy in Cairo, four years after protesters stormed its mission following the ouster of longtime leader Hosni Mubarak.
Read more: Israel's Rivlin receives credentials of new Egyptian ambassador
(staff with AFP)
You need to be logged in in order to post comments. Sign up or log in
Israel Ambassador in Cairo is saying garbage , the majority of egyptians wants the state of Palestine to be their neighbour because Israel is just a gangs of zionist terrorists and will never be accepted as a neighbour. Israel will never live in peace as long as it continues the occupation and aggression against the palestinians.
@HISHAM ALHOUDALLI You know nothing of what Egyptians want. I'm Egyptian and would much prefer Israelis as neighbors then Palestinian terrorists. In fact, most Egyptians feel the same way and want to see our two nations cooperate but people are scared to speak up. Since Al Sisi has taken over, Israel and Egypt have had a much closer relationship. This has resulted in more people opening up like MP Okasha along with other public figures such as Egyptian Historian Maged Farag and young internet bloggers. I'm all for normalization with Israel, screw BDS. On a side note - You don't hear us speaking on behalf of the people of Jordan (which based on your name, I assume is your country). Next time, make sure you don't speak on our behalf in return.