Israeli, Romanian presidents seek to intensify cooperation between countries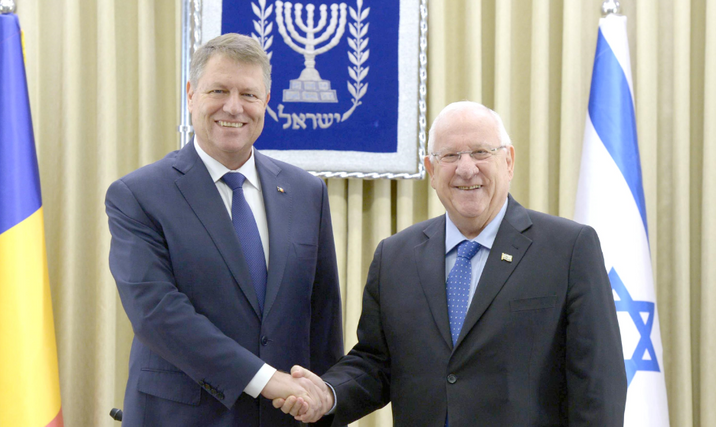 Romanian President Klaus Iohannis (L) meets with Israeli President Reuven Rivlin (R) in Jerusalem, March 7, 2016
Mark Neiman (GPO)
Romanian president Iohannis pledges solidarity in fight against terrorism, anti-Semitism, racism
Romanian President Klaus Iohannis, who is currently on a state visit to Israel, and Israeli President Reuven Rivlin pledged on Monday to intensify cooperation between the two countries.
The two spoke of the need to intensify cooperation in the spheres of politics, defense strategies, scientific and technological research health and economics, The Jerusalem Post reported.
During a meeting between the two heads of state held in Jerusalem, Iohannis pledged Romania's solidarity with Israel in the battle against terrorism, anti-Semitism, racism and hatred, according to the Post.
"The State of Israel is concerned by the regional developments in the Middle East, Iran represents a significant danger to the well-being of Israel, directly and indirectly," Rivlin said. 
Iohannis went on to say that "we understand Israel's security is essential, and not up for comprise. The fight against terror demands our determination."
Rivlin noted that Romania and Israel had historically enjoyed good diplomatic ties, while Iohannis said that during his visit he wanted to focus not only on the past but on the future and the enhancement of friendship and cooperation between the two countries.
Both Iohannis and Rivlin noted that on Tuesday Romania will take over the presidency of the International Holocaust Remembrance Alliance, an inter-governmental organization founded in 1998 at the initiative of Swedish Prime Minister Goran Persson.
Last year Iohannis outlawed Holocaust denial and the promotion of the fascist Legionnaires' Movement.
He signed the amendments to existing legislation, approved by Parliament a month earlier.
The legislation also bans fascist, racist or xenophobic organizations and symbols, and promoting people guilty of crimes against humanity by up to three years in prison.
On 2004 then-Romanian President Ion Iliescu admitted his country's complicity in the Holocaust, ending decades of denial that hundreds of thousands of Jews were killed in the country when it was an ally of Nazi Germany.
Israel and Jewish leaders were angered by a Romanian government statement denying the Holocaust took place on its territory.
The diplomatic clash with Israel prompted Romania, eager to please its Western partners after 40 years of communism, to revise its line on the issue.
About 420,000 of Romania's pre-war 750,000-strong Jewish community were killed during the war. This includes about 100,000 Jews deported to Auschwitz from Transylvania, then part of Hungary, also a Nazi ally.