Sign defense aid deal while Obama in office, Biden tells Netanyahu: report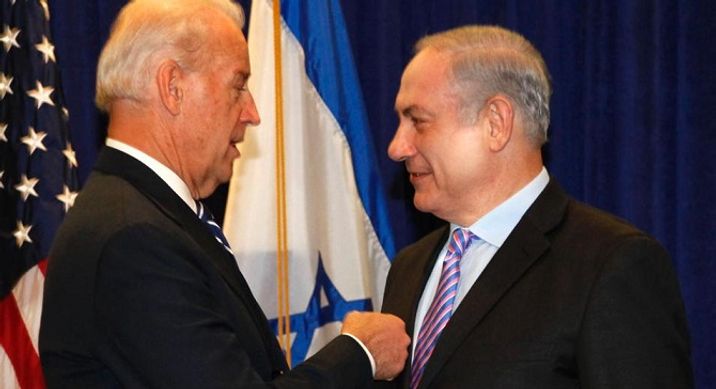 Le vice-président américain Jo Biden et le Premier ministre israélien Benyamin Netanyahou, Jérusalem le 09/03/2016
GOP
After meeting with Netanyahu, US vice president says US condemns terror attacks against Israelis
US Vice President Joe Biden condemned terror in Israel on Wednesday, saying that "Israeli's cannot go one being afraid for their lives," as he met with Israeli President Reuvin Rivlin and Prime Minister Benjamin Netanyahu.
According to Haaretz, Biden urged Netanyahu to sign a memorandum of understanding with President Barack Obama – often perceived as being at loggorhead with the Israeli leader on most issues – regarding the next US military aid package to Israel.
Citing an unnamed official, the daily reported that a better deal under a new president would be virtually impossible due to expected cuts to the US defense budgets.
Rivlin greeted Biden warmly at the President's residence in Jerusalem where the two made a joint statement before the press.
Rivlin opened the press conference acknowledging the wave of attacks that have taken place, including one in Jerusalem earlier that morning in which two Palestinians fired on a bus in Jerusalem before fleeing and again opening fire outside the Old City, leaving one Israeli seriously wounded
"Once again we woke up to terror on the streets of Jerusalem. You arrived yesterday and were in Jaffa, just a short distance from the brutal terror attack in which a US citizen was murdered," Rivlin said to Biden.
"I stand here with you in grief and in solidarity. Our prayers go to the victim's family, and to all the injured in the wave of terror which struck last night and this morning," he continued, adding that "to my sorrow, Israel has faced this kind of terror nearly every day over the past year. Israel will continue to stand firm in the face of this violence and hatred. Terror will not break us, and it will not shape our future."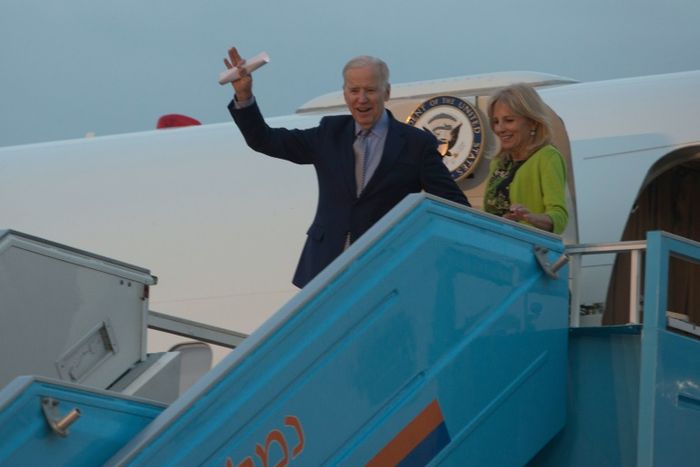 Biden responded to Rivlin's statements saying, "We take very seriously, as you do here, the death of every innocent civilian, every warrior, that comes as a consequence of the evil acts of terror."
"There is an old Irish expression, 'too long a suffering makes a stone of the heart.' The reason why we have to deal with this plague of terrorism is it will have the tendency to harden hearts – not be willing to reach out, not be willing to reach compromise," Biden continued.
"Israelis and visitors to Israel cannot go on being afraid to go about their lives for fear of being attacked. The violence has to stop, period. As you indicated, Mr President, one of the reasons I think you are such a wise man, it cannot and will not be done just be physical force," he added.
Biden criticizes Palestinian leaders for 'failure to condemn' attacks
As Biden met with Netanyahu he implicitly criticized Palestinian leaders for not condemning attacks against Israelis.
"The United States of America condemns these acts and condemns the failure to condemn these acts," Biden said after meeting the Israeli leader.
"The kind of violence we saw yesterday, the failure to condemn it, the rhetoric that incites that violence, the retribution that it generates, has to stop."
Six separate attacks have taken place shortly before or after Biden's arrival on Tuesday, including a stabbing spree on Tel Aviv's waterfront by a Palestinian who killed an American tourist and wounded 12 people.
Biden said his wife and grandchildren had been having dinner on the beach not far from the site of the stabbings.
"It just brings home that it happens and it can happen anywhere at any time," he said.
Biden met with Palestinian Authority President Mahmoud Abbas in the Muqata'a in Ramallah on Wednesday evening. Biden did not make a statement after the meeting, which lasted around an hour.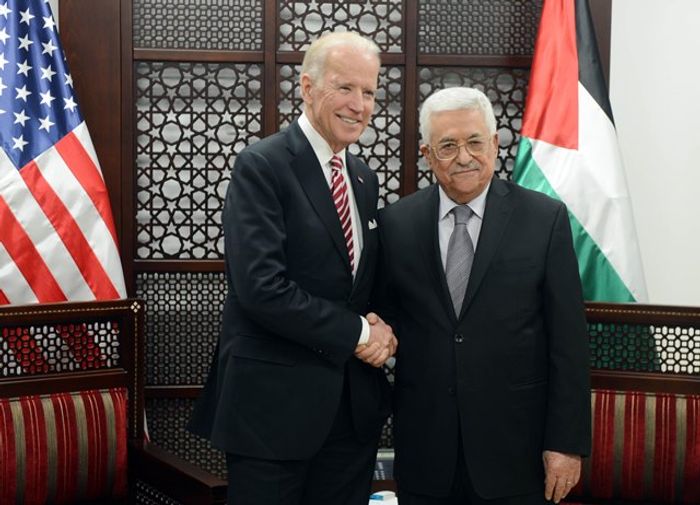 The PA, on the other hand, did release a statement to the press, saying: "President Abbas gave his condolences to VP Biden on the killing of the American tourist yesterday. He also said that Israel has killed more than 200 Palestinians [in the current wave of violence].
"Abbas said that the PA is committed to the two-state solution based on the '67 borders," the statement continued.
Abbas also said in the meeting that fighting terror in all its forms should be a priority, the statement said.
According to the PA statement, Biden reaffirmed in the meeting the US's opposition to settlement-building.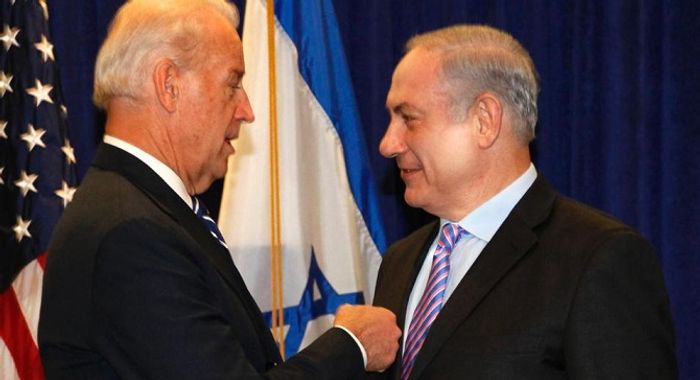 Netanyahu thanked Biden for condemning Tuesday's attack which killed an American citizen, but, "unfortunately President Abbas has not only refused to condemn these terrorist attacks, his Fatah party actually praised the murderer of this American citizen as a Palestinian martyr and a hero," he said.
Palestinian Authority President Mahmud Abbas has repeatedly called for peaceful resistance against the Israeli occupation, but has not specifically condemned a wave of knife, gun and car-ramming attacks that erupted in October.
Islamist movement Hamas, which runs the Gaza Strip, often praises such attacks.
Many of the attackers have been young people, including teenagers, who appear to have been acting on their own.
Analysts say Palestinian frustration with Israeli settlement building in the West Bank, the complete lack of progress in peace efforts and their own fractured leadership have fed the unrest.
Israel blames incitement by Palestinian leaders and media as a main cause of the violence.
According to Netanyahu the two discussed the "persistent incitement in Palestinian society that glorifies murderers of innocent people, and calls for a Palestinian state not to live in peace with Israel, but to replace Israel" as well as the rise of the Islamic State group and Iran's "relentless aggression and terror in Syria, Lebanon, Iraq, Yemen, the Golan and Gaza, and elsewhere in the region and around the world."
According to i24NEWS' diplomatic correspondent Tal Shalev, an Israeli official said that Netanyahu and Biden's meeting was warm and friendly, as they have been acquainted for over 30 years.
They discussed Syria and the battle against IS, as well as the Iranian support of Hezbollah. They also discussed normalization efforts with Turkey and regional cooperation efforts, said the official.
On the Palestinian issue - the leaders discussed security cooperation between Israel and the Palestinians, and Palestinian incitement. Netanyahu showed Biden the incitement video he has been showing world leaders in recent months and pointed out that the official PA Facebook page had praise for the terrorists that perpetrated the attacks yesterday, the official added.
Biden will travel to Palestinian political capital Ramallah in the West Bank later Wednesday to meet Abbas.
Ahead of the Ramallah talks, senior Palestinian official Ahmed Majdalani said he was expecting "nothing" from Biden's visit.
"Mr. Biden is only coming to the region in the context of his plans regarding the fight against terrorism in Syria, not for us," he told AFP, referring to talks between Biden and Netanyahu on the Islamic State jihadist group.
(staff with AFP)
You need to be logged in in order to post comments. Sign up or log in
""The United States of America condemns these acts and condemns the failure to condemn these acts," Biden said after meeting Israeli Prime Minister Benjamin Netanyahu." Biden is of course referring to the continued settlement building and Netanyahu's refusal to disown their illegal action.
"You make up your own rules as you see fit"? If so you should call me Israel Farmer.
Michael please explain why Arabs have been trying to murder Jews even before a settlement was ever built, or when there have been settlement freezes?
Freezes, but not removals.
Negotiations come with compromises - not a one-way street. Abbas didn't bother to show up to talks when there were freezes - a condition to get him to the table in the first place. But of course, Palestinian violence isn't about settlements, it's their hatred for Jews...otherwise they would've had a country any time between 1948 and 1967 (before Arabs chose to invent a people call "Palestinians")
Oh, and remind me again, what did the total withdrawal of Jews from Gaza bring Israel?
"Oh, and remind me again, what did the total withdrawal of Jews from Gaza bring Israel? " Its intention was to give Israel the ability to more concentrate its resources in taking much of the West Bank, also to drive a wedge between the Palestinian people who are one entity. The current debacle was not foreseen.
"Nonsense. "? No knee jerk comment, Neil. Ponder a while. I'm informing you. You may disagree if it pleases you.