Trump, Clinton to address AIPAC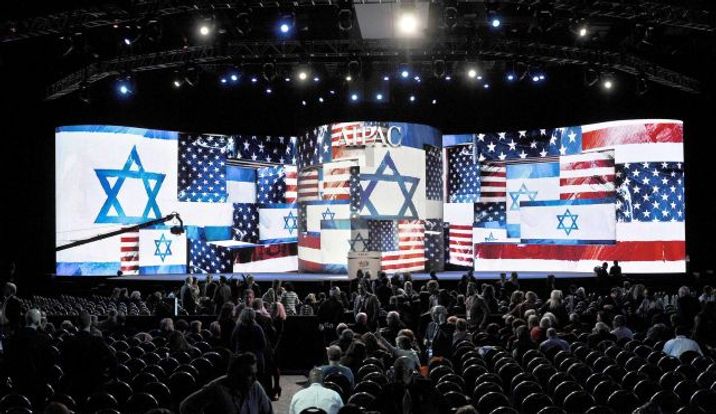 Members attend the American Israel Public Affairs Committee (AIPAC) annual policy conference in Washington on March 3, 2013
AFP
Israeli Prime Minister Netanyahu to address conference via satellite broadcast
Republican front-runner Donald Trump will address the annual conference of the American Israel Public Affairs Committee (AIPAC) in Washington, DC later this month, the organization announced on Friday.
Prior to the confirmation of Trump's appearance, former secretary of state and leading Democratic presidential contender Hillary Clinton was the sole candidate listed as speaking.
AIPAC said it invited all major party presidential candidates to speak.
Prime Minister Benjamin Netanyahu announced earlier this week that he would not be attending, citing concerns over inserting himself into the American election season.
Instead, Netanyahu will deliver a speech via satellite from Israel.
Trump has drawn criticism from his Republican  rivals for saying he would remain neutral in brokering Israeli-Palestinian peace and that both Israelis and Palestinians are responsible for the collapse of the peace process.
The list of speakers at the AIPAC conference, which runs from March 20-22, includes senior House leaders from both parties, among them House of Representatives Speaker Paul Ryan.
AIPAC said Thursday that Kevin McCarthy, the majority leader, and Steny Hoyer, the minority whip, will join Ryan as speakers at the event.
Hoyer becomes the first Democratic lawmaker who supported last year's Iran nuclear deal to be tapped as a speaker by the prominent pro-Israel group.
The bitter debate over the deal pitted Israel's government and AIPAC against the White House and much of the Democratic Party.
Clinton also supported the agreement.
Until Thursday, all the congressional Democrats listed as speaking at the conference had been among the minority who opposed the sanctions-relief-for-nuclear-rollback agreement.