Female Israeli soldier seriously injured in West Bank stabbing attack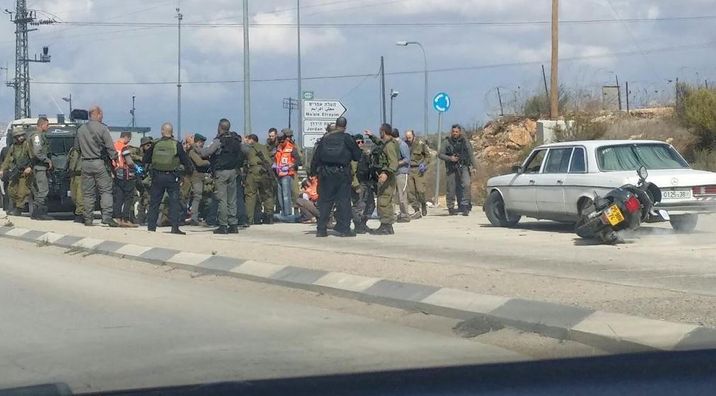 Attaque terroriste au carrefour Tapouah, près d'Ariel, le 30 octobre 2015
Twitter
Two assailants shot dead at scene of incident at Ariel junction
Two Palestinians stabbed and injured an Israeli female soldier near a group of Jewish settlements in the West Bank on before being shot dead, the army said, the latest in a months-long wave of violence..
The incident occurred at the Ariel junction in the West Bank. The wounded soldier was taken to hospital, while the two assailants were shot by forces at the scene, the Israeli army said.
Later in the day there were reports of another suspected attack in Jerusalem's Talpiot neighborhood. A 25-year-old Israeli was lightly injured and the assailant fled the scene.
The man was reportedly struck in the head after exiting a store. Another person who saw the injured man called the police, who have opened an investigation. The incident was initially reported as a stabbing attack.
It is unclear whether the incident was nationalistically or criminally motivated.
Since October 1, a wave of violence has killed 196 Palestinians, over 30 Israelis, two Americans, an Eritrean and a Sudanese,.
Most of the Palestinians were killed while carrying out knife, gun or car-ramming attacks, according to the Israeli authorities.
Others were shot dead during protests and clashes.
Many analysts say Palestinian frustration with Israeli settlement building in the West Bank, the complete lack of progress in peace efforts and their own fractured leadership have fed the unrest.
Israel blames incitement by Palestinian leaders and media as a main cause of the violence.
Most of the attackers have been young people, including teenagers, who appear to have been acting on their own.
Staff with agencies
You need to be logged in in order to post comments. Sign up or log in
"Israel blames incitement by Palestinian leaders and media as a main cause of the violence." How slimy and dishonest. The occupation and settlements are well known to be the main cause , as Israel knows.
Meanwhile Abbas and his cronies continue to plunder and steal from the people who really need it. Rejecting peace offer after peace offer, inciting murder just keeps the Palestinians in a perpetual state of flux whilst their "leaders" continue to line their pockets with EU and US money. I've said it many times to you Michael - why were Arabs starting wars against Israel and murdering Israelis before any settlements were built? Where was their outcry when Jordan and Egypt illegally occupied the territories?