Gaza-based IS affiliate says attacks against Israel only 'matter of time'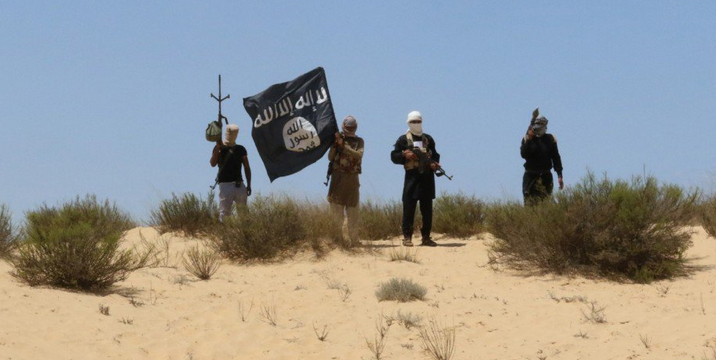 Islamic State militants in Sinai (File)
Islamic State
Senior Salafi group leader says Brussels, Paris attacks only rehearsal for upcoming attack in US
An Islamic State affiliated group based in Egypt's Sinai Peninsula is allegedly planning to carry out a large scale operation in southern Israel, which will include an attack on the resort city of Eilat, a militant close to the group warned in a radio interview according to the Jerusalem Post.
Speaking to Aaron Klein Investigative Radio, a New York weekend radio show, Abu al-Ayna al-Ansari, a Salafist movement senior official in the Gaza Strip, warned that Israel and the US are among the main targets of the Islamic State group.
"The Islamic State educates its people that Israel and the United States are the leaders of the infidels and we believe that Israel should be disappeared," Ansari told Klein, who doubles as Breitbart's Jerusalem bureau chief.
In the pre-recorded, hour-long interview, which is to air in full on Sunday, al-Ansari said that Wilayat Sinai, the Egyptian branch of the Islamic State, "will be the pioneers in this confrontation with Israel."
Al-Ansari vowed that "it is only a question of time when there will be a big operation in Eilat and in the south of Israel."
Similar warnings also previously came from within Israel's security establishment, most notably in September of last year when Col. Yehuda Cohen, the commander of the Israel Defense Forces' Sagi Brigade operating on Israel's southern border, warned that it was only a matter of time before Islamic State-affiliates in Egypt seek to carry out attacks against Israel.
"In the end it must be remembered this organization was formed by terrorists that dream of a terror attack against Israel, and it will come. It's clear that there will be a terror attack against Israel, I believe that it will happen during my tenure," he warned in an interview with Army Radio.
In the same interview, al-Ansari also warned that the deadly attacks in Brussels and Paris were mere rehearsals for a coming "big" attack inside the United States.
"I can confirm that our leadership made it very clear that what happened in Paris, what happened in Brussels was only a small rehearsal before the big thing that will happen in America," al-Ansari said.