'Time has come for official relations between Indonesia and Israel': Netanyahu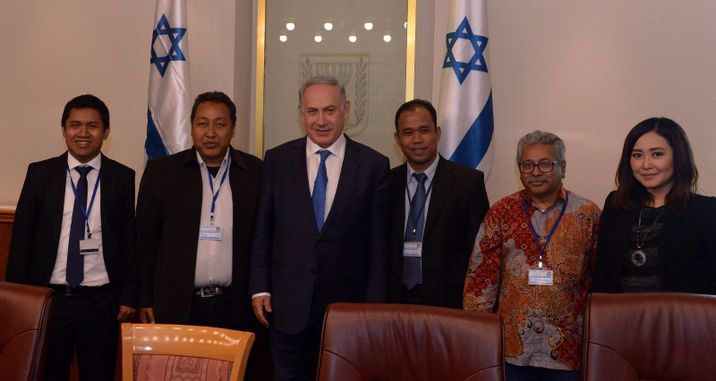 Benyamin Netanyahou avec les journalistes indonésiens à Jérusalem le 28 mars 2016
I24NEWS/ Tal Shalev
Earlier this month Israel made headlines when it denied an official Indonesian delegation entry to West Bank
Prime Minister Benjamin Netanyahu on Monday told  group of Indonesian journalists visiting Jerusalem that it was time for "official relations between Indonesia and Israel."
"The time has come for official relations between Indonesia and Israel," Netanyahu said, adding that "Israel has excellent relations with several countries in Asia, particularly China, Japan, India and Vietnam. In addition, Israel is also deepening its relations with Africa, Latin America and Russia."
Netanyahu continued to address the importance of international cooperation in the fight against terrorism.
"Relations with the Arab world are also changing. Indeed, we are allies in the fight against radical Islam," he said. "Relations between Israel and Indonesia must also change. The time has come to change our relations; the reasons that prevented this are no longer relevant and I hope that your visit will help with this."
There are currently no diplomatic ties between Israel and Indonesia, the largest Muslim country in the world.
The visit by the Indonesian journalists come after Israel made headlines earlier this month when it denied entry to the West Bank for an official delegation from Indonesia, including Foreign Minister Retno Marsudi.  The delegation had arrived in order to attend an inauguration ceremony for an honorary Indonesian consulate in Ramallah.
A few days after the incident, Israel's Deputy Foreign Minister Tzipi Hotovely told the Knesset that Israel and Indonesia had previously come to an understanding during secret meetings in Jakarta that stipulated a visit by an Indonesian official to the West Bank would also be accompanied by a meeting with Israeli officials in Jerusalem.
If Marsudi had arranged a meeting with Israeli officials as well, it would have marked the first official visit by an Indonesia foreign minister to the Jewish state.
"There had been a clear understanding that [Marsudi's] visit to Ramallah would also include a visit to Israel and a meeting with senior officials in Jerusalem," Hotovely said, according to Haaretz.
Hotovely stressed that this act of cooperation applies not only to Indonesia, but to all nations.
After Marsudi was denied entrance to the West Bank, the Palestinian Foreign Ministry released a statement in which it said that "in recognition of the historical and unique ties between Palestine and Indonesia and this country's supportive stance with the Palestinian people, al-Malki traveled to Amman [Jordan] to meet with his Indonesian counterpart."