Israeli military develops system to improve warning time for Gaza mortar shells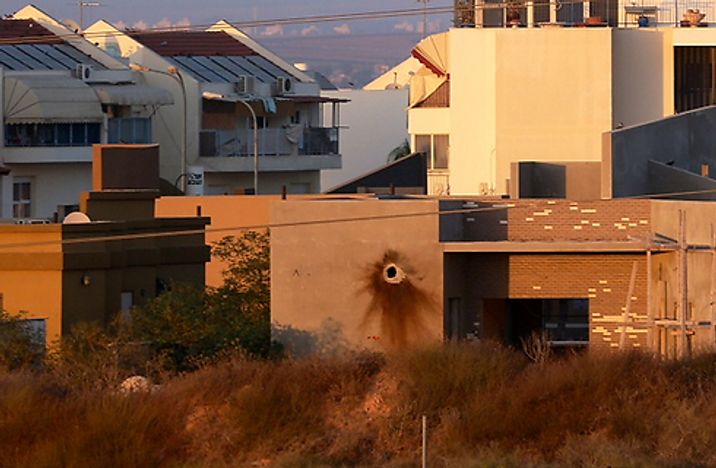 House in Sderot hit by mortar shell during Operation Protective Edge.
Motti Kimchi
Residents of Gaza border communities will now have 15 seconds warning time for short-range shells: report
The Israeli military has reportedly developed a new radar that looks set to give residents of southern communities near the Gaza border improved warning of incoming short-range mortar shells fired by Palestinian militants, Army Radio reported Monday. 
The Home Front Command has reportedly finished work on the system that will shorten the time between the launch of a shell and when warning sirens are triggered, according to Army Radio. 
According to the report, when the new system is in place, residents of communities next to the Gaza Strip will receive a full 15-second warning of incoming shells, an improvement on the time they currently receive for such attacks. 
Israel's current alert system does indeed give residents of these communities around 15 seconds to reach shelters, but these warnings are for longer range missiles. The system has proved less effective against short-range shells, often leaving residents with just three to five seconds to take cover and in many cases there are no warnings of attack at all.
"Those 15 seconds are important, Alon Schuster, the head of the Sha'ar Hanegev Regional Council, told Army Radio. "They improve the response time for anyone who needs to find shelter."
"People come to live here because they know that Israel does whatever it can to protect its citizens from existential threats, whether they come from the sky or from underground," Schuster said.
Since the end of the devastating war between Israel and Gaza militants in the summer of 2014, over 30 projectiles fired from the Hamas-controlled Palestinian enclave hit the Jewish state, according to military data.
Sunni militants claiming links to the Islamic State jihadist group have said they were behind rocket fire from the Palestinian enclave in recent months, but Israel holds Hamas responsible for all such incidents.
Staff with agencies