Israeli PM slams UNESCO motion denying Jewish ties to Temple Mount, Western Wall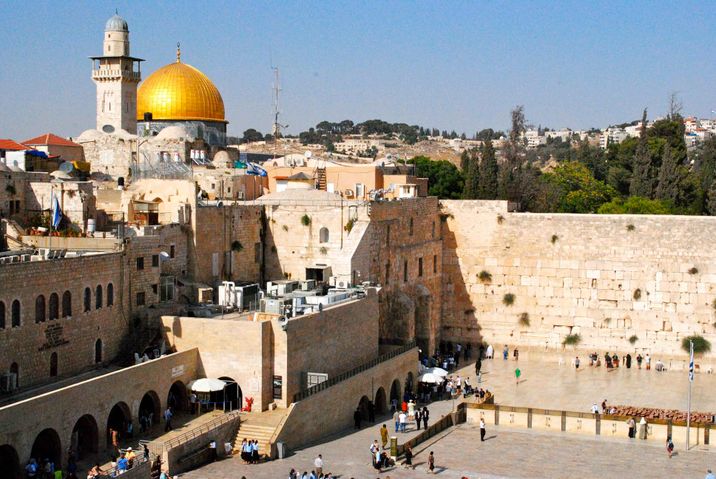 The Western Wall in the old city of Jerusalem
UN cultural agency passes motion referring to holy places solely as Muslim sites
Israeli Prime Minister Benjamin Netanyahu on Saturday issued a response to a UNESCO resolution passed earlier this week which denied Jewish claims to the Temple Mount and Western Wall, slamming it as "absurd" and ignoring a "fundamental part of human history."
"The decision made by the United Nations is absurd," a statement from the Prime Minster's Office reads.
"UNESCO ignores the unique historical relationship between Judaism and the Temple Mount, where two temples stood for a thousand years."
The statement added that "the UN action rewrites a fundamental part of human history."
Former Israeli Finance Minister and Yesh Atid chairman Yair Lapid also wrote a scathing letter to UNESCO, warning the organization's chairwoman Irina Bokova that a decision to divorce the Jewish people from the two holy sites will lead to bloodshed.
"This decision is a shameful attempt to rewrite history, rewrite reality as part of the ongoing political campaign against Israel and the Jewish people," Lapid stated in the letter.
"Palestinian incitement regarding the Temple Mount - which has been proven time and time again... has already cost the lives of dozens of Israelis."
"Your decision only serves to extend this current wave of terror and will only lead to the deaths of more innocent people," he continued. "You cannot evade this responsibility."
UNESCO's Executive Board on Friday passed a motion referring to the Temple Mount solely as 'Al-Aqsa Mosque' - and the Western Wall as the Al-Buraq Plaza.
The motion passed with 33 votes in favor, six against, and 17 abstained.
The Western Wall area was referenced as the Al-Buraq Plaza. Last year UNESCO refused to reclassify the Wall as a Jewish site.
France, Spain, Sweden, Russia and Slovenia were among the non-Arab nations who supported the resolution. Estonia, Germany, Lithuania, The Netherlands, the United Kingdom and the United States objected.
The resolution accused Israel of planting "fake Jewish graves" in eastern Jerusalem.
Jordanian forces desecrated the old Jewish cemetery on the Mount Olives before Israel recaptured Jerusalem in 1967, with its tombstones being used to pave roads.
Israeli ambassador to UNESCO Carmel Shama released a statement in response saying, "Even if UNESCO passes dozens of resolutions, and decides to continue passing thousands more, Jerusalem will always remain as part of the capital of Israel and the Jewish people."
Shama added, "As you continue on this path of incitement, lies and terror you will be sending UNESCO down a path towards irrelevance."
You need to be logged in in order to post comments. Sign up or log in
This doesn't surprise me, nor anyone who believes the history of the Jews. The UN is metamorphosing into Israel's main enemy and will soon be opposing everything Holy and consecrated about their past, and even more important their future which is just around the corner. Stay tuned and watch as a consensus of countries begin to stand against God's people.