Three Israeli soldiers wounded in suspected car-ramming attack in West Bank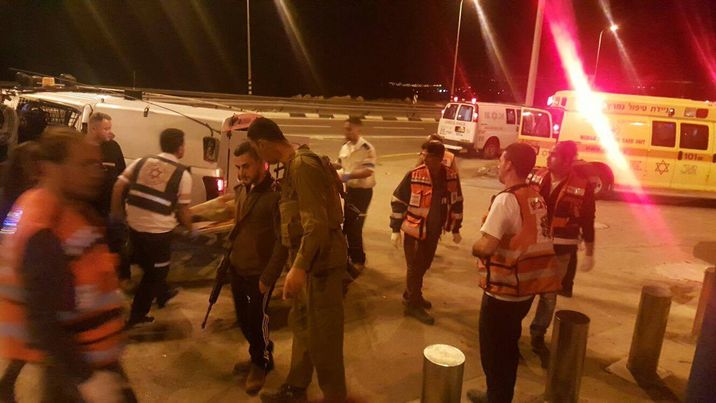 The scene of a shooting attack near Beit Horon in the central West Bank, March 11, 2016
Moshe Mizrachi
The driver of the vehicle was shot and killed
Three Israeli soldiers were wounded in a suspected car-ramming attack near Dolev settlement in the West Bank on Tuesday. The driver of the vehicle was shot and killed, the army confirmed in a statement.
The Palestinian health ministry said the attack occurred at a checkpoint and named him the attacker as Ahmed Shahaada, 36, from the Qalandia refugee camp near Ramallah.
One of the injured was reportedly in serious condition, the other two in moderate condition. The wounded were initially treated at the scene by paramedics before being taken to hospital.
On Monday night, an Israeli was seriously wounded in a stabbing attack at Lions Gate in Jerusalem's Old City. The attacker fled, and was caught in the early hours of Tuesday morning following a manhunt.
(Staff with AFP)
You need to be logged in in order to post comments. Sign up or log in
Three Israeli Zionist occupiers were crushed by a patriot Palestinian freedom seeker , the IOF gangs are torturing, humiliating and terrifying the children, women and elderly in the occupied Palestine after they stole their land and demolish their houses , the scumbags racist Zionist are threatening the peace in the ME and the whole world , supported by the corrupted political in the the USA. The damn of terrorism will reach ever corner of the world as long as the zionists control the corrupt politicians in the USA and other parts of the world including some Arab countries Civilized nations should work harder to condemn and boy cut the racist new Nazis Zionists , There is no future for the fake Israel state with the occupation.
Three Israeli terrorist gangsters were crushed by a patriot Palestinian freedom seeker