Two elderly women injured in Jerusalem stabbing attack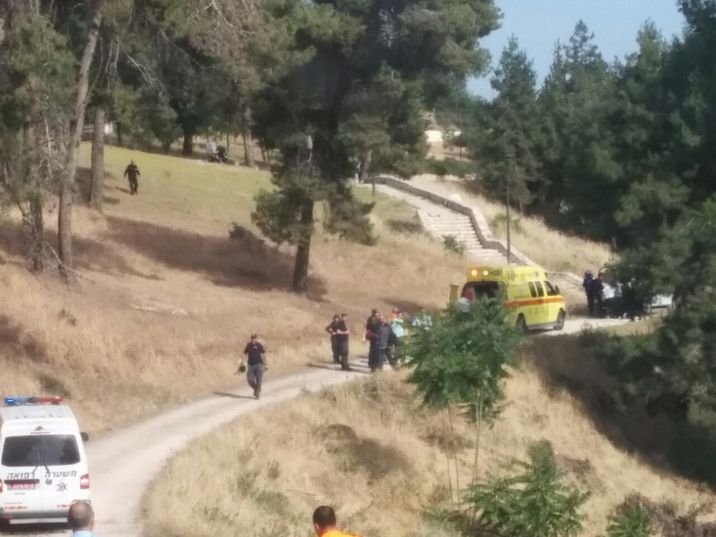 The scene of a stabbing attack in Jerusalem's Armon HaNatziv neighborhood, May 10, 2016
Israel Hatzalah / Twitter
Police set up roadblocks, comb area in search for two assailants who knifed victims before fleeing scene
Two elderly women were injured Tuesday morning in an apparent stabbing attack in Jerusalem's Armon HaNatziv neighborhood.
According to Hebrew media, the two women arrived at a Jerusalem police station and reported to have been attacked by two men who fled the scene.
The women, reportedly in their 80s, were brought to Jerusalem's Shaare Zedek Medical Center for further treatment.
They are both in moderate condition with wounds to their backs and limbs.
The incident occurred while five people were walking by the Armon Hanatziv Tayelet, a southern Jerusalem promenade overlooking the city, popular with tourists.
Two assailants with their faces covered attacked the group and stabbed the two women before fleeing the scene.
Two Palestinian suspects arrested shortly after the incident were released after questioning when they were found to be uninvolved, police said.
Earlier reports had said there were three teenage victims.
A wave of Palestinian stabbing attacks since October has left 29 Israelis and four foreigners dead.
Some 200 Palestinians were killed in the same period, most of whom while carrying out stabbing attacks against Israelis and the remainder in violent protests in the West Bank, according to the IDF.
You need to be logged in in order to post comments. Sign up or log in
Yes, despicable cowardly attack on two old, innocent civilians. Slightly less cowardly than destroying hundreds of young Palestinian children at the push of an F-16 fighter plane or firing from the comfy seat of an Israeli tank but still disgusting. Do you condemn the killing of the hundreds of Gazan children, James... and probably many old Gazan women? .... can't hear you.