US, Israel hail 'unbreakable bond' as historic military aid deal signed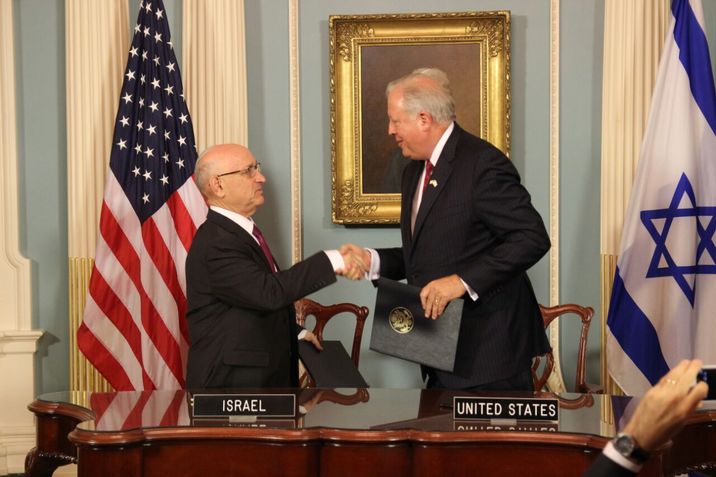 Israel and the United States sign the largest ever Military aid deal on September 14, 2016
Israeli Embassy in Washington
"The US will always be there for Israel," says National Security Adviser Susan Rice
Israel and the United States on Wednesday signed the two countries largest-ever military aid deal, totaling $38 billion for Israel over the next decade.
The hard-fought deal, which has been under negotiation since November 2015, will provide Israeli with $38 billion in military aid over the next decade with $5 billion earmarked for the development of missile defense systems.
The agreement covers the period from 2019 to 2028 and will see Israel receive $3.3 billion per year in foreign military financing -- up from $3.1 billion currently -- and $500,000 in funding annually for missile defense.
US National Security Adviser Susan Rice opened the ceremony, saying that "We affirm today the unbreakable bond between the United States and Israel."
She went on to send wishes for a speedy recovery to former Israeli President Shimon Peres who was hospitalized Tuesday after suffering a major stroke.
"On behalf of President Obama, we are all thinking of and praying for President Shimon Peres, Israel's national treasure," she said.
Rice continued to express the administration's pride in being the one to have provided the most military support to Israel, noting that "since 2009, the U.S. provided almost $24 billion in military aid to Israel. We are proud that no other administration has done so much to enhance Israel's security."
"We can't know what will happen in the next 10 years, but we do know that the US will always be there for Israel," she added.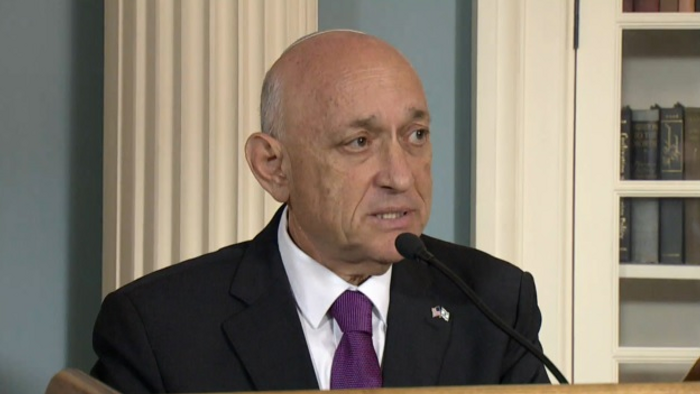 The acting head of Israel's National Security Council, Jacob Nagel who signed the agreement on behalf of Israel, followed Rice.
"The military assistance package that the United States has generously agreed to provide Israel is not taken for granted and will help us shoulder the enormous defense burden that we face. It will enable Israel to better defend itself, by itself, against an attack," he said.
"I feel great pride with this agreement," said Nagel said before the ceremony. "It's an unprecedented historic agreement. The US has never signed such a large scale agreement with any other country. This comes amid rough times on the American side as their defense budget is tightening."
In a briefing before the ceremony Nagel explained that a letter from Israel committing to not to asking for any further congressional aid will be submitted shortly after the ceremony.
However, he noted, the US will allow Israel to ask for additional aid in the event of a war. He gave an example of Operation Protective Edge in 2014, saying that "We received a check for $225 million dollars as soon as we asked. If we will face a confrontation – we will ask – and it will be given."
He stressed that the aid is a "gift" from the US.
"We also must bear in mind we are talking about aid – it's a gift. That's why the term negotiations might be wrong in this regard. We are not giving, but receiving. It's the American tax payers who are funding this aid," Nagel said.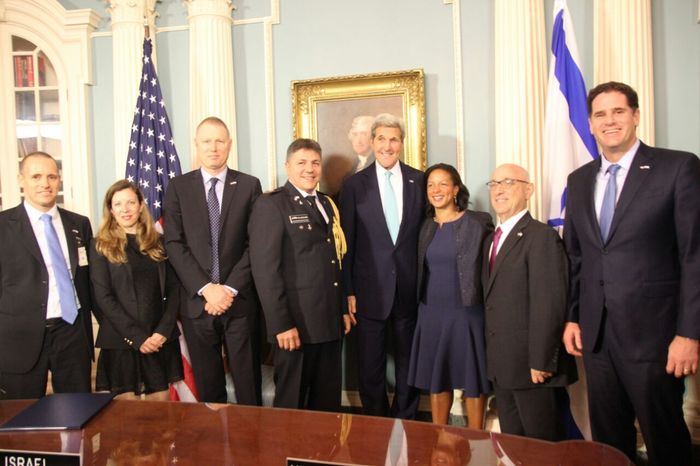 Prior to the ceremony Israeli Prime Minsiter Benjamin Netanyahu hailed the deal as "unprecedented," and "a very important achievement for Israel."
"I would like to thank President Obama and his administration for this historic agreement," the Prime Minister continued. "I also thank our many many friends in the US Congress, and the American people, for the greatest support-- support which cuts across political parties and embraces the length and breadth of the United States."
"The agreement will help us continue to build our armed forces and to continue to improve our anti-missile defenses... Many of the people in the US understand that Israel's security investment strengthens stability in the Middle East, and it serves not only the our security interests, but also the security interests of the United States," Netanyahu added.
The Prime Minister acknowledged in his statement that while Israel and the US have had disagreements, they will not affect the two countries' friendship.
"This agreement demonstrates a simple truth, the US-Israel relationship strong and powerful," Netanyahu said. "This does not mean that we do not disagree from time to time, but these disputes are within the family. They have no effect whatsoever on the great friendship between Israel and the US."
You need to be logged in in order to post comments. Sign up or log in
September 15, 2016 11:04 AM
This is a great pledge of assistance but with one critical caveat that is the phasing out over five years the use of 25 pc of the funding for investment in Israel's defense R&D which without alternative funding will be seriously compromised.