Azerbaijan bought Iron Dome shield from Israel, parliamentarian claims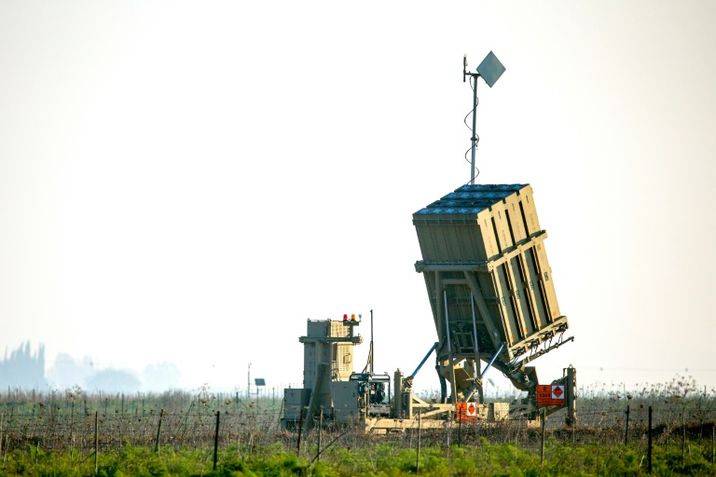 Israel introduced its Iron Dome defence system in 2011
Jack Guez (AFP/File)
Jewish Azeri parliamentarian boasted defense shield would fend off Armenia's Russian-produced missiles
Azerbaijan has acquired Israel's highly rated Iron Dome missile defense shield as part of its efforts to bulwark against regional foe Armenia, a parliamentarian was cited by local media as saying.
Yevda Abramov boasted that "The Iron Dome will not allow the "Iskander" missiles to land on Azeri ground," referring to missiles supplied by Russia to Armenia and paraded in Yerevan.
Azerbaijan and Armenia have feuded over Nagorny Karabakh since Armenian separatists seized the landlocked territory in a war that claimed some 30,000 lives in the early 1990s.
The two sides never signed a firm peace deal despite a 1994 ceasefire and have regularly exchanged fire across the front line; this year, an unprecedented spike in violence claimed he lives of at least 110 people from all sides.
Abramov belongs to Azerbaijan's Jewish community; three of his children live in Israel and one of his sons is an Israel Defense Forces officer.
He said the defense shield is "ready for shipment," providing no further details.
Israel has ties with both Armenia and Azerbaijan and has reportedly sold munitions to Azerbaijan.
In April, an Israeli-produced suicide drone deployed by Azerbaijani army killed seven Armenians. The drone, identified by the as an Israeli Aerospace Industries Harop loitering munition, was filmed flying over the disputed area of Nagorno-Karabakh.
The Iron Dome system, developed by Rafael Advanced Defense Systems Ltd., has been touted as the most sophisticated of its kind in the world, with a reported 90 percent success rate during Israel's 2014 conflict with Gaza.
You need to be logged in in order to post comments. Sign up or log in
So what! Why does this merit a headline? countries all over the world buy and sell weapons to each other! Why is this simple deal being headlined on i24news...it is not even interesting.