United States issues strong condemnation of latest Israeli settlement plan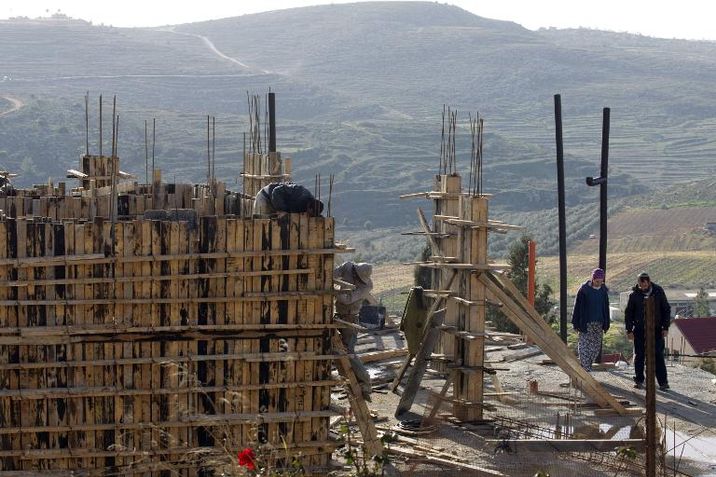 Colonie israélienne en construction le 22 février 2012 à Shilo
Menahem Kahana (AFP/Archives)
UN secretary general and US State Department say plan for new housing units threatens two-state solution
The United States on Wednesday condemned Israel's latest plan for construction in a West Bank settlement, with the White House saying the Israeli government had received public assurances contradicted by the announcement.
The Israeli government is set to approve construction of nearly 300 new housing units near the West Bank settlement of Shilo, situated between Nablus and Ramallah, in an apparent compensation for a Supreme Court ruling ordering the eviction and demolition of the wildcat Jewish settlement of Amona.
An initial 98 units were approved by Israel's Civil Administration's Planning Authority last week, with another 200 units set to be okayed by the authority in a second stage of construction, a report by Israel's Channel 2 news said.
"Proceeding with this new settlement is another step towards cementing a one state reality of perpetual occupation that is fundamentally inconsistent with Israel's future as a Jewish and democratic state," the US State Department said on Wednesday.
"Such moves will only draw condemnation from the international community, distance Israel from many of its partners, and further call into question Israel's commitment to achieving a negotiated peace," it added, in a statement from spokesman Mark Toner.
"This approval contradicts previous public statements by the Government of Israel that it had no intention of creating new settlements," Toner said.
It further said that the new housing units would be "far closer to Jordan than Israel... and make the possibility of a viable Palestinian state more remote."
The White House went further, implying that Israeli Prime Minister Benjamin Netanyahu's government had broken its word.
"We did receive public assurances from the Israeli government that contradict this announcement," White House spokesman Josh Earnest said. "I guess when we're talking about how good friends treat one another, that's a source of serious concern as well."
A spokesperson for UN Secretary General Ban Ki-moon.also protested the Israeli decision.
"The Secretary‑General condemns the decision by the Israeli authorities to promote plans for 98 housing units in a new settlement in the occupied West Bank, near the settlement of Shilo, as well as for the creation of a new industrial zone west of Ramallah," said a spokesperson for UN Secretary General Ban Ki-moon.
"He's particularly concerned that the establishment of a new settlement near Shilo will make the prospect of a viable, contiguous Palestinian State more remote," the statement continued. "Settlements are illegal under international law, and such decisions run counter to Quartet recommendations. The Secretary‑General urges Israel to halt and reverse such counterproductive decisions in the interest of peace and a just final status agreement."
Israel's Foreign Ministry denied the accusations. 
"The 98 housing units approved in Shiolo do not constitute a 'new settlement,'" read a statement. 
Explaining that the new units are intended for residents who are to be evacuated from the illegal outpost of Amona, the Foreign Ministry said that "Israel remains committed to a solution of two states for two peoples. . . The real obstacle to peace is not the settlements -- a final status issue that can and must be resolved in negotiations between the parties -- but the persistent Palestinian rejection of a Jewish state in any boundaries." 
Read more: Israel approves 300 new West Bank settlement homes after Amona demolition order
You need to be logged in in order to post comments. Sign up or log in
Just shut up and go away Obama
Ok then Obama...what was threatening a 2-state solution before 1967?
Hussein Obama is going away very soon....Hopefully Trump will be the next POTUS with some good fortune. Then hopefully do a thorough investigation into HUSSEINS wrongdoings and prosecutions follow.. The two state "solution" will never ever come to fruition, because the arab muslims do not want a two state solution..ABBAS aka ABU MAZEN has already declared he wants a JEW free "palestine" He will never ever live long enough, his days are also numbered..
The narrative must change and that will start from the West's leadership, here's why: http://jcpa.org/article/west-must-insist-palestinians-change-narrative/
The islamic funded UN and Banki Moon should mind there own business, and start rebuking HAMAS for continuing to use the building materials supplied by the west to build terror tunnels into Israel..cement and timber,steel and bricks, meant for building new homes for the impoverished muslims who stupidly voted for HAMAS. They are reaping the rewards. The UN and Banki moon should get there priorities right.