Palestinian indicted over Jerusalem suicide bombing plot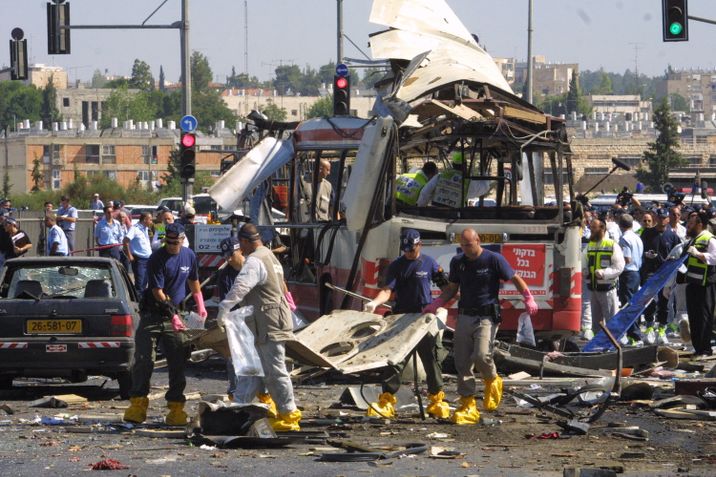 Jerusalem bus bombing
Wikipedia
East Jerusalem resident was allegedly in contact with Hamas operatives in Gaza
A 22-year-old East Jerusalem resident was indicted on Tuesday for allegedly plotting to commit a suicide bombing on a Jerusalem bus under the direction of Hamas, the Shin Bet security service said.
Mahmoud Jolani from the Shuafat refugee camp was arrested about a month ago, according to Israeli news site Ynet.
According to the Shin Bet, Jolani is a member of the hard-line Islamist militant group Hamas, which calls for Israel's destruction and urges terror attacks on its citizens. He allegedly made contact online with Hamas operatives in the Gaza Strip and agreed to commit terror attacks. He was purportedly asked to recruit others.
Jolani allegedly considered a number of attacks, but the planners ultimately settled on a suicide bombing on a Jerusalem bus.
According to the report, Jolani was instructed to obtain raw materials for explosives, nails, batteries, and more for the purpose of creating a bomb. The Shin Bet said he had made efforts to obtain these.
A Hamas operative reportedly suggested that the suicide attack target a bus in the Jerusalem neighborhood of Neve Yaakov to be timed shortly after the Muslim holiday of Eid el-Adha, which took place in mid-September.
Jolani also allegedly planned a stabbing attack in the Pisgat Zeev neighborhood but decided against it out of concern that his parents' home would be demolished.