Turkey, Israel to exchange ambassadors 'within 10 days': Ankara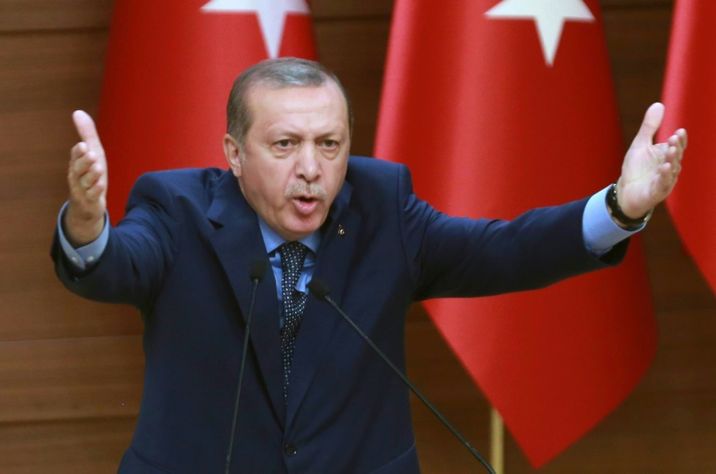 Turkish President Recep Tayyip Erdogan
Adem Altan (AFP/File)
Countries also to examine feasibility of building undersea gas pipeline to pump Israeli gas to Turkey
Turkey and Israel are to finish the process of exchanging ambassadors within 10 days, a Turkish presidential spokesman said Thursday.
The move represents a key step in a process of rapprochment between the two countries that severed ties after the 2010 crisis triggered by Israel's deadly storming of a Gaza-bound aid ship.
Earlier in the day the Israeli energy minister said the countries will start examining the feasibility of building an undersea gas pipeline to pump Israeli gas to Turkish consumers and on to Europe.
"What we decided is to establish immediately a dialogue between our two governments... in order to examine the possibility and the feasibility of such a project," Israeli Energy Minister Yuval Steinitz said after talks with Turkish counterpart Berat Albayrak in Istanbul.
The talks were the first such ministerial meeting since the two countries normalized ties in June. 
Steinitz said the suggested project "would enable us to bring natural gas from Israeli economic waters to Turkey and through Turkey to Europe."
He said that while Israel was also building regional energy cooperation links with Jordan, Egypt, Cyprus and Greece "the Turkish option is very important".
He added that Israel "will also be glad to see Turkish companies involved in Israeli energy sector" including in the exploration of gas fields.
Steinitz described his visit as "a token of the normalisation process that just started between our two states."
Relations between the former close allies deteriorated with the rise to power of Turkish President Recep Tayyip Erdogan's AKP and took a hard hit in 2010 following a deadly Israeli naval raid on a Turkish flotilla trying to breach Israel's blockade of the Hamas-controlled Gaza Strip.
The raid, in which Israeli commandos were viciously attacked by activists on board the flotilla's main ship, the Mavi Marmara , left 10 Turks dead and several Israeli soldiers seriously wounded.
In late September, Israel paid Turkey $20 million in compensation for the deadly raid, another central pillar of the deal.
The compensation was one of the three key demands by Turkey for normalizing ties with Israel, along with an apology and an easing of the blockade on the Hamas-ruled Gaza Strip.
Israel issued an official apology three years ago, and while the blockade remains in place due to fears that Hamas could import weapons into the Gaza Strip, Ankara has been able to resume delivery of humanitarian aid to the Palestinians through Israeli ports.
The normalization agreement had been urged by the United States, which is keen to see its NATO ally, overwhelmingly Muslim Turkey, resume its previously tight relationship with Israel.
Staff with agencies