Saudi lobbyist calls for normalization of ties with Israel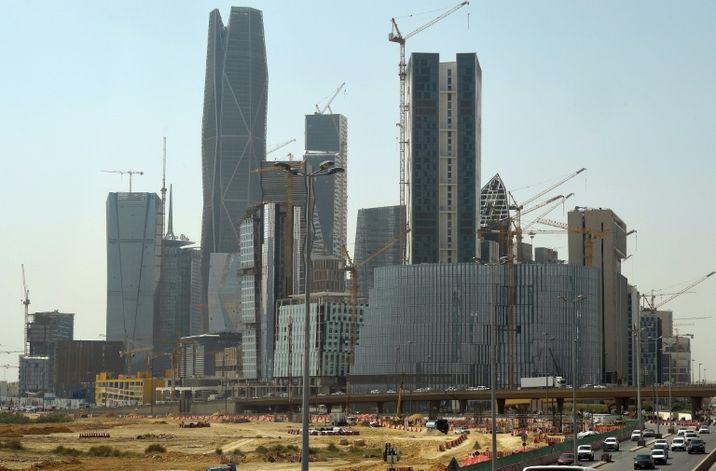 Buildings under construction at the King Abdullah Financial District in the Saudi capital Riyadh
FayezZ Nureldine (AFP)
US based al-Ansari says strong economic ties between Israel, Saudis 'will undoubtedly promote security'
A Saudi lobbyist on Tuesday called for a normalization of the ties between Israel and Saudi Arabia, in an op-ed published in The Hill, in a possible sign of a further thaw in traditional Saudi hostility towards Israel.
US-based Salman al-Ansari, the founder and president of the Washington-based Saudi Public Relation Affairs Committee, asserted that "the prevailing political discourse might not only indicate that it is in the interest of [Saudi Arabia and Israel] to form a collaborative alliance, but in the interest of the greater Middle East and their global allies as well."
Saudi Arabia and Israel have inofficial collaborations in a variety of fields, but the Saudi technically still does not recognize Israel's existence.
Ansari assertains that while some may suggest that "rapprochement" between Israel and Saudi Arabia may be based in the common interest of defeating the threat emmenating from Iran, "a more solid foundation for establishing deep-rooted ties between the two countries could manifest in the context of a mutually beneficial economic partnership."
In July, a Saudi delegation headed by retired Saudi General Anwar Eshki that included Saudi academics and business people visited Israel.
In his column, Ansari noted that Saudi Arabia could greatly benefit from advanced Israeli technology, particularly in the fields of minig and water desalination.
"Of course, such an economic partnership cannot be established without addressing security concerns, as the trust factor between the two Middle Eastern countries still needs positive reinforcement," Ansari writes.
And more broadly, Ansari wrote, normalization of relations between the countries, "will undoubtedly promote security and weaken extremism in the region."
On the other hand, Ansari warns that "impeding collaboration in any way would inevitably stifle an historic opportunity for both countries to grow, develop and solidify the mutual goal of not only ensuring the success of this vital relationship, but bringing the Middle East into a new era of unprecedented peace and prosperity."
Ansari's Saudi Public Relation Affairs Committee describes its goal as aiming "to further strengthen the historic relationship between Saudi Arabia and the United States, both politically and economically."
He told the Saudi-owned Al-Arabiya television, when his Washington office opened earlier this year that his office would be financed largely from "online subscriptions, conference fees, membership fees, as well as through US based corporations that are interested in the initiative, especially those who are interested in investing in Saudi Arabia."