'No contradiction between Israel and Islamic State': Assad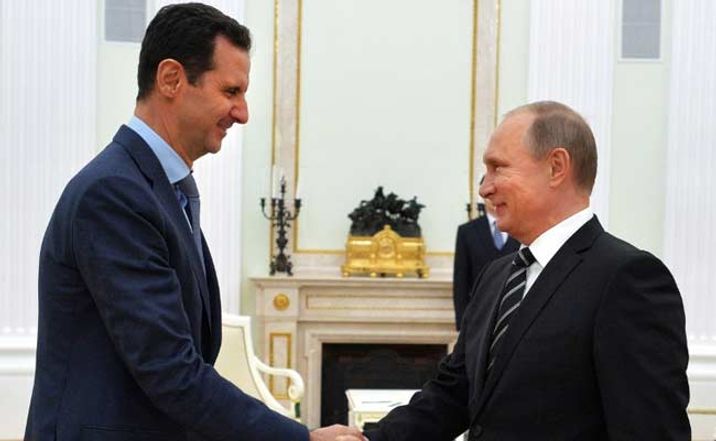 Syrian President Bashar al-Assad (L) and Russian President Vladimir Putin meet at the Kremlin, Moscow, October 2015
AFP
Syria's President claims Israel is supporting 'terrorists' in his country, including jihadist groups like IS
Syria's President, Bashar Al-Assad on Thursday claimed there was "no contradiction" between Israel and jihadist groups such as the Islamic State (ISIS) or al-Qaida.
Speaking in an interview with the Russian newspaper Komsomolskaya Pravdaand, Assad responded to a question by the interviewer regarding the relationship between Israel and ISIS.
"For me, it's a very strange thing," the interviewer said, according to an English transcript provided by the Syrian news agency SANA.
"ISIS, with their ideology, never threaten Israel, and Israel never threaten[s] ISIS. It's like some kind of agreement about – maybe not on friendship – but neutrality. Why, you think, it's like this? And what's the role of Israel in this war?"
Assad replied by claiming that all "terrorist groups" which operate Syria are supported by Israel. The Syrian regime loosely uses the term "terrorist" to define all of Assad's opponents, including both moderate, Western-backed rebels and jihadist groups like IS.
"Not only ISIS, of course, or Daesh, not only Al-Nusra; anyone, any terrorist who holds a machinegun and started killing and destroying in Syria was supported by Israel, either indirectly through the logistical support on the frontier, or sometimes by direct intervention by Israel against Syria in different areas in Syria," he said.
"Why? Because Israel is our enemy, because they occupy our lands, and they look at Syria as [an] enemy of course, and for them they think if they undermine the position of Syria and make it weaker as a whole, as society, as army, as state, that will prevent Israel from moving toward peace, and the price of peace is to give back the Golan Heights to Syria," continued the Syrian President.
"So, for them, Syria will be busy with another issue now, it would be busy to talk about the Golan or the peace process, or even to do anything to get back its land. That's why Israel is supporting every terrorist, and there's no contradiction between Israel and any organization like Al-Nusra or ISIS or any Al Qaeda-linked organization," he claimed.
Assad's comments are not the first time the Syrian president has claimed that Israel is assisting rebels.
In 2014 a presidential adviser claimed that Israel was sending soldiers into Syria to help the rebels to oust Assad.
That same year, Assad himself told an Argentinean newspaper that Israel is helping the rebels to topple his regime.
"Israel is directly supporting the terrorist groups in two ways," he claimed.
"Firstly it gives them logistical support, and it also tells them what sites to attack and how to attack them."
The Syrian opposition meanwhile, has repeatedly claimed that Israel was collaborating with Iran and Hezbollah to keep Assad in power.