Hamas says UNESCO vote on Jerusalem is 'victory' for Palestinians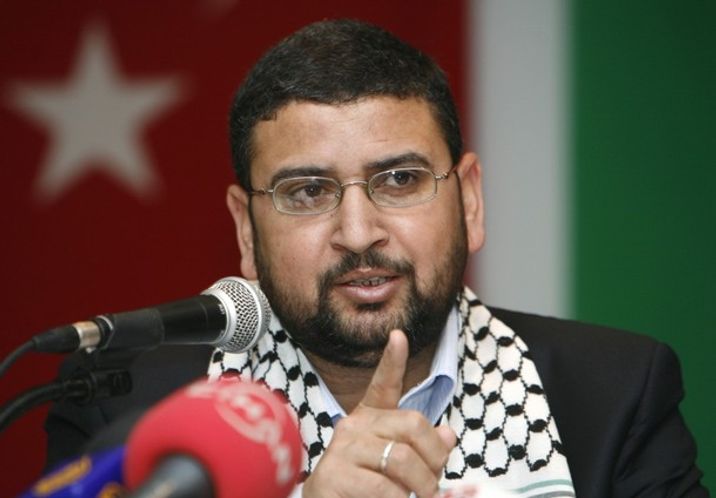 Hamas' spokesman Sami Abu Zuhri
Hamas spokesman reiterates Palestinian claim that Temple Mount is 'of purely Islamic heritage'
Hamas, the radical-islamist terror group ruling over the Gaza Strip, on Tuesday applauded UNESCO's formal adoption of a controversial resolution challenging Jewish and Christian ties to Jerusalem holy sites "a victory for the Palestinian people."
The resolution, passed Thursday in the committee stage of the United Nations cultural body and approved finally on Tuesday, condemned Israel on several issues related to Jerusalem and its holy sites and appeared to deny Jewish ties to the Temple Mount holy site by using only its Muslim names (Al-Aqsa Mosque and Haram al-Sharif) while failing to mention its Hebrew or English names (Har HaBayit or Temple Mount).
It eventually led Israel to suspend all ties with the cultural body and drew a furious reaction from Israel's leaders, some of whom accused UNESCO of supporting anti-Semitism.
A spokesman for the Gaza-based terror group Sami Abu Zuhri said in a statement that his group "welcomes" the resolution's wording, stressing that "al-Aqsa is of purely Islamic heritage."
The resolution, he said, marks a "victory for the Palestinian people."
Abu Zuhri also added that the UNSECO text "demolished the Israeli fiction" concerning the Temple Mount, which Jews consider to be their most sacred place as the site of the two biblical temples.
Earlier Tuesday, the Palestinian Authority's deputy ambassador to UNESCO, Mounir Anastas also welcomed the vote, lauding it as a reminder to Israelis "that they are the occupying power in East Jerusalem and it asks them to stop all their violations."
These violations include archaeological excavations around religious sites, Anastas said.
Israel suspended cooperation with UNESCO on Friday following the vote, with Education Minister Naftali Bennett accusing the body of ignoring "thousands of years of Jewish ties to Jerusalem" and aiding "Islamist terror."
Bennett on Tuesday said that he would consider renewing ties with the world cultural body if the resolution was voided during the re-vote.
"We will follow the developments today, and if the shameful decision by UNESCO is indeed canceled, we will consider resuming the professional ties, events and projects which were suspended," he said in a statement.
UNESCO passed a similar resolution in April referring to the Temple Mount solely as Al-Aqsa Mosque and the Western Wall as the Al-Buraq Plaza drawing harsh condemnations from Israel.
You need to be logged in in order to post comments. Sign up or log in
October 21, 2016 11:16 PM
SHAM VOTE! Anything with "UN" is a sham!!!!