Trump will not 'rip up' Iran deal: Trump advisor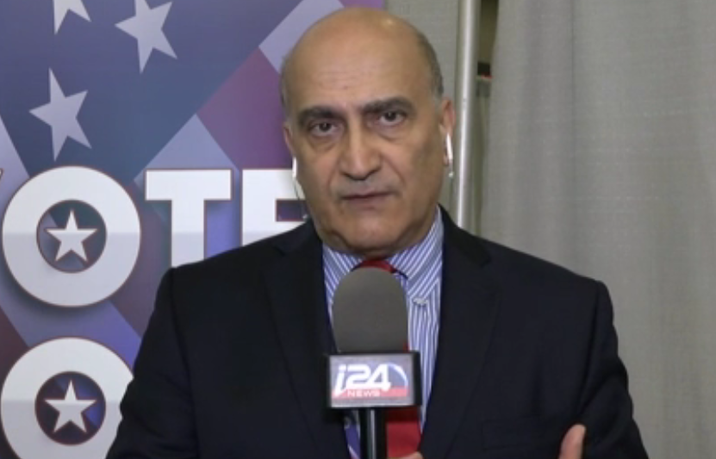 Dr. Walid Phares, foreign affairs adviser to Donald Trump, speaking with i24news, July 19, 2015
i24news
US embassy in Israel may not move to Jerusalem as Trump vowed
A senior adviser to Trump told BBC Radio on Thursday the new US leader will "review" the Iran nuclear agreement, but will stop short of ripping up the landmark international pact.
"Ripping up is maybe a too strong of word, he's gonna take that agreement, it's been done before in international context, and then review it," Walid Phares said, according to a CNN recording of the interview.
"He will take the agreement, review it, send it to Congress, demand from the Iranians to restore a few issues or change a few issues, and there will be a discussion," he added. 
"It could be a tense discussion but the agreement as is right now — $750 billion to the Iranian regime without receiving much in return and increasing intervention in four countries — that is not going to be accepted by the Trump administration."
The Iran nuclear deal would fall apart if a US administration walked away from it, as Trump has vowed to do, the State Department said Thursday.
Iran's President Hassan Rouhani had argued on Wednesday that the deal — which saw world powers lift sanctions on Tehran in return for controls on its nuclear program — has been enshrined in international law.
The outgoing US administration is proud of the agreement and has no intention of dropping it, but Trump said several times during his campaign that moving away from it will be a priority once he takes power in January.
"Any party — and I'm speaking very hypothetically here, because I don't want in any way to attempt to hypothesize about what the incoming administration's going to do — I'm just talking purely about an agreement that any party can walk away from," State Department spokesman Mark Toner said.
"And that will have profound consequences on the integrity of the agreement."
Toner said that the Iran deal was not a legally binding treaty, but that the current US administration believes it is in Washington's interest to continue it.
Asked whether if the US withdraws support for the deal whether Iran might start building a nuclear weapons program, Toner said: "Yes. That's the reality of the situation."
"This is why we believe it to be in everyone's interest, including the world's interest, that if Iran abides by this agreement, and all the parties abide by the agreement, then we have shut-off Iran's path to a nuclear weapon," he said.
During the election campaign, Trump described the deal as "disastrous" and said it would be his "number one priority" to dismantle it.
But he also seemed to indicate that he would push for stricter oversight under the deal, leading to some confusion over his actual stance.
"We must enforce the terms of the previous deal to hold Iran totally accountable. And we will enforce it like you've never seen a contract enforced before, folks, believe me," Trump told the pro-Israel group AIPAC on March 21.
Phares also told the BBC that while Trump was committed to his promise of moving the US Embassy from Tel Aviv to Jerusalem, he would not do so unilaterally.
"Many presidents of the United States have committed to do that and he said as well that he will do that but he will do it under consensus," Phares said.
He did not elaborate on what consensus would be sought for such a move, which would break with decades of precedent and put Washington at odds with nearly all United Nations member states
'Iran deal cannot be dismantled'
On Wednesday, Rouhani said the nuclear deal, brokered between Tehran and six world powers after years of intense diplomatic efforts, could not be dismantled by any one country.
"Iran's understanding in the nuclear deal was that the accord was not concluded with one country or government but was approved by a resolution of the UN Security Council and there is no possibility that it can be changed by a single government."
After the deal came into force in January, Iran reduced by two-thirds the number of its uranium enrichment centrifuges, slashed its uranium stockpile and removed the core of the Arak reactor.
Officials in Israel lobbied furiously against the nuclear deal and have argued that it does not keep Iran from being able to build a nuclear weapon, as the US maintains.
On Wednesday, the United Nations agency monitoring the pact said Iran had made a small but significant violation of the deal by storing marginally more heavy water than the agreement allows.
Heavy water is a concern because it is used to cool reactors that can produce substantial amounts of plutonium. That, in turn, can be applied to making the fissile core of nuclear warheads.
The UN's International Atomic Energy Agency said in a confidential report obtained by The Associated Press that Iran had exceeded the heavy water allotment of 130 metric tons (143.3 tons) only slightly — by 100 kilograms (220 pounds.) The report also noted that Iran had served notice it would resolve the issue by exporting 5 metric tons, substantially over the excess amount.
Wednesday's report said the agency verified the overhang on Tuesday, just days after IAEA chief Yukiya Amano "expressed concerns" to top Iranian officials.
With both sides closely watching for violations, the breach was sensitive even beyond the technical uses of heavy water, especially since it was the second such breach since implementation of the deal curbing Iran's nuclear program in exchange for sanctions relief.
You need to be logged in in order to post comments. Sign up or log in
November 11, 2016 8:29 AM
Trump can rip up HIS COPY if he wishes but the deal wasn't with the US, it was with the P5+1.
November 11, 2016 2:26 PM
The deal is subject to all parties upholding it. And since Obama structured the deal without congress, Trump can revoke the executive agreement. Yes, the rest of P5 can do what they want but the US can decide to impose sanctions and exercise military action any time it wants.
November 11, 2016 8:21 PM
November 12, 2016 9:34 PM
Why do I not see comments on this site? says 5 comments. none show.