Army says rocket alert sirens in Golan Heights a false alarm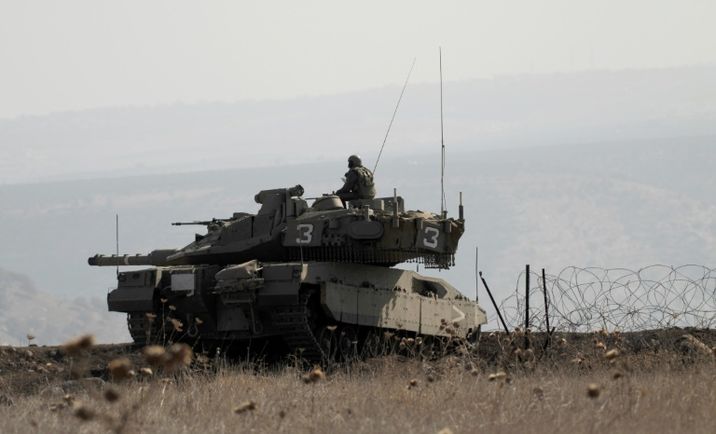 Israeli soldiers in a tank monitor the Israel-Syria border in the Israeli-annexed Golan Heights, on November 27, 2016
Jalaa Marey (AFP)
Sirens sounded near the location where the Israeli air force struck an Islamic State target earlier this week
Sirens warning of incoming rockets sounded in the southern Israeli Golan Heights Tuesday, near the location where the Israeli air force struck an Islamic State target in Syria on Sunday, but the army later said that it was a false alarm.
Residents in the area reported hearing at least one impact, but the army was unable to identify any impact sites.
The Israeli military killed four Islamic State operatives on the Syrian side of the Golan Heights Sunday morning after a number of mortar shells were fired at Israeli troops along the border.
The mortars that were fired landed near the border fence between Israel and Syria. At the same time, IDF soldiers reported hearing gunshots at the border.
No injuries were reported and no damage was caused.
The army was investigating whether the fire intentionally targeted the Israeli soldiers or was spillover from the civil war in Syria.
Early Monday, the Israeli Air Force again struck an Islamic State held target in the southern Syrian Golan Heights in response to Sunday's attack.
According to the IDF spokesperson, the attack targeted an abandoned military facility that was previously used by the United Nations and served as a location for Islamic State to consolidate their offensive forces and operations near the border.
Since the beginning of the internal Syrian conflict in 2011, stray fire from government and rebel forces has hit Israel, as have attacks by the Lebanese Shiite militant group Hezbollah and its affiliates.
Read more- Analysis: Why is IS picking a fight with Israel?
Islamic State likely not opening front against Israel in Golan, says general
This is a developing story