Israel, Azerbaijan united by arms trade and respect, Netanyahu says on visit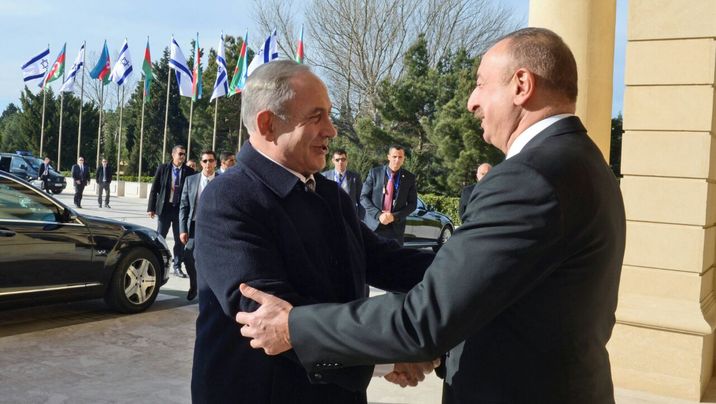 Netanyahu meeting with Azerbaijan President Ilham Aliyev
GPO
Aliyev says the Muslim nation purchased defense equipment from Israel to tune of five billion dollars
On an official visit to Azerbaijan, Prime Minister Benjamin Netanyahu celebrated Israel's close ties with the Muslim country, saying the states are bound by both arms trade and a profound sense of respect.
Azerbaijan, which borders Iran, is officially secular, and almost 98 percent of its 10 million citizens are Muslims. Baku and Jerusalem have long had strong relations, with the former purchasing weapons and selling Israel most of its oil. It is also reportedly considering purchasing Israel's Iron Dome anti-missile system.
As Netanyahu met with Azerbaijan President Ilham Aliyev, the leaders signed agreements on standardization, double taxation, agricultural cooperation and the establishment of a mixed commission on advancing bilateral cooperation on economic matters, science, technology, health, agriculture and trade.
Aliyev revealed that "So far the contracts between Azerbaijani and Israeli companies with respect to purchasing of defense equipment is close to five billion dollars. More precisely – $4,850,000,000. The biggest part of these contracts have already been executed and still we are continuing to work on that and we are very satisfied with the level of this cooperation."
Celebrating the burgeoning arms trade, Netanyahu said "I think there's something else and unique about this relationship: Israel is the Jewish state, it's a Jewish state. Azerbaijan is a Muslim state, predominantly Muslim population. Here you have an example of Muslims and Jews working together to secure a better future for both of us."
"And it's an example that shines against the background of intolerance and lack of acceptance and mutual respect," the leader concluded.