Islamic State says Israel conducted three strikes in Sinai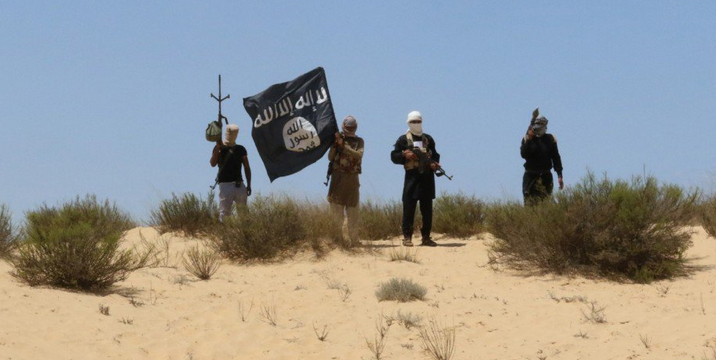 Islamic State militants in Sinai (File)
Islamic State
Terror group's claim comes after rocket fired from Sinai prompts alert sirens in southern Israel
Israel conducted three airstrikes in the past three days targeting the Islamic State group's affiliate in Egypt's Sinai Peninsula, the group's Amaq news agency reported on Tuesday.
According to the report, the strikes were in the northern Sinai, south of the port city of al-Arish.
Islamic State-linked media outlets also reported that Abdullah Kishta – once a senior member of Hamas, the Islamist terror group that controls the Gaza Strip, who subsequently joined the Islamic State – was killed in Syria, according to the Times of Israel.
Kistha had reportedly been working for the last two years as a middleman between Hamas and the Islamic State in Gaza, including smuggling fighters in and out.  
Earlier Tuesday, a rocket alert sounded in Israel's south near the Egyptian border, with authorities saying it appeared that a projectile had been fired from Egyptian territory in the Sinai desert and had landed on the Egyptian side of the border.
Reports have emerged over the past year saying that Hamas and Islamic State operatives have been cooperating. In May, Israeli Major General Yoav Mordechai who serves as Coordinator of Government Activities in the Territories, told Saudi news site Elaph that Islamic State operatives had entered Gaza through tunnels from the Sinai and with the help of a Hamas associate. The general claimed that Hamas was providing medical treatment to IS operatives in Gaza's hospitals. 
Hamas in February denied Israeli accusations that IS militants had been smuggled to receive medical care Gaza.
According to Mordechai, there is mutual cooperation between the two groups' field commanders and that Hamas's senior political and military leadership is aware of this.