Israel, Turkey set to kick-start plans for reconciliation in meeting: report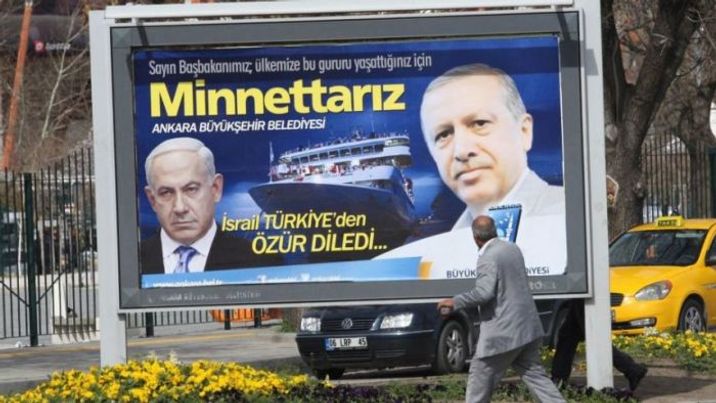 "Benjamin Netanyahu and Recep Tayyip Erdogan on a poster in Turkey after the Gaza flotilla incident"
AFP
On the agenda is a revamp on Israel-Turkey free trade agreement, cooperation on security issues
Israel and Turkey are reportedly in talks to begin laying the groundwork for cooperation and normalizing relations after the 2010 raid on a flotilla headed for Gaza caused a major rift between the two countries, according to Turkish news site Hürriyet Daily News.
Conflict between Israel and Turkey erupted when a flotilla organized by Free Gaza Movement and the Turkish Foundation for Human Rights and Freedoms and Humanitarian Relief (İHH), carrying humanitarian aid and construction materials on the Turkish ship Mavi Marmara, sought to break through the Israeli blockade of the Gaza Strip.
Nine activists were killed in the clash: eight Turkish nationals and a Turkish American.
Six years later, in June 2016, Israel apologized for the raid and paid $20 million to those injured and families of the bereaved in a deal signed between the two countries as a step in the reconciliation process.
Another crucial part of repairing relations will call for the appointment respective ambassadors in each country, and within one month the two countries' foreign ministries will hold a political consultation, said a Turkish Foreign Ministry official to Hürriyet Daily News.
High-level visits will be planned in accordance with the important decisions that will be made in the meeting, including a visit by Foreign Minister Mevlüt Çavuşoğlu to Israel and Turkey's participation in a tourism fair in Israel on February 7 and 8, according to the official.
Eitan Na'eh was appointed last month to serve as Israel's ambassador to Ankara and Kemal Öktem will be Turkey's respective representative in Tel Aviv.
Also on the agenda is a revamp on the free trade agreement between Turkey and Israel expanding to issues such as agricultural products.
"This is very important for us because the two countries are complementary to each other. In areas such as information, information, innovation; Israel has made significant progress. But they need to find markets for those products. In this respect, Turkey stands out as a very important partner in the region," the official said.
The Israeli foreign ministry declined to comment on the report.