Netanyahu welcomes PM Holness in first visit by a Jamaican leader to Israel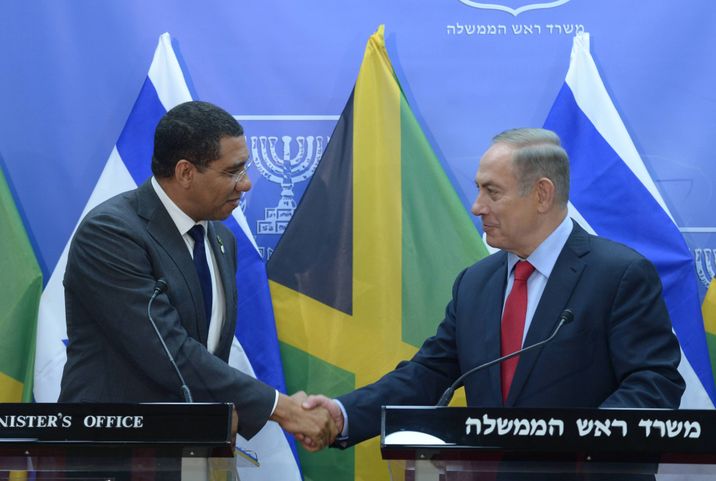 Israeli Prime Minister Benjamin Netanyahu (R) and Jamaican Prime Minister Andrew Holness in Jerusalem on January 12, 2017
Amos Ben-Gershom/ GPO
Holness extended an invitation to Netanyahu to visit Jamaica
Israeli Prime Minister Benjamin Netanyahu on Thursday met with Jamaican Prime Minister Andrew Holness, in the first such visit by the leader of the Caribbean nation to the Jewish State.
"I think this is the first visit ever by a prime minister of Jamaica to Israel, so it has a double significance for us," Netanyahu said, and thanked Holness for not joining in the recent "absurd vote in UNESCO" that described holy sites in Jerusalem's Old City solely by their Muslim names.
In their meeting, the two leaders discussed improving cooperation in the fields of water, agriculture and domestic security.
"I can see all the potential for cooperation in a variety of fields that relate to economy, to security, to technology," said Netanyahu. "This is something that we eagerly are interested in doing with you."
Netanyahu went on to speak of the "natural affinity" between Israel and Jamaica, and stressed that the two countries could "provide a better future for our people if we cooperate, and this visit is a hallmark of cooperation."
Speaking after Netanyahu, Holness drew parallels between Israel and Jamaica being "strong democracies," and said that his country has 'long admired the advances that Israel has made in technology, in particular cyber security and in agriculture, and in other areas."
The Jamaican Prime Minister continued to extend his condolences for Sunday's truck ramming attack in Jerusalem which killed four soldiers and wounded another 17.
"The Jamaican people and the Caribbean region is a zone of peace, and we wish peace for all the peoples of the world." Holness said. "And we do extend our sympathies to the people of Israel for the very unfortunate attack on your soldiers recently."
Holness added that he believes a way to achieve global peace is through economic cooperation.
"We would want to also pursue with Israel economic cooperation," Holness said. "I believe that in building strong economies we can build a peaceful world."
Holness extended an invitation to Netanyahu to visit Jamaica, which the Prime Minister accepted.