Chief of staff says PM office may use polygraphs over leaks ahead of DC meeting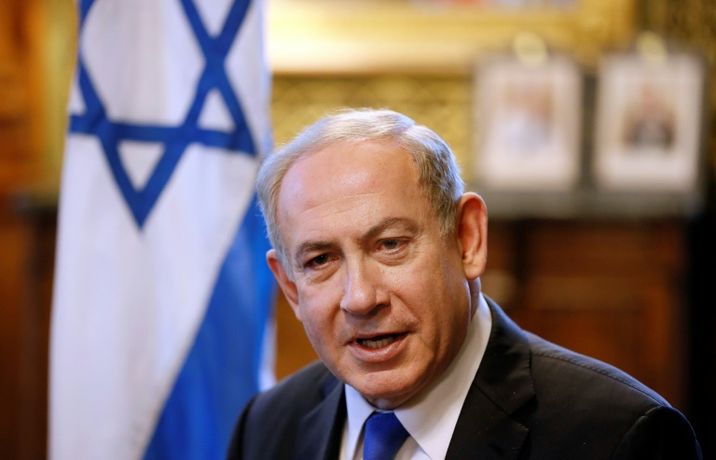 Israeli Prime Minister Benjamin Netanyahu was visiting London for talks with leading British officials on February 6, 2017
Kirsty Wigglesworth (POOL/AFP)
Netanyahu's Chief of Staff says those who leaked sensitive information to the press may be held accountable
Prime Minister Benjamin Netanyahu's Chief of Staff, Yoav Howorowitz, told reporters on Monday that the government would "consider using polygraphs" on staff to discover who divulged sensitive information from a security cabinet meeting that was leaked to the press.
The statement comes after several news outlets reported on Sunday that Netanyahu was pressured by Jewish Home Party Chairman Naftali Bennet and Justice Minister Ayelet Shaked to nix Israel's support for a two-state solution in a closed-meeting.
According to reports, Bennett urged Netanyahu "not to miss an historic opportunity" provided by Trump's election and to drop his declared support for a two-state solution to the Israeli-Palestinian conflict.
The meeting was held in order to discuss Israel's foreign policy ahead of the Prime Minister's first visit to the White House since US President Donald Trump took office three weeks ago.
Netanyahu, who warmly welcomed Donald Trump's election as US president, landed in Washington on Tuesday and is slated to meet with Trump on Wednesday.
Since taking office, Trump has edged away from unqualified backing for Netanyahu's drive for more Jewish settlement in territory the Palestinians claim for a state, and also from a pledge to move the American embassy from Tel Aviv to Jerusalem.
But Netanyahu remained upbeat as he prepared to fly out from Tel Aviv airport on Monday.
"The alliance between Israel and America has always been extremely strong. It's about to get even stronger," the prime minister said.
Netanyahu himself said at Sunday's weekly cabinet meeting that strengthening Israel's ties with its historic ally "requires a responsible and considered policy, and that is how I intend to act."
"I have navigated Israeli-US relations in a prudent manner and I will continue to do so now," he told ministers and media.
While Netanyahu and Trump are expected to discuss the Iranian nuclear pact which Trump has publicly opposed in the past, the head of the United Nations' atomic agency said Tuesday that Trump has yet to contact him regarding the deal, AP reported.