Israeli ambassador to Egypt recalled over security concerns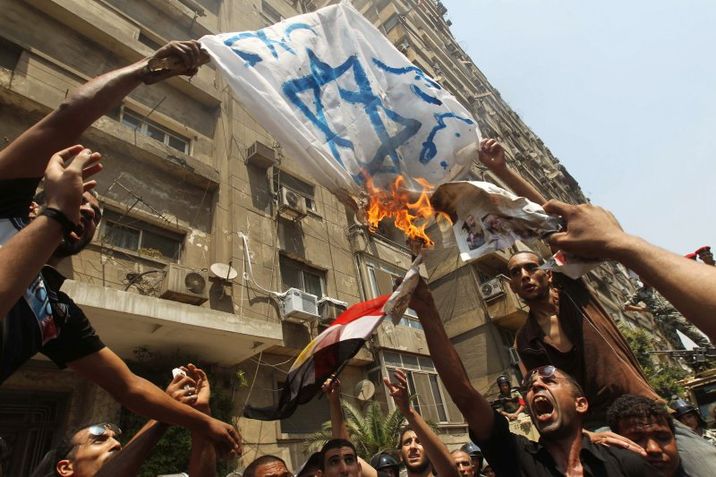 Egyptian demonstrators burn an Israeli flag during a protest outside the Israeli embassy in Cairo on August 20, 2011
Khaled Desouki/AFP
Embassy reopened in 2015 after thousands of Egyptians stormed it four years earlier
Israel recalled its Egyptian ambassador weeks ago over concerns for his personal safety, UK daily the Telegraph reported on Tuesday, citing unnamed Israeli officials.
Ambassador David Govrin was withdrawn from Cairo at the end of 2016, the report said, and has been working from Jerusalem. Israel reportedly hopes to send him back to Cairo in the near future.
While the report did not specify what caused the security concerns, but Egypt has been hit by terror attacks claimed by militant Islamists in recent years, particularly since the coup that propelled President Abdel Fattah el-Sisi to power.
In addition to these attacks, an incident in September 2011 saw several thousand protesters storming the Israeli embassy in Cairo, prompting the evacuation of six Israeli staffers who had to be rescued by Egyptian commandos after then-US president Barack Obama personally intervened.
Former Israeli ambassador to Cairo Eli Shaked told the Telegraph that during his tenure in 2003-2005, he was guarded by Egyptian guards and Israeli operatives whenever he left the embassy building.
"There were days when we warned about possible acts against me or my staff or the embassy and there were some occasions when we were alarmed but were always able to stay in Egypt," the Telegraph quoted him as saying.
"It was different then, nowadays the security problems are much tougher."